Class Action: Target Charges More for Infants' Acetaminophen than 'Exactly the Same' Children's Variety
A case claims Target charges more for the infants version of its Up&Up-brand acetaminophen than its children's counterpart when the products are "exactly the same."
A proposed class action claims Target Corporation charges more for the infants version of its Up&Up-brand acetaminophen than its children's counterpart even though the pain-relieving products are otherwise "exactly the same."
According to the case out of New York, Target has misleadingly marketed the two over-the-counter products—Up&Up Dye-Free Acetaminophen Fever Reducer/Pain Reliever Liquid—as appropriate for different ages in order to deceive parents and caregivers into paying a higher price for the infants' medication despite the fact that the pain relievers contain "the same exact amount of acetaminophen in the same dosage amounts."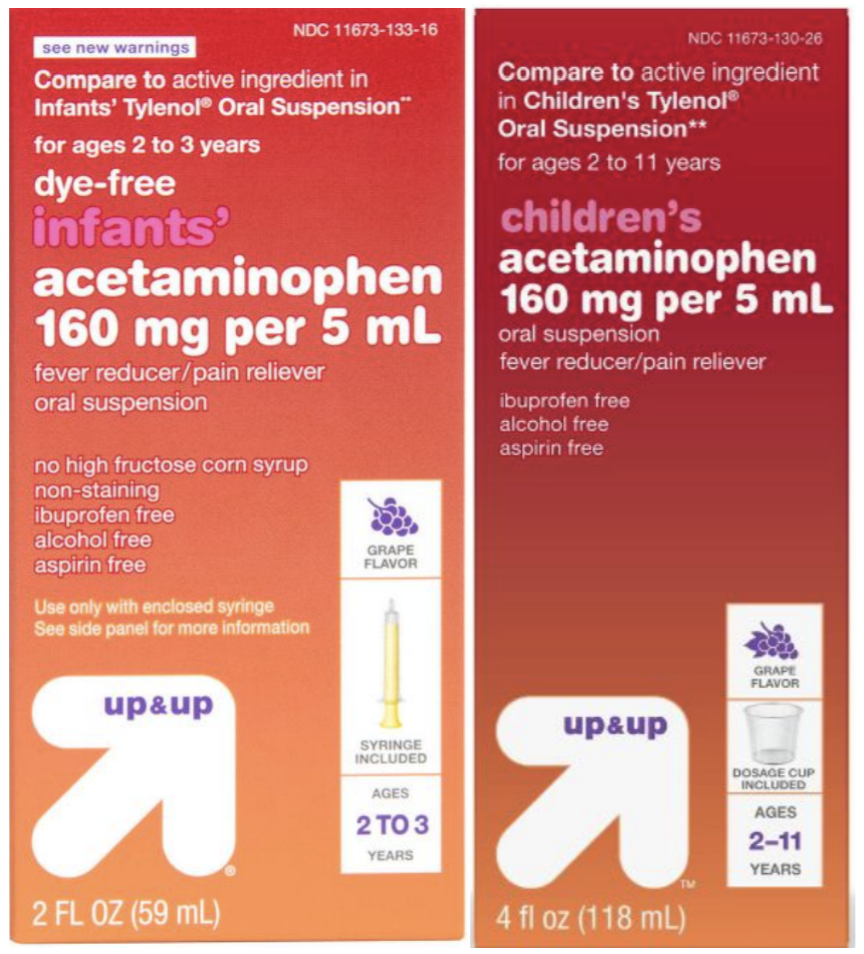 "Defendant's advertisements, marketing representations, and placement of the Product in its stores are misleading, untrue, and likely to deceive reasonable consumers," the complaint scathes, arguing that no reasonable consumer would pay twice as much for an infants' medication over a children's product unless they were deceived into thinking infants cannot safely take children's medications.
After December 2011, liquid acetaminophen was made available for infants only in concentrations of 160 mg/5 mL—the same concentration available for children's acetaminophen—in order to prevent accidental overdoses due to dosage mix-ups.
Since then, the only difference between liquid acetaminophen products marketed toward infants and children has been the price and dosage instrument—i.e., a syringe for infants' products and a plastic cup for children's products, the case continues.
Because infants' and children's acetaminophen have the same 160-milligram concentrations, they are "therefore interchangeable and suitable for infants and children" as long as the dosage is adjusted based on the weight and age of the child, the lawsuit contends.
In that light, Target's marketing and labeling of the two acetaminophen products is "unfair, unlawful, deceptive, and fraudulent" because their labels imply that the "significantly cheaper" children's product cannot be taken safely by an infant, the suit alleges.
"Defendant deceives consumers so that they will buy the deceptively-labeled Infants' Products for infants, which cost significantly more than Children's Products, even though the Products contain the same exact amount of acetaminophen in the same dosage amounts," the complaint alleges.
According to the case, Target exploits parents' and caregivers' fear of accidental overdoses by misleading them into paying more than twice as much per ounce for a product that is "exactly the same" as its children's counterpart.
The lawsuit comes on the heels of several other cases filed over the allegedly deceptive marketing of infants' and children's acetaminophen by the likes of Walmart, Rite Aid, and Dollar General.
Get class action lawsuit news sent to your inbox – sign up for ClassAction.org's newsletter here.
Last Updated on September 25, 2020 — 4:29 PM