in
Newswire
Published on September 24, 2021
Class Action Claims Artsana's Chicco KidFit Booster Seats Not as Safe as Advertised [UPDATE]
A Chicco KidFit booster seats are not as safe as represented given they are unsafe for children under 40 pounds and provide no protection in side-impact crashes.
March 17, 2023 – Chicco KidFit Booster Seat Class Action Settled
The proposed class action detailed on this page has been settled, and consumers can now file claims for compensation.
Read more about the settlement—and how to file a claim for up to $50—over on the ClassAction.org blog.
Don't miss out on settlement news like this. Sign up for ClassAction.org's free weekly newsletter here.
A proposed class action claims Artsana has misled consumers about the safety of its Chicco KidFit booster seats by representing that the seats are safe for children weighing as little as 30 pounds and provide protection in side-impact crashes.
Specifically, the lawsuit alleges that Artsana has misleadingly advertised its booster seats as safe for children who are "much too young to ride in them safely" given "well-established expert advice" has shown for decades that booster seats are unsafe for children under 40 pounds. Moreover, the "DuoGuard" feature advertised by Artsana as able to mitigate injury from side-impact collisions has not been shown to provide any protection in such crashes, the lawsuit attests.
Per the case, an investigation began by the U.S. House of Representatives Subcommittee on Economic and Consumer Policy in February 2020 concluded that Artsana had "endangered the lives of millions of American children" by misleading parents and caregivers about the safety of its Chicco booster seats—including the Chicco KidFit, KidFit 2-in-1, KidFit Zip Plus, KidFit Zip Air Plus and KidFit Adapt Plus models—and providing them with "a false sense of security." From the complaint:
"Unfortunately for consumers and their children, Artsana kept the weight recommendation for its Booster Seats lower than it should have and deceptively marketed the Products as having additional safety features to compete with other manufacturers in the booster seat industry. In fact, the Products leave children, especially those as small as 30 pounds, vulnerable to severe injury."
The 40-page complaint cites the results of the congressional investigation during which seven leading booster seat manufacturers were asked to provide documents and information concerning the safety of their products. The investigation followed on the heels of reports that Evenflo's "Big Kid" seats are unsafe for children under 40 pounds, the lawsuit relays.

According to the suit, the congressional report found that despite "decades-old expert consensus" that booster seats are unsafe for children under 40 pounds, five manufacturers—including Artsana, Evenflo, Graco, Baby Trend and KidsEmbrace—have misleadingly marketed their seats for children "as light as 30 pounds."
Moreover, Artsana, "to gain further trust of consumers" and compete with other manufacturers, has touted its Chicco KidFit's "DuoGuard" side-impact protection feature as able to provide "two layers of side-impact protection for the head and torso." According to the case, however, the Congressional report found that there is "no evidence that the DuoGuard feature provides any protection."
The lawsuit alleges that Artsana's own side-impact tests have shown that the touted safety feature does little to prevent a child's head from moving beyond the booster seat's headrest, as the following image purports to show: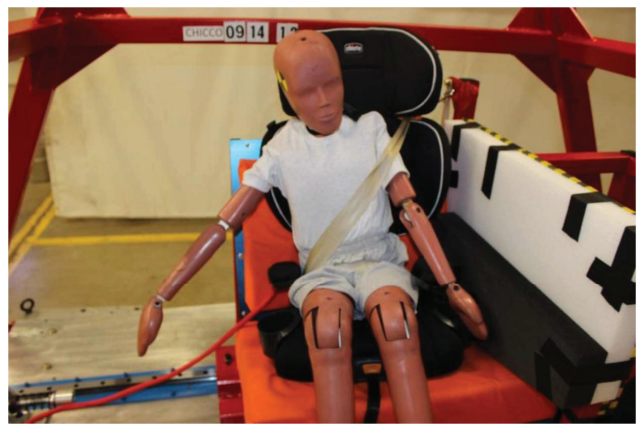 Per the case, the Congressional report concluded that Artsana has provided "unsubstantiated claims" about the safety of its Chicco KidFit booster seats in side-impact crashes, leaving consumers with "a false sense of security." The suit further claims that a Wirecutter review of leading booster seats found that the KidFit model "did not prevent head contact in our side-impact testing."
All told, the case alleges that Artsana has known or "but for its extreme recklessness" should have known that the Chicco KidFit booster seats were unsafe for children weighing under 40 pounds and provided no additional protection in the event of a side-impact collision yet made false safety representations "without any evidence or substantiation supporting them."
The lawsuit looks to cover anyone in the U.S. who purchased the aforementioned Chicco KidFit products, excluding those who purchased the booster seats for resale. A subclass has also been proposed for those who purchased the products in New York.
Get class action lawsuit news sent to your inbox – sign up for ClassAction.org's newsletter here.
Camp Lejeune
Camp Lejeune residents now have the opportunity to claim compensation for harm suffered from contaminated water.
Read more here: Camp Lejeune Lawsuit Claims
Stay Current
Sign Up For
Our Newsletter
New cases and investigations, settlement deadlines, and news straight to your inbox.
Last Updated on March 17, 2023 — 12:50 PM