Evenflo 'Intentionally Misrepresents' Side-Impact Safety for Big Kid Booster Seat, Class Action Suit Says [UPDATE]
Last Updated on March 13, 2020
Update – "Big Kid" Booster Seat Class Action Filed in Florida
Evenflo Company has been hit with a proposed class action filed in Florida over its marketing of the "Big Kid" car booster seat.
The complaint can be found here.
Update – Case Filed in Ohio
Evenflo has been hit with another proposed class action lawsuit centered on the 'Big Kid" car booster seat in Ohio.
The complaint can be read here.
Update – Class Action Filed in Washington Over "Big Kid" Car Booster Seat
A proposed class action has been filed against Evenflo Company in Washington federal court over allegations similar to those detailed on this page. The complaint looks to represent both a nationwide class and Washington-only subclass of consumers who bought an Evenflo "Big Kid" car booster seat between February 21, 2007 and the present.
"If [Evenflo] had been honest and not deceptively misrepresented the very real safety risks posed by its Booster Seat in the event of a side-impact collision, no parent would have ever purchased Defendant's Booster Seat," the lawsuit alleges.
The complaint can be read here.
Update – February 24, 2020 – Lawsuits Filed in South Carolina, Massachusetts
Evenflo Company now faces proposed class action lawsuits in South Carolina and Massachusetts federal courts over allegations similar to those detailed on this page.
The cases, respectively filed on February 20 and 21, can be read here and here.
Update – February 20, 2020 – Evenflo Facing Another Class Action Case in Ohio
An additional proposed class action lawsuit has been filed in Ohio over allegations that Evenflo Company has fraudulently advertised and marketed the "Big Kid" car booster seat as "rigorously" tested for side-impact collisions. The latest case echoes others in claiming the company "place[d] profits over children's safety" by releasing into the market car booster seats that pose a serious injury risk in the event of a side-impact accident.
The lawsuit can be read here.
For updates on this and other class action lawsuits, sign up for ClassAction.org's newsletter here.
Update – February 17, 2020 – Second Class Action Filed
Evenflo Company has been hit with another proposed class action lawsuit centered on allegedly misleading safety claims for the Big Kid car booster seat. The case was filed in the Southern District of Ohio on Friday, February 14.
The lawsuit, filed by plaintiffs from Michigan and Texas, can be read here.
A proposed class action lawsuit alleges Evenflo Company, in an effort to compete with rival Graco, has falsely and misleadingly advertised its "Big Kid" car booster seat as "side-impact tested" and safe for children as small as 30 pounds.
Filed in Ohio federal court, the 49-page case alleges that the supposedly "rigorous" tests on which Evenflo has based its safety claims were "self-created" and are wholly unrelated to "the actual forces of side-impact collisions." According to the complaint, legitimate scientific testing has shown that the safety benefits provided by Evenflo's Big Kid booster seat are dubious at best, especially for those under 40 pounds.
Further, the suit charges that the booster seat may actually increase a child's risk of traumatic injury in the event of a side-impact collision.
The lawsuit's filing comes in the wake of an extensive February 6 ProPublica report detailing, among other revelations, internal concerns from at least one Evenflo engineer about the sale of a booster seat with only a 30-pound weight minimum. ProPublica's write-up also detailed a flurry of lawsuits, some settled confidentially, against the company and its competitors that allege a slew of catastrophic injuries, including paralysis and traumatic brain injuries, were caused by the Big Kid booster seat and similar devices.
The plaintiff, a Roseville, California resident, alleges that no parent or guardian would have bought Evenflo's Big Kid booster seat absent the "disinformation campaign" the company uses to convince millions of consumers that its product is safe for small children. Those who have bought the product have not only been deprived of the benefit of their bargain in that they paid for the device under the mistaken belief that it was safe for children as small as 30 or 40 pounds, but have unknowingly put children at serious risk, the suit says.
"As a consequence of its cynical profiteering, Evenflo has now subjected millions of children to the risk of grave injury and death," the lawsuit says. "Meanwhile, it continues to hold itself out to the public as keenly concerned with children's safety."
Profits over safety?
The lawsuit paints a picture of Evenflo as a company whose decision to market the Big Kid booster seat as a safe product meant to protect children in side-impact collisions was rooted plainly in keeping up with its competitors and increasing profits.
A statutory wrinkle highlighted early in the lawsuit is that while federal law mandates that children's car seats be tested in accordance with strict rules governing crashworthiness in a head-on collision, no regulations exist at either the state or federal level with regard to side-impact testing. It's for this reason, the suit says, that parents and guardians must rely on the claims of car seat manufacturers such as Evenflo who are at fierce competition with one another.
The complaint describes a decades-long battle between Evenflo and Graco as the motivation for the former's development of the Big Kid booster seat. According to the lawsuit, Evenflo rolled out the Big Kid booster seat in 2008 in response to Graco's similar TurboBooster product, complete with "side wings" that served not a functional purpose – but an aesthetic one. The lawsuit claims it was vital for Evenflo's product to look equally as protective as that of its main competitor: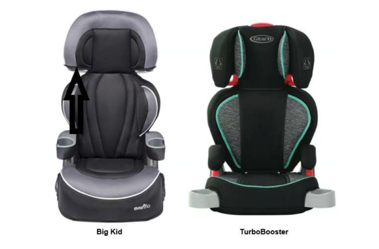 The addition of these 'wings' was cynical: Evenflo's engineers believed the Big Kid's relative 'on-shelf perception' was diminished because Graco's seat looked like it had more side support, and thus the Big Kid required an aesthetic upgrade to stay competitive. An Evenflo document makes this explicit: it states that one purpose of the new side wings was 'increased perceived side protection' among consumers."

As the lawsuit tells it, although Evenflo aimed for consumers to believe its product was a safety upgrade over that of its rival, the company's own side-impact testing showed essentially no difference despite the addition of "side wings." ProPublica wrote that the dummies placed in "side-wing" seat tests "were just as prone to lurching far outside the seat," with seat belts slipping from their shoulders and straining their abdomens.

"In real life, that could cause internal organ damage," the organization wrote.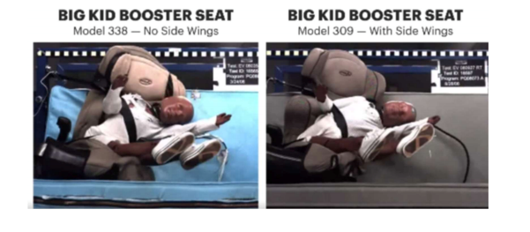 To further help the Big Kid booster seat to appear as safe as Graco's product, Evenflo, the lawsuit alleges, developed a "fraudulent" testing method to boost its marketing efforts.
"Side-Impact Tested"
Though the company tells parents that its "rigorous" testing of the Big Kid car booster seat simulates realistic side-impact crash conditions and is equivalent to those run by the government, the truth, the lawsuit claims, is far from what Evenflo is touting to consumers.
According to the suit, Evenflo has misled parents and guardians in that its so-called side-impact test is nothing like that performed by the National Highway Traffic Safety Administration (NHTSA). Evenflo's test, the case says, is performed by "placing a product on a bench (resembling a car seat), moving that bench at 20 miles per hour, then suddenly decelerating it." This line of testing, the case claims, falls "in stark contrast" to how the government tests car seats. From the complaint:
[T]he National Highway Traffic Safety Administration's 5-Star Safety Ratings program evaluates vehicles based on their performance during two side-impact crash scenarios. In the first, designed to simulate an intersection-type collision, a 3,015 pound moving barrier is crashed at 38.5 miles per hour into a standing vehicle containing two dummies. In the second, designed to simulate a crash into a telephone pole, a vehicle angled at 75 degrees (and containing the same two dummies) is pulled sideways at 20 miles per hour into a 25cm diameter pole at the driver's seating location. Following both tests, injuries to the dummies' heads, chest, lower spine, abdomen, and pelvis are evaluated."

Videos of the defendant's side-impact crash testing reveal that child-sized crash test dummies placed in Big Kid booster seats and subject to T-bone-style collisions are "thrown far out of their shoulder belts," indicating that a child who experienced a real-life crash may very well have suffered catastrophic head, neck, and/or spinal trauma, according to the lawsuit. Echoing ProPublica's report, Eric Dahle, the company's top booster seat technician, the suit states, has admitted that when a child moves in this manner (as depicted below), they can suffer severe injury.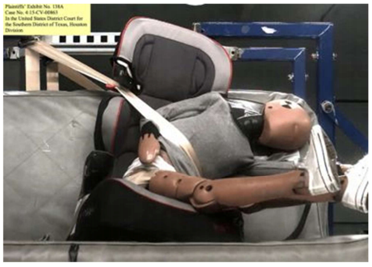 The plaintiff alleges that Evenflo, "in a cynical ploy to out-compete its main rival, Graco," has intentionally misrepresented the safety of the Big Kid booster seat—thereby increasing the risk of children suffering head, neck and spinal injuries in a side-impact accident—by touting testing that "has no basis in science or safety." Moreover, there is no mention in Evenflo's marketing materials or on its website that the company's testing of the Big Kid booster seat is not only less stringent than the government's, but is effectively impossible to fail, the suit says.
More from the lawsuit:
Records of Evenflo's internal side-impact tests of various models indicate that, following each test, an Evenflo technician (1) answers whether the test showed 'dummy retention,' which is indicated by checking either 'yes' or 'no' on a form, then (2) sends her report to an engineer who, in turn, (3) decides whether the Big Kid model passes or fails.

But an Evenflo senior test technician has admitted that, for purposes of these forms, 'dummy retention' means the following: 'did [the dummy] stay in the seat or did it fall out of the seat and end up on the floor?'

In other words, there are only two ways to fail Evenflo's 'rigorous' side-impact test: (1) if a child-sized dummy escapes its restraint entirely, and thus ends up on the floor; or (2) the booster seat itself breaks into pieces."

The same technician, who ProPublica names as Jeremy Belzyt, has reportedly stated that in 13 years he has not once performed a "failed" side-impact test for a Big Kid booster seat. The lawsuit adds that the technician testified that the following images, displaying the crash test dummy moving violently, would have been marked "yes" and passed Evenflo's safety testing.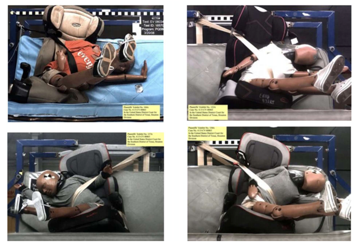 For all intents and purposes, the lawsuit alleges, the same side-impact crash tests considered to be successful by the defendant have been debunked by the company's own safety personnel and unequivocally demonstrated that the Big Kid booster seats place children at serious risk of injury or death.
According to the complaint, Evenflo, despite possessing knowledge of the apparent dangers linked to the product, began "aggressively" marketing the booster seat to businesses and consumers as "side-impact tested," going so far as to include a small tag on the seat itself noting such.
Evenflo's alleged resistance to changing 30-pound weight limit
Since the early 2000s, the complaint says, the American Academy of Pediatrics (AAP) has advised that children who weigh 40 pounds or less are best suited for a car seat with its own internal harness. Today, according to the case, "almost all harnessed seats" can accommodate children as heavy as 65 pounds and as tall as four feet, one inch, with some products able to fit children up to 90 pounds. Further, the AAP has for more than a decade recommended that children utilize harnessed car seats for "as long as possible," the suit adds.
Given the above specifications, Evenflo has been excessively slow in adjusting the 30-pound weight minimum for its Big Kids booster seat, the case says. Even after learning from its own test results that the Big Kids booster seat placed children at a heightened risk of injury during collisions, Evenflo, according to the suit, chose to keep test results secret rather than redesign the product or conduct further testing to hammer out appropriate age and weight guidelines for using the device.
Further still, the 30-pound weight limit was one of quite a few concerns brought up to Evenflo internally by Dahle, who pushed to redesign the product or even bump up the minimum weight requirement to 40 pounds. Each time Dahle pressed management with his concerns, he was effectively told the changes were out of the question, according to ProPublica.
It wasn't until the release of ProPublica's report, the lawsuit says, that Evenflo finally revised its website to state that the minimum weight for a child in the Big Kid booster seat is 40 pounds. But the weight revision is somewhat confusing, according to the suit. The case alleges that while the defendant's counsel said the company changed some but not all of its U.S. booster seats to a 40-pound minimum so as to allow the company to sell the product in Canada, Evenflo's marketing materials, manuals and product descriptions continue to list a 30-pound weight requirement. The lawsuit pegs Evenflo's apparent one-foot-on-each-side stance on the subject, even with ProPublica's exposé, as historically typical for the company given its pattern of making decisions in line with what's best for keeping up with competitors.
"For this reason," the case says, "Evenflo has historically resisted change at every turn—once again, in a bid to outcompete Graco and sell as many seats as possible."
Since the release of ProPublica's piece, written by Daniela Porat and Patricia Callahan, a U.S. House of Representatives subcommittee has opened its own investigation into Evenflo over the company's product marketing and testing practices.
How can I get in on this lawsuit?
Technically speaking, there's nothing you have to do to get in on or "join" a class action lawsuit. The legal process takes time—months, sometimes years—and at this stage, there's still a long way to go before those who are intended to be covered by the lawsuit need to mobilize. In fact, it's common for class action cases to either be dismissed or settled before making it all the way to trial.
If you're interested in keeping up with the progress of the case, or looking for more class action news in general, sign up for ClassAction.org's newsletter here.
Who does the lawsuit look to cover?
The lawsuit aims to cover consumers across the United States who bought an Evenflo Big Kid car booster seat at any time between 2008 and the present.
The complaint can be found below.
Last Updated on March 13, 2020 — 3:03 PM