From Talks to Checks: The Stages of a Class Action Settlement
Here at ClassAction.org, we're always talking about settlements.
We tell you that settlement talks are underway, that a preliminary settlement was approved, that settlement notices are being sent out, that a date was set for a settlement's final approval hearing, and more often than not, that you still need to wait before you get your settlement check.
Want to stay in the loop on class actions that matter to you? Sign up for ClassAction.org's free weekly newsletter here.
So, what does all of this mean? How does a lawsuit go from "settlement talks" to "settlement checks"? And why does it seem to take so long?
Below, we break down the process for you by following the path of a real case—so that when you hear about a settlement on our site or elsewhere, you'll know when you should (and shouldn't) hold your breath.
Our Example Case: A Lawsuit Challenges Dial Hand Soap Claims
The case we're following takes us back to 2011, when several lawsuits against Dial, Inc. were consolidated into a multi-district litigation (MDL). The cases alleged that Dial exaggerated the antibacterial strength of its hand soap by stating, among other claims, that the product could kill "99.99% of germs" when in reality, the plaintiffs argued, it was no more effective than good ol' soap and water.
After several years of discovery, an amended complaint, a motion to dismiss, deadline extensions, objections, and amendments, the parties began to talk about a settlement.
Settlement Talks
The reasons why a case would progress to settlement talks—and how soon these talks begin—will depend on several factors. These include the strength of the plaintiff's case, the cost of the litigation, and the negative publicity the defendant may face during a drawn-out trial.
Some defendants may choose to settle a case quickly because it would cost them less—in both time and money—than it would fighting it out for months or years. Others will defend the case until it goes to trial and then decide to settle. But either way, a settlement begins with talk.
What's Being Discussed?
The Class
In order to work out a settlement, the plaintiff(s) and defendant(s) need to define who the settlement is going to cover—i.e., the class.
A settlement can occur either before or after a case is certified—that is, officially designated as a class action by a judge. If the settlement happens before a class is officially certified, the parties to the agreement define what becomes known as the settlement class.
If the settlement happens after certification, the class will have already been defined and officially approved by the court. A case has a much better chance of settling after it's been certified because the size and scope of the class have already been decided on and OK'd.
Compensation
Another matter that comes up during settlement talks is the type and amount of compensation or relief the settlement is looking to provide to class members. In a good settlement, class members should receive payment or relief that is "fair, reasonable, and adequate" in light of the alleged injury they've suffered.
The parties also decide on whether the settlement will provide what's known as injunctive relief. An injunction is an order by the court that requires the defendant(s) to do or stop doing a specific act—for example, removing misleading language from a product label.
Other Details
The parties will also discuss other details of the settlement process, such as how to notify class members, how the amount of each claim is to be decided (if they're different), which settlement administrator will oversee the process, and whether a special master or committee will be appointed to help manage the claims.
Mediators
With all of these decisions to make and two opposing parties, it's sometimes challenging to come to an agreement that satisfies both the plaintiff(s) and the defendant(s). Sometimes the parties engage the help of a mediator—who could be, say, a retired judge—to help them craft a fair settlement.
Even with a mediator's help, it can take a long time to reach a deal. In the Dial case, the parties began settlement talks in February 2016 but failed an attempt at mediation. It wasn't until March 2017, when a judge put a stamp of approval on six statewide classes, that the parties came together again to rekindle settlement discussions.
Class certification is often considered the biggest hurdle for plaintiffs, so the judge's official OK that these groups could proceed with their claims together put them one step closer to winning the case. This may have been a motivating factor for Dial to reconsider a settlement.
Preliminary Approval
Once the parties have negotiated a satisfactory deal, they submit their proposed settlement for review by the judge overseeing the case. The court goes over the proposal and decides whether the settlement is "fair, reasonable, and adequate" to the class members. The judge will also look out for any signs of collusion and make sure the agreement doesn't just benefit the lead plaintiff and counsel.
The court granted preliminary approval of the Dial settlement on January 2, 2019—nearly two years after the second round of settlement discussions began.
The settlement class was defined as: "all persons who purchased the Dial Complete Product in the United States from January 1, 2001, up to and including January 12, 2019."
The agreement provided for a total of $7.4 million to be split among the class members. Each person who submitted a claim could be paid approximately $0.27 per bottle and could claim reimbursement for up to 30 bottles. Also included in the agreement was injunctive relief that was valued at $27 million. Dial would be required to replace the active ingredient in its soap product and change the products' labeling and marketing to remove the challenged language.
Class Notice
Once the court grants preliminary approval, or sometimes beforehand, notice of the settlement is advertised or sent out, and a settlement website is launched where class members can learn about the litigation and file a claim. The goal is to reach as many class members as possible; a settlement may be rejected if the court determines that not enough class members were informed of it.
What You Can Do
At this point, consumers are presented with an opportunity to participate. Depending on the settlement, there may be several options available. Here's an example from the Dial settlement notice: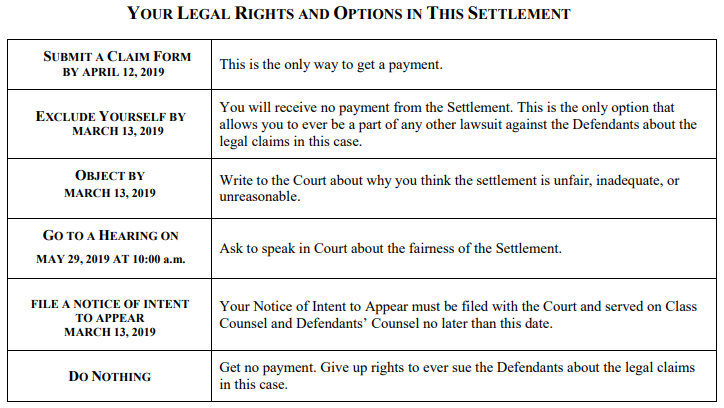 In most settlements, class members are presented with at least three options:
File a Claim. To participate in the settlement, class members are often asked to fill out a form that may include their personal information (name, address, date of birth, etc.) and possibly certain questions about the claim (how many products they purchased, how much money they spent on repairs, what kind of negative experience they had, etc.) They may also be asked to provide proof (receipts, bills, products) along with their claim. In some settlements, however, class members are not required to file a claim and will automatically receive a check after final approval.
Exclude Yourself from the Settlement. After preliminary approval, class members can choose to exclude themselves from the settlement, which means they won't receive any benefit from the deal. This also allows them to preserve their right to file their own action against the defendant(s) over the allegations—an option that settlement participants forfeit.
Object to the Settlement. Class members may also object to the proposed settlement if they believe it is unfair, inadequate, or unreasonable. We'll talk more about this in the next section.
Objection!
After a settlement is granted preliminary approval, class members are presented with an opportunity to object to the deal. They do this by filing an objection with the court, and they are permitted to voice their arguments at the final approval hearing (discussed below). The court considers any objections before deciding whether to grant final approval of the settlement.
While objections can help the court weed out settlements that are unfair, inadequate, or unreasonable, they also delay the settlement process and could be the reason you haven't seen your settlement check yet.
In the Dial case, the U.S. government and at least 12 states' attorneys general filed objections to the proposed settlement. (Federal law dictates that certain government officials—the U.S. Attorney General, state attorneys general, and any relevant government regulators—must be notified of potential class action settlements and are given an opportunity to object.) According to the government's objection:
The proposed settlement contemplates hefty, uncontested attorney's fees based in part on obtaining forward-looking injunctive relief of illusory value. The Court should reject the call to compensate attorneys at the expense of unnamed plaintiffs for any portion of work that provides little or no actual value to the class. To the extent the settlement agreement directs money away from uncompensated class members, it should not be approved."

The government's statement pointed out that the proposed injunctive relief added "no additional benefit" for class members because Dial had already changed the active ingredient in its soaps in response to new FDA mandates. Therefore, the statement argued, the attorneys' fees were too high as compared to the compensation class members stood to receive.

Final Approval
If a settlement survives all the previous stages, it is granted a final approval hearing. At the hearing, the court considers, among other factors, any objections to the settlement, the number of class members who opted out or submitted claims, and the total relief to be granted to class members.
If the judge decides the settlement is fair, reasonable, and adequate, he or she grants final approval of the settlement. Only after this point will settlement checks be sent out to class members - barring any appeals.
As for the Dial case, the court granted final approval of the settlement on May 31, 2019. The judge rejected the government's objections, stating that though the injunctive relief was "probably illusory," drawing out the "aged litigation" even longer would likely not provide any more cash to class members, who were already set to be "fully compensated."
From Talks to Checks
If you'll remember, the Dial MDL started out way back in 2011 (with the original cases filed even earlier), and class members didn't get their checks until nearly eight years later.
The settlement process doesn't always take this long—this is a rather extreme example—but it goes to show you that there are a lot of factors (court schedules, disputes, objections, extensions, appeals, etc.) that can delay proceedings.
So, when you hear about settlement talks, don't hold your breath. Instead, stay informed. Keep an eye out for e-mailed and mailed notices, visit our settlements page, and subscribe to our newsletter. We'll do our best to let you know when you can take action.
Still Have Questions?
Check out our settlement FAQs page, featuring answers to questions like "What if I never got a notice?" and "What if I lost my check?"
Otherwise, feel free to post your question in the comments section below or e-mail us at staff@classaction.org.
Get class action lawsuit news sent to your inbox – sign up for ClassAction.org's free weekly newsletter here.
Hair Relaxer Lawsuits
Women who developed cancer, endometriosis or reproductive problems after using hair relaxers such as Dark & Lovely and Motions may now have an opportunity to take legal action.
Read more here: Hair Relaxer Cancer Lawsuits
Stay Current
Sign Up For
Our Newsletter
New cases and investigations, settlement deadlines, and news straight to your inbox.
Last Updated on April 27, 2023 — 11:18 AM