Class Action FAQs: Why Do Settlement Websites Look So Shady?
In an age where we spend plenty of time on the Internet, we have grown accustomed to websites that look, you know, good. And for anyone who has ever claimed money from a class action settlement, you may have had this expectation shattered. No offense to those who work hard to put up these sites, but most of the time they look like hot garbage. We're here to shed some light on why that is – and why it's OK.
Get class action lawsuit and settlement news sent to your inbox – sign up for ClassAction.org's free weekly newsletter here.
Seriously, Look at These
It's reasonable to be concerned about filling out a form full of your personal information when a site looks like this: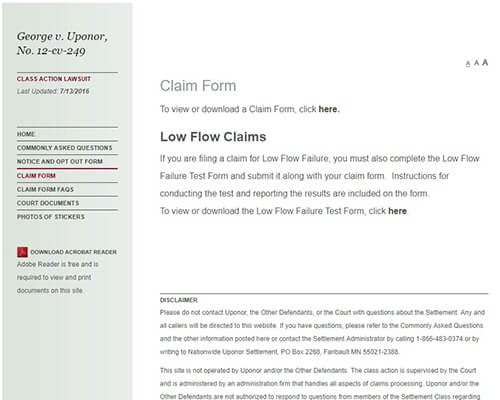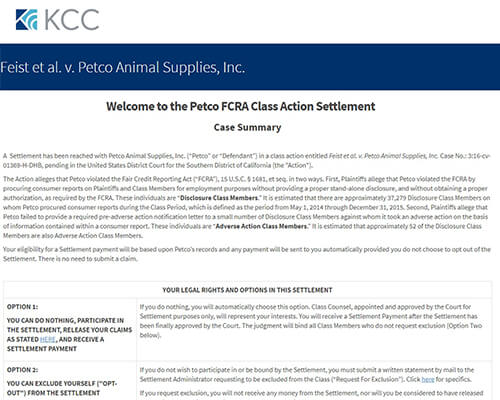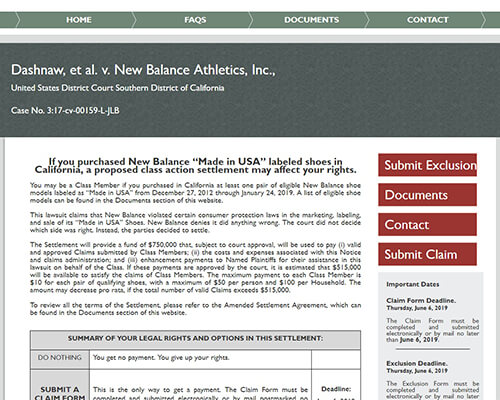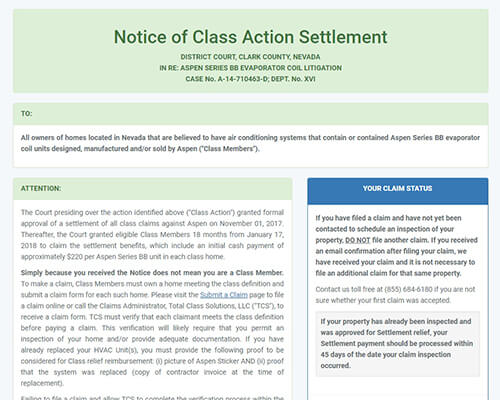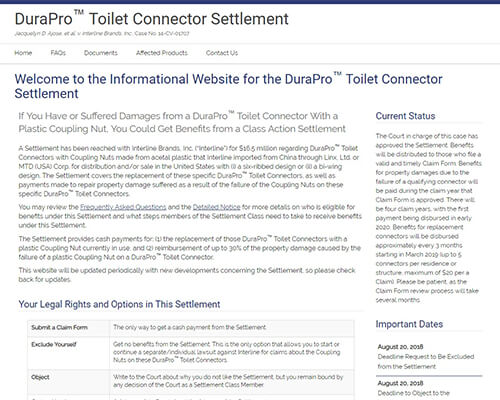 At best, we're given walls of text with a few links thrown in, and a sensible person may be (justifiably) concerned about putting any amount of information about themselves onto a page that looks like that. Most of us have been conditioned to be skeptical when we're online; we've all heard the horror stories. Unfortunately, this mindset can keep class members from reaping the benefits of lawsuits filed on their behalf.
Who's Putting These Sites Up Anyway?
Contrary to popular belief, we aren't the ones who put these websites up. In the event of a settlement, the attorneys who handled the case will typically hire a settlement administration company whose sole purpose is to get the word out there to class members like you and me. These companies are responsible for getting the sites live, making sure the claims process is going smoothly, and answering any questions class members may have. There are plenty of settlement administration companies out there and some get more work than others, so it's not uncommon to find that some settlement sites look, well, nearly identical.
Function Over Aesthetics
These sites may not be taking home any prizes for beauty, but by golly, they get the job done. (And, if there's an issue, settlement administrators are there to help.) We've covered the fact that the sites aren't stunning to look at, but here's why:
The Websites Are Put Up Quickly
These websites are usually put up once a preliminary settlement has been reached. At the same time, notices with the link of the site will be prepared to be sent to class members. The faster the site is live, the quicker these notices can be sent out.
Another reason they're put up so quickly is because…
The Websites Aren't Meant to Last Forever
Once a settlement deadline has passed, there isn't much use for the site. A site will stay up for a little bit after the deadline – but not forever – while checks are being distributed. This is so that there's a resource available for people who may need to contact the settlement administrator about any issues with their compensation.
How to Tell If a Website Is Legit
Many times, you'll get a notice (via mail or email) informing you that you may be covered by a settlement. If the site matches the information on the notice, you're probably safe to proceed with your claim.
Other times, you'll stumble across a settlement you think you're eligible to participate in, but you didn't get a notice beforehand. If you're concerned about the legitimacy of one of these sites, you'll probably want to do some research – especially if the website is asking for any sensitive information. Most settlements don't require a Social Security number (some do, though) and I've never heard of one asking for credit card information.
A good place to start is…the Internet! Find out whether there was an actual lawsuit filed that is now being settled. A quick Google search (or Bing if you're feeling quirky) should give you the answer. Other than that, sites like ours (and others) have pages full of settlements that we get from the companies who put these sites up. If you can find it on our settlements page, it's likely to be from a reputable source. And, if something you found isn't listed on our site or if you have any other questions, feel free to send me an email (listed below).
To our knowledge, settlement scams aren't common, but they have happened before. The best thing we can do is to stay informed, and a bit skeptical. It can be crazy out there. Stay safe, dear readers.
Want to stay in the loop on class actions that matter to you? Sign up for ClassAction.org's free weekly newsletter here.
Hair Relaxer Lawsuits
Women who developed cancer, endometriosis or reproductive problems after using hair relaxers such as Dark & Lovely and Motions may now have an opportunity to take legal action.
Read more here: Hair Relaxer Cancer Lawsuits
Stay Current
Sign Up For
Our Newsletter
New cases and investigations, settlement deadlines, and news straight to your inbox.
Last Updated on April 27, 2023 — 11:22 AM