What Does It Mean to Be the Lead Plaintiff in a Class Action Lawsuit?
Last Updated on April 27, 2023
At least a few times a week, ClassAction.org gets emails from readers who want to start a class action lawsuit against one company or another. It's all well and good to want to take action when you're among a large group of consumers who've been harmed by a company or when you've exhausted less-direct approaches, such as writing to your state attorney general. But many who email us are unaware that what they're actually asking to do is to serve as the "lead plaintiff" in a class action lawsuit.
Get class action lawsuit and settlement news sent to your inbox – sign up for ClassAction.org's free weekly newsletter here.
So, what exactly is a lead plaintiff? What's their job? How much different is it from being a "class member"— that is, the average consumer who has little to do other than wait for a settlement to be approved to fill out a claim online? Are there any upsides? Downsides? Will my name be in the news? (It might!)
For those looking to start a class action lawsuit, here's everything you need to know about being a lead plaintiff.
What is a lead or named plaintiff?
The lead plaintiff—or, less formally, the named plaintiff—is the individual whose name goes on the lawsuit and who represents the entire group of people who were allegedly harmed by the defendant's (or defendants') wrongdoing. Put simply, the lead plaintiff is the person who files the lawsuit. In some cases, there is more than one lead plaintiff.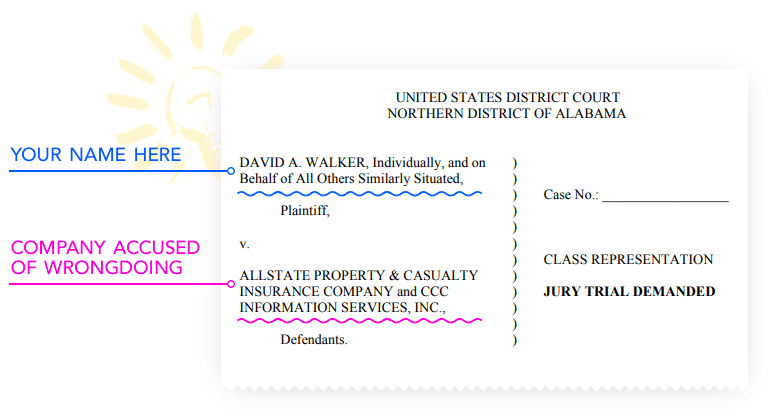 For almost every class action, the lead plaintiff's experience with a defendant's alleged wrongdoing will line up with those of the "class" – that is, the group of people the lawsuit looks to cover. For instance, if the plaintiff claims that, say, the transmission in his truck keeps stalling due to a defect, the people he'll seek to represent will all own or lease that very same vehicle and have (or could potentially have) similar issues with their transmissions.
There are significant differences between sitting idly on the sidelines as a class member and standing in front as a lawsuit's lead plaintiff. For instance, the average class member—that is, a consumer who's represented by the lawsuit and who may be able to claim a piece of any eventual settlement—doesn't have much to do while a class action winds its way through the court. In fact, for most class action cases, class members only need to sit up and pay attention once the case settles and the claims process begins.
The lead plaintiff, on the other hand, is far more involved in the various stages of a class action, from its filing all the way through to potential settlement discussions. Put simply, there's a good deal of work for the lead plaintiff to do.
How is the lead plaintiff chosen?
The lead plaintiff is typically the individual who initially reached out to the attorneys prior to the lawsuit being filed. It's not uncommon, however, for attorneys to speak to a number of consumers—sometimes hundreds, sometimes only a handful—after learning of a particular wrongdoing before they find the one or two individuals they believe best fit the mold to be the lead plaintiff.
In choosing a lead plaintiff, attorneys will look for someone who shows that they can not only capably represent the interests of every class member, but can also handle everything else the role entails.
That being said, the plaintiff's appointment to the role is not officially locked in until the court certifies the class—which, on an average timeline, can happen years after a lawsuit is first filed.
But that doesn't mean the lead plaintiff doesn't have work to do in the meantime.
What are the named plaintiff's responsibilities?
We've already noted that class members need to pay the most attention if and when a lawsuit settles and the claims process begins. The lead plaintiff, on the other hand, is involved in the lawsuit's inner workings from day one and remains hands-on throughout the lifetime of the case.
After a lawsuit is filed and begins to make its way through our legal system—a process that can sometimes take years—the lead plaintiff, on top of providing evidence during the discovery phase, will closely consult with attorneys and/or expert witnesses, and must be available for hearings, strategy sessions, depositions, and any other lawsuit-related appearances or conferences.
Without question, a lead plaintiff's most important responsibility is accepting and rejecting settlement offers. This is particularly important to keep in mind given that it is much more likely for a case to settle than for it to end up in a courtroom trial.
At the end of the day, it falls to the lead plaintiff and their counsel to weigh the best interests of the class versus their own, as well as to choose whether to resolve a case with a settlement or to push it toward trial – or, in a negative scenario, regroup and refile the suit or go through the appeals process.
How much money does a lead plaintiff get?
There is no standard, across-the-board dollar amount lead plaintiffs are paid for their work on a case.
In general, a lead plaintiff will, in exchange for their time and effort, receive a larger percentage of any potential settlement than the other class members.
The exact amount of money a lead plaintiff stands to receive from a class action settlement depends largely on the terms of the agreement and is ultimately up to the discretion of the court. In hammering out a monetary award for a lead plaintiff, the court will usually consider the extent to which the lead plaintiff was involved in the litigation, the nature of the injury suffered by class members, and the size of the monetary award made available for the class.
Can ClassAction.org make me a lead plaintiff?
ClassAction.org cannot make you a lead plaintiff because we are not a law firm and do not have the authority or means to file lawsuits ourselves.
OK. What if I have an idea for a class action suit? How can I become a lead plaintiff?
The most straightforward advice we can give you is to contact a lawyer in your area.
Plaintiffs' attorneys are essentially the de facto gatekeepers with regard to who is going to file a suit and whether one is even filed in the first place. Despite what you may believe, most attorneys will not take on a consumer's case if they don't believe their allegations to be meritorious.
If you're looking for a place to start, drop us a line at staff@classaction.org.
Does it cost anything to be a lead plaintiff?
Despite their level of involvement, the lead plaintiff will generally not be on the hook for paying attorneys' fees and will bear little to no financial responsibility for any out-of-pocket costs, such as the cost of postage and travel, related to the lawsuit. These fees and costs are almost always carved out of the lawsuit's settlement (should there be one) or directly from the attorneys' pockets should the case not succeed.
What are the downsides?
As rewarding as representing large groups of consumers may be, serving as a lead plaintiff may not be some folks' cup of tea. One drawback is the time investment involved, as a lead plaintiff will typically have to devote a non-insignificant chunk of time to working with the attorneys. If you're the type who always has a full calendar, it's something to keep in mind before taking the plunge into serving as a lead plaintiff.
For others, the prospect of being asked questions by defense attorneys is about as appealing as a sandwich left in a hot car at the beach for a few hours. After all, it's the job of the defense team to do their best to pick apart a plaintiff's allegations, as well as their fitness to represent a class of consumers. If you don't mind this kind of attention, you may have the stuff good lead plaintiffs are made of. And it's important to keep in mind that you'll also have your own group of attorneys preparing you for these questions and creating your own defense.
We'd be remiss to leave out that while the vast majority of class and collective actions are filed, go through the legal process, and are either dismissed or settled with little to no fanfare, other cases, for one reason or another, can be a bona fide big deal. And class action lawsuits that are a big deal very well might draw some media attention.
For these types of cases—the recent Chevy Equinox, Fisher-Price Rock 'n Play Sleeper, or Dr. Teal's Epsom Salts suits come to mind—the lead plaintiff's name will, more often than not, be included in news articles about the suit. At any rate, class action lawsuits are a matter of public record anyway—meaning a lead plaintiff's name is obtainable through a simple database search—but public record is still less visible than say, a spot on the front page of Google News.
For some, this may be a downside; others may be unphased by the attention.
Wrapping Up
Serving as the lead plaintiff is not a cruise down easy street, but it's also far less intensive than what's asked of the plaintiff in other types of litigation. As with everything, serving as a lead plaintiff has its pros and cons, and frankly not everyone is cut out for the role. All that said, leading the charge on a class action lawsuit can undoubtedly be rewarding for a consumer who doesn't mind bearing the burden of standing up for others in court.
Have a question you don't see answered on this page? Let us know down in the comments.
Want to stay in the loop on class actions that matter to you? Sign up for ClassAction.org's free weekly newsletter here.
Hair Relaxer Lawsuits
Women who developed cancer, endometriosis or reproductive problems after using hair relaxers such as Dark & Lovely and Motions may now have an opportunity to take legal action.
Read more here: Hair Relaxer Cancer Lawsuits
Stay Current
Sign Up For
Our Newsletter
New cases and investigations, settlement deadlines, and news straight to your inbox.
Last Updated on April 27, 2023 — 11:34 AM