Citing Gov't Report, Class Action Claims Britax Child Booster Seats Not as Safe as Represented
Coleman et al. v. Britax Child Safety, Inc.
Filed: March 12, 2021 ◆§ 0:21-cv-00721
A lawsuit claims Britax misrepresented the safety of its child booster seats in order to charge consumers a premium price for the products.
A proposed class action claims Britax has made "fraudulent and misleading representations" with regard to the safety of its child booster seats in order to charge consumers a premium price for the products.
The 54-page case follows on the heels of a 10-month investigation conducted by the U.S. House of Representatives Subcommittee on Economic and Consumer Policy into seven leading booster seat manufacturers, including Britax. Per the case, the subcommittee concluded in its December 2020 report that the companies have "endangered the lives of millions of American children" by failing to conduct appropriate side-impact testing of their booster seats while misrepresenting to consumers that the seats would provide protection in side-impact collisions.
According to the lawsuit, Britax has "deceived parents with its false and misleading marketing" into believing they can move their children from car seats with harnesses to booster seats at an earlier stage without fearing for their safety, and that Britax's booster seats provide "superior safety technology" worth a premium price.
Per the suit, the National Highway Traffic Safety Association (NHTSA) and the American Academy of Pediatrics, among other professional associations, developed in the 1990s child passenger safety standards and guidelines that emphasized the use of child restraints tailored to the age and weight of a child. According to a 2009 NHTSA study, "premature graduation" from harnessed safety seats to booster seats is one of the "primary reasons for injuries to children restrained at the time of a motor vehicle accident," the lawsuit states.
The case adds that although Congress has over the past 20 years directed the NHTSA to "initiate rulemaking" to improve the safety of child restraints in side-impact crashes, the agency has not done so. The House subcommittee, who analyzed previously non-public documents provided by leading car seat manufacturers, noted that the lack of regulation for booster seats with regard to side-impact motor vehicle accidents has led to manufacturers "flouting the rules" and engaging in "misleading and dangerous practices," the suit says.
As for Britax, the lawsuit claims the defendant's goal is "to persuade consumers that they should purchase its products" and pay a higher price based on assurances that the products are safe. Per the lawsuit, the company advertises that its booster seats, including the Britax Highpoint, Midpoint, Skyline and, previously, Parkway models, provide "Multiple Layers of Side Impact Protection," and are tested in Britax's own facilities "through independent parties." Further, the case says the company's advertising and statements on product boxes indicate that the booster seats provide "side impact protection" and are "side impact tested."
The lawsuit, filed in South Carolina federal court, contends that Britax's marketing is "deceptive and misleading" since there exist no federal safety standards or tests governing side-impact testing for booster seats. In place of federal standards of tests, Britax made up its own, the lawsuit alleges.
"Given the absence of any such standard or test, Defendant created its own test – upon information and belief, with no basis in safety or science – and then proceeded to proclaim that its Booster Seats are 'side impact tested,' suggesting that its Booster Seats were passing a test designed to ensure that children are kept safe when subjected to a side impact collision," the complaint claims.
Moreover, Britax has allegedly failed to disclose to consumers that the so-called side-impact tests performed on its booster seats do not measure the safety of the passenger or a child's risk of injury or death but merely whether the seat retains the occupant during a side-impact collision. The suit argues that even if a booster seat retains a child during a side-impact collision, the child could still sustain serious injuries, such as paralysis due to a head or neck injury.
The House subcommittee report noted that a video of a crash test provided by Britax demonstrates that its testing has failed to establish the safety of its booster seats in the event of a side-impact crash. While the crash test was for a harness seat, which provides even more protection and retains a child more securely than a booster seat, the video shows that Britax's oft-touted layers of side-impact protection did not prevent the dummy's head from being "violently slammed against the door of the car as the [testing] sled decelerates," the lawsuit states.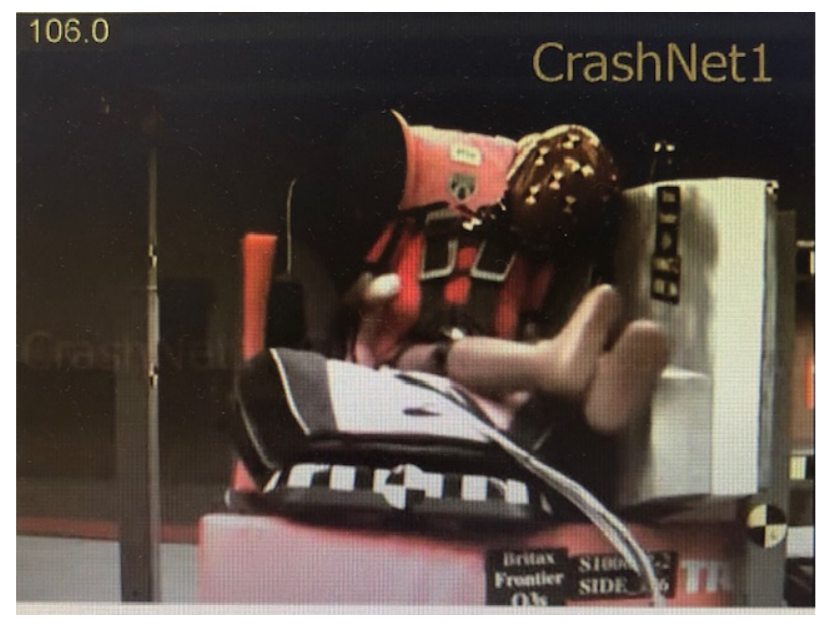 "If the harness seat did not hold and protect the child dummy from 'violently slam[ing]' its head, then there can be no question that the booster seat would equally fail to pass a test designed to accurately assess whether the booster seat protects a child in a side-impact collision," the complaint scathes.
The lawsuit alleges that no parent would have paid a premium price for Britax's booster seats had they known the safety features touted by the company "are not actually proven to safeguard children."
Further, the case claims Britax has misleadingly and fraudulently assured parents that they can transition their children from a harness to booster seat at an earlier stage without compromising safety. Per the suit, online reviews have shown that Britax's claims of side impact protection play an important role in parents' decisions to transition their children to booster seats at ages earlier than experts recommend.
All told, the lawsuit claims Britax's misleading advertising was designed to convince consumers to pay a higher price for Britax products over lower-priced competitors' products based on "special side-impact protection" that the seats do not actually provide.
"The result of this conduct is that, in reliance on Britax's material misrepresentations and omissions regarding the safety of their seats, parents and guardians have through the years substantially increased Britax's sales by purchasing Britax's Booster Seats in the mistaken belief that they are purchasing for their children protection from injury in side-impact crashes," the complaint attests.
The lawsuit, which echoes previous cases filed against car seat makers Evenflo and Graco, looks to represent anyone in the U.S. who purchased a Britax booster seat at any time since 2008, as well as state-specific subclasses of North Carolina and Indiana residents.
Get class action lawsuit news sent to your inbox – sign up for ClassAction.org's newsletter here.
Last Updated on March 16, 2021 — 4:55 PM