LG Craft Ice Maker Not Working? Problem Stems from Defect, Class Action Says [DISMISSED]
Last Updated on March 15, 2023
March 15, 2023 – New Class Action Filed Against LG Over Alleged 'Craft Ice' Maker Defect
A new proposed class action lawsuit was filed against LG Electronics on March 9, 2023 over allegations similar to those detailed on this page.
The new suit out of California takes issue with an alleged defect plaguing LG's "craft ice" makers, which consumers say renders the machines inoperable within weeks or months after purchase. The lawsuit also bemoans LG's apparently inadequate warranty coverage and claims the company "refuses to properly address and rectify the problem" or reimburse buyers for repairs or replacement costs.

Head to this page to read ClassAction.org's post about the new LG craft ice maker lawsuit.

Want to stay in the loop on class actions that matter to you? Sign up for ClassAction.org's free weekly newsletter here.

March 2, 2023 – LG Craft Ice Maker Class Action Voluntarily Tossed by Plaintiffs
The plaintiffs in the proposed class action detailed on this page have voluntarily dismissed the case without prejudice, leaving the door open for other consumers to bring similar claims against LG Electronics in the future.
The consumers submitted their notice of voluntary dismissal on February 23, 2023, and U.S. District Judge Stanley R. Chesler officially OK'd the decision the following day.
No reason for the dismissal is available in court documents.
Want to stay in the loop on class actions that matter to you? Sign up for ClassAction.org's free weekly newsletter here.
For cold-beverage enthusiasts, a refrigerator capable of making large, perfectly shaped ice cubes sounds like an invention available only in some distant future. According to a new proposed class action, however, a current version of this would-be cocktail game-changer is not all it's cracked up to be—and it's caused plenty of non-hangover headaches for consumers.
The 39-page lawsuit out of New Jersey alleges the "craft ice" makers in certain LG refrigerators suffer from a defect that can cause the machines to freeze, jam, leak or otherwise become inoperable within months or weeks of use.
Want to stay in the loop on class actions that matter to you? Sign up for ClassAction.org's free weekly newsletter here.
Some users have reported that as their faulty craft ice maker continues to try to make ice, it will emit loud noises that have led some to completely turn off the component "to avoid further disruption," according to the case. Other users have reportedly complained that the defect has caused the filtered water directed toward the craft ice maker to leak into the freezer compartment.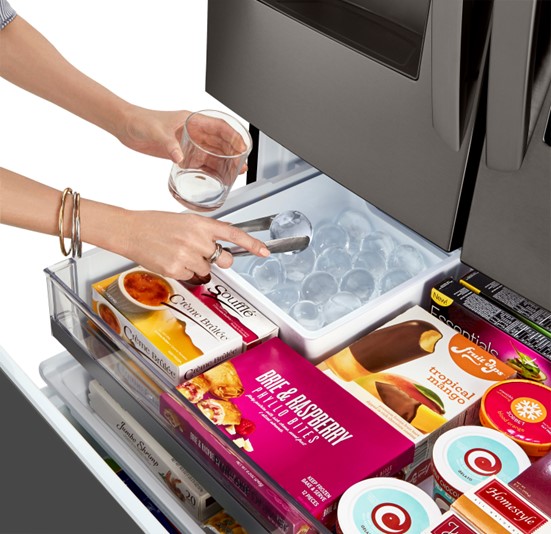 The filing claims defendant LG Electronics USA has known of the craft ice maker problem since at least November 2020, "long before" most consumers purchased their refrigerators. Per the complaint, LG heavily marketed the craft ice maker feature to entice consumers to buy the product at a premium over competing refrigerators.
Although the company is well aware that the pricey, Wi-Fi-equipped "smart" fridges are "unfit" for one of their intended purposes – that is, making large balls of slow-melting ice– LG has failed to disclose the apparent defect to the public and made "no effort" to resolve the issue prior to releasing the fridges, the case says.
Compounding matters, the lawsuit adds, is that consumers have reported that replacement craft ice makers installed by LG "likewise are inherently defective and certain to fail."
"There is simply no way for Plaintiffs and the Class to return their Class Refrigerators to working order, because there is no remedy for the defect," the lawsuit asserts.
On the rocks?
Released in September 2019, LG's InstaView Door-in-Door Refrigerator with Craft Ice was touted as a first-of-its-kind fridge capable of making three kinds of ice: slow-melting, rounded "craft ice" in the freezer drawer, and cubed and crushed ice inside the fridge's main door. Since 2019, LG has released various iterations and models of craft ice-producing fridges, all of which the company has positioned as the gateway to "a new world of high-end drinks" and a must-have tool for home mixologists and cocktail connoisseurs, the filing relays.
Although LG has led consumers to believe its craft ice-making fridges are high quality, dependable and, importantly, capable of making three kinds of ice, the products suffer from "pervasive and irreparable defects" that cause the ice maker and its components to freeze over, preventing the refrigerator from creating craft ice.
When the defect manifests, the LG craft ice maker will continue to try to make ice, the suit says, and sometimes produce a loud banging, jackhammer-like sound. Some consumers have reported that as their craft ice maker stopped working, the filtered water directed to the component leaked into the freezer compartment, creating sheets of ice in the ice bin and the compartment itself, the case states.
The complaint says that although consumers have shared online their own home-brewed attempts at fixing the craft ice maker, including using a hair dryer to "unclog" the component, olive oil to lube up ostensibly stuck mechanics, or simply turning it off for a few days, no real fix is available.
"In theory, there is only one way to permanently cure the Defect: replace the failed Craft Ice Maker with a non-defective replacement part," the case says plainly. "LG, however, has not released a non-defective Craft Ice Maker, leaving consumers with no way to cure the Defect."
Unfortunately for consumers, even if LG agrees to fix the problem under warranty, it does so using equally defective parts, the lawsuit alleges.
LG's warranty is no help, case claims
Because there exists no permanent fix for the ice maker problem, LG's warranty offers little relief to consumers and altogether "fails of its essential purpose," the complaint says. Additionally, once LG's one-year parts and labor warranty expires, the manufacturer insists the defect does not exist or otherwise declines to provide additional warranty coverage, the lawsuit says.
As a result, consumers who have not paid for an extended warranty are forced to pay out of pocket to get their fridge back to working condition (at least temporarily), even if LG previously replaced the faulty craft ice maker under warranty.
In light of LG's ineffective warranty and repairs, LG fridge buyers whose craft ice makers have stopped working have been caught between a rock and a hard place, the suit summarizes.
"LG's unlawful conduct placed Plaintiffs and the Class in an impossible situation," the filing says. "Once the Defect manifests, their only options are to purchase a non-defective refrigerator to replace a Class Refrigerator for which they paid a premium, keep their defective Class Refrigerator and pay for multiple repairs, or forgo using the Craft Ice Maker feature, without which they would not have bought [their refrigerators] in the first place."
Who's covered by the LG craft ice maker lawsuit?
The case looks to cover all individuals in the United States who bought an LG-brand refrigerator equipped with the craft ice maker feature.
I own one of these fridges. How do I get involved?
When a proposed class action is filed, there's nothing you need to do to join or add your name to the case. This is because it's only if and when a suit settles that consumers, called "class members," need to act, typically by filling out and filing a claim form online or by mail.
Should the lawsuit settle, consumers who are covered by the deal will most likely be notified about it directly via mail and/or email.
Keep in mind, though, that it may take a while before we get there (if we get there at all). Class action lawsuits tend to take some time to work through the legal process, usually en route to a settlement, dismissal or arbitration.
If you own an LG fridge with a craft ice maker, or just want to stay current on class action lawsuit and settlement news, sign up for ClassAction.org's free weekly newsletter.
The complaint can be found below.
Camp Lejeune
Camp Lejeune residents now have the opportunity to claim compensation for harm suffered from contaminated water.
Read more here: Camp Lejeune Lawsuit Claims
Stay Current
Sign Up For
Our Newsletter
New cases and investigations, settlement deadlines, and news straight to your inbox.
Last Updated on March 15, 2023 — 3:03 PM