Target's Hydrogen Peroxide Falsely Advertised as 'Treatment' for Wounds, Class Action Alleges
A proposed class action claims that Target's up & up-brand 3% hydrogen peroxide is falsely advertised as a treatment for "minor cuts and abrasions."
A proposed class action claims that Target's up & up-brand 3% hydrogen peroxide is falsely advertised as a treatment for "minor cuts and abrasions."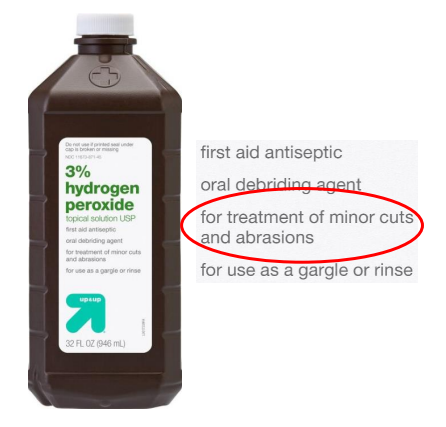 According to the 14-page case, there exists "no credible evidence" to support the retailer's claim that hydrogen peroxide can help treat minor injuries, and the substance's caustic properties, the suit says, may even negatively impact the healthy cells that help a wound heal.
"The representation the Product should be used 'for treatment of minor cuts and abrasions' tells purchasers it will assist in the healing process and shorten healing time, when this statement is false, misleading, and not authorized by any applicable body," the complaint scathes.
Per the case, consumers would not have purchased the up & up hydrogen peroxide, or would have paid less for it, had they known that Target's claims regarding wound treatment were false.
The case relays that although hydrogen peroxide has been historically used to treat a range of medical conditions, the belief that "copious amounts" of the substance should be used to prevent infection in minor cuts and abrasions is, according to one doctor, a "dangerous medical myth."
The suit points out that the front-label statement that the up & up hydrogen peroxide can be used "for treatment of minor cuts and abrasions" is functionally different from the authorized statement on the back label that advises purchasers that the substance can be used "[as] first aid to help prevent the risk of infection in minor cuts, scrapes and burns." Per the suit, Target is not authorized to claim that the 3% hydrogen peroxide can "treat" wounds.
"Dictionaries define 'treat' as attempting to heal, improve or cure a condition," the complaint reads. "While hydrogen peroxide may reduce the number of bacteria at a wound, no credible evidence supports a connection between the number of bacteria and reduction in healing time of a clean wound."
Indeed, the lawsuit argues that the Mayo Clinic and "numerous medical studies" have shown that hydrogen peroxide does not aid in the treatment of minor cuts and abrasions. Although the substance can help clean a wound and kill bacteria, it may also harm the healthy cells involved in the wound-healing process and hamper the body's efforts to heal on its own, the suit claims.
The lawsuit looks to represent anyone in New York, Maine, Montana, Alaska, Arkansas, Iowa, Kansas, Alabama, Utah, Indiana and Nebraska who purchased the Target up & up 3% hydrogen peroxide within the applicable statute of limitations.
Get class action lawsuit news sent to your inbox – sign up for ClassAction.org's newsletter here.
Camp Lejeune
Camp Lejeune residents may soon have the opportunity to claim compensation for harm suffered from contaminated water.
Read more here: Camp Lejeune Lawsuit Claims
Stay Current
Sign Up For
Our Newsletter
New cases and investigations, settlement deadlines, and news straight to your inbox.
Last Updated on August 5, 2022 — 4:44 PM