in
Newswire
Published on December 12, 2022
Stiiizy Pre-Rolled Joints Contain Less THC Than Advertised, Class Action Alleges
Gallard v. Ironworks Collective Inc. et al.
Filed: December 6, 2022 ◆§ 22STCV38021
A class action claims the labels of Stiiizy's pre-rolled cannabis joints are false in that they overstate the true amount of THC in each product.
A proposed class action claims the labels of Stiiizy's pre-rolled cannabis joints are false in that they systematically overstate the true amount of tetrahydrocannabinol (THC) in each product.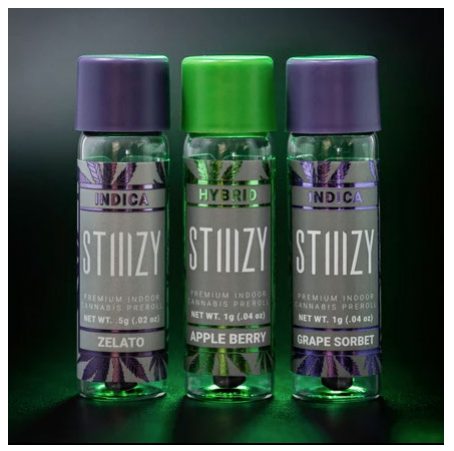 The 25-page complaint says that although Stiiizy declares on preroll labels the amount of THC purportedly in a joint, testing by an independent lab has revealed that the true THC content of the products is "materially less than the amount listed on the label." The suit alleges Stiiizy, reportedly the top cannabis brand in California, has attempted to deceive consumers into thinking that the effects of its pre-rolled products are "more potent than they truly are."
Want to stay in the loop on class actions that matter to you? Sign up for ClassAction.org's free weekly newsletter here.
According to the case, the difference between the declared THC levels and the actual amount of THC, the primary psychoactive ingredient in cannabis, in the Stiiizy products at issue is far greater than the 10-percent margin of error allowed under California Department of Cannabis Control (DCC) regulations.
"Because cannabis consumers generally prefer and are willing to pay more for high-THC cannabis products, declaring that their products have a very high THC content allows [defendants Ironworks Collective and Stiiizy] to charge premium rates for their cannabis products," the lawsuit summarizes.
According to the suit, an estimated 6.7 million Californians use cannabis, and around two million in the state use cannabis medically to treat a variety of conditions. The THC content in a product is material to consumers and often drives purchasing decisions given that many buyers seek items with a higher THC content, the case says.
As the suit tells it, however, the demand for high-THC products has led to "THC inflation," the practice of intentionally overstating the amount of THC in a given item. The complaint says that THC inflation is "rampant" in California, and independent labs have recently found that 87 percent of certain tested cannabis products contained anywhere from 10 to 20 percent less THC than the amounts declared on labels, per the case.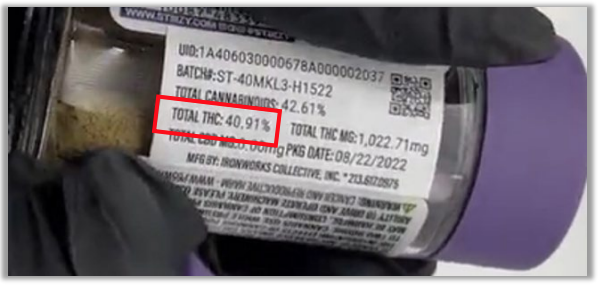 According to the lawsuit, Stiiizy's 40s Strawnana 2G Preroll is labeled as containing 50.57 percent THC, yet testing revealed that the product's actual THC content was between 33 to 34 percent. Another product, Stiiizy's 40s Strawberry Cough 2G Preroll, is labeled as having 46.10 percent THC, yet lab testing showed its THC content was actually between 33 and 34 percent, the suit says.
"If Defendant told the truth—that is, that its products' THC content is substantially lower than represented on the label—the price of the Products would fall dramatically," the complaint asserts. "If consumers knew the truth—that the Products contain substantially less THC than the label says—Defendants could not sell their Products for its current prices."
The case looks to cover all consumers who, while in California and within the applicable statute of limitations period, bought one or more Stiiizy products.
Get class action lawsuit news sent to your inbox – sign up for ClassAction.org's free weekly newsletter here.
Hair Relaxer Lawsuits
Women who developed cancer, endometriosis or reproductive problems after using hair relaxers such as Dark & Lovely and Motions may now have an opportunity to take legal action.
Read more here: Hair Relaxer Cancer Lawsuits
Stay Current
Sign Up For
Our Newsletter
New cases and investigations, settlement deadlines, and news straight to your inbox.
Last Updated on December 12, 2022 — 5:13 PM