in
Newswire
Published on October 25, 2022
'Potency Inflation': 'Mislabeled' Jeeter Prerolls Contain Less THC Than Advertised, Class Action Alleges
Centeno et al. v. DreamFields Brands Inc. et al.
Filed: October 20, 2022 ◆§ 22STC33980
The makers of Jeeter-brand cannabis prerolls face a proposed class action that alleges the joints contain "materially less" THC than declared on product labels.
The makers of Jeeter-brand cannabis prerolls face a proposed class action that alleges the joints contain "materially less" THC than declared on product labels.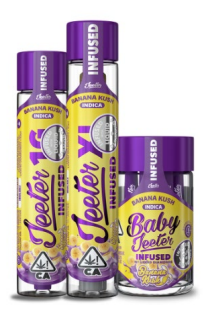 California regulations require the label of a cannabis product to include a declaration, in either a percentage or in milligrams, of the item's THC content, the 26-page case explains. Depending on the nature of a product, the THC content on the label must be within 10 percent of what's actually in the package, the lawsuit stresses.
The suit contends that although defendants DreamFields Brands and Med for America claim their Jeeter prerolls—cannabis that has been rolled in paper and is ready to smoke right out of the box, as opposed to loose cannabis consumers must roll themselves—have very high (at least 35 percent) tetrahydrocannabinol (THC) content, independent testing has revealed that the amount of THC in the products is much less than advertised.
The lawsuit's filing comes more than a month after Weed Week published a report detailing the results of testing performed on several California preroll brands, including Jeeter, to see whether the THC content declared on their labels was accurate. Weed Week's testing revealed that, for prerolls, "potency inflation is close to ubiquitous," the case says.
According to the suit, the difference between the amount of THC, the chemical responsible for the psychological effects of marijuana, declared on Jeeter product labels and the amount actually present in the prerolls is "far greater" than the 10-percent margin of error permitted by the California Department of Cannabis Control (DCC).
"Defendants are systematically overstating the THC content to deceive consumers into thinking that the effects of their prerolls are more potent than they truly are," the complaint alleges. "This is false and misleading. And, it violates DCC regulations, and California law."
Per the case, cannabis consumers generally prefer and are willing to pay more for high-THC products. Declaring that their prerolls have high THC content allows the defendants to charge "premium rates" for their cannabis products, the case argues.
"The THC content of cannabis products is important to consumers, and drives consumer purchasing decisions. Because THC is responsible for most of the psychological effects that cannabis produces, many consumers prefer and seek out cannabis with a higher THC content. The THC content of cannabis products largely drives the demand for those products."
As the filing tells it, "THC fraud" is "rampant" in California, and recent testing found that 87 percent of samples missed the mark by more than 10 percent as far as their declared THC content. According to the case, Jeeter "holds the title of the best-selling preroll in the country with over 40% of California's market share."
Weed Week's testing of one Jeeter preroll product, Baby Jeeter Fire OG Diamond Infused 5-Pack Preroll, touted on its label as 46 percent THC, revealed that the joints actually contained between 23 percent and 27 percent THC, the suit says. A second Jeeter preroll product touted as having 37 percent THC, Baby Jeeter Churros Diamond Infused 5-Pack Preroll, was found by Weed Week to contain substantially less than that, between 26 and 29 percent, the case states.
"Defendants know, or reasonably should know, that they are misleading consumers," the filing alleges, claiming the companies have overcharged millions of cannabis buyers through their systematic mislabeling of Jeeter prerolls.
The suit looks to cover all persons who, while in California and within the applicable statute of limitations period, bought or one more Jeeter preroll products.
Get class action lawsuit news sent to your inbox – sign up for ClassAction.org's free weekly newsletter here.
Hair Relaxer Lawsuits
Women who developed cancer, endometriosis or reproductive problems after using hair relaxers such as Dark & Lovely and Motions may now have an opportunity to take legal action.
Read more here: Hair Relaxer Cancer Lawsuits
Stay Current
Sign Up For
Our Newsletter
New cases and investigations, settlement deadlines, and news straight to your inbox.
Last Updated on October 25, 2022 — 9:28 AM