Shaq Hit with Class Action Over Promotion of Astrals Project NFTs
Shaquille O'Neal faces a proposed class action lawsuit over his connection to tokens and NFTs associated with The Astrals Project.
Shaquille O'Neal faces a proposed class action over his connection to tokens and NFTs associated with The Astrals Project, a collection of thousands of "metaverse-ready" 3D avatars created by artist Damien Guimoneau that the lawsuit contends have been sold as unregistered securities.
Want to stay in the loop on class actions that matter to you? Sign up for ClassAction.org's free weekly newsletter here.
The 54-page lawsuit alleges the NBA hall of famer and prodigious investor and businessman "knew or should have known" about the potential regulatory concerns linked to the sale of unregistered crypto securities yet "extensively promoted" the Astrals Project, among other problematic crypto endeavors, to his more than 30 million social media followers.
According to the complaint, O'Neal has not posted on the Astrals Project Discord account since January 2, 2023, a time when the dust continued to settle on the historic collapse of the FTX cryptocurrency exchange, which O'Neal also promoted extensively. O'Neal's silence, combined with a significant drop in the "floor price" for Astrals non-fungible tokens, has drawn heat from many who invested in the project co-founded by the former Orlando Magic, Miami Heat and Los Angeles Lakers star turned TV commentator and investor, the filing states.
"Based on his investment and business experience, investment philosophy, and knowledge of cryptocurrency, O'Neal knew or should have known of potential concerns about selling unregistered crypto securities, such as the Astrals NFTs, the value of which was linked almost entirely to O'Neal's celebrity status and the success of his promotional efforts," the suit says.
The lawsuit relays that federal courts have already confirmed the Securities and Exchange Commission's jurisdiction over a number of crypto-related emergency asset freezes. Under the Howey Test, which courts use to determine the presence of an investment contract, specifically whether there is an "investment of money in a common enterprise with a reasonable expectation of profits to be derived from the efforts of others," the Astrals NFTs check every box necessary to be considered a security, the complaint charges.
The Astrals Project is described as a collection of 10,000 metaverse-ready 3D avatars. The NFTs are "randomly generated by over 150 handcrafted traits and 16 unique races," each with their own lore, the suit says. The "pillars" of the Astrals Project, according to its whitepaper, are a "decentralized autonomous organization for incubating innovative projects" and a "story-driven, play-to-earn role-playing game," the filing relays.
Per the suit, O'Neal, who has said that he did not know about cryptocurrency when it first came to prominence but educated himself to the point where he and his son, Myles, and music manager Brian Bayati co-founded their own NFT project, marketed Astrals from the outset as an "investment opportunity."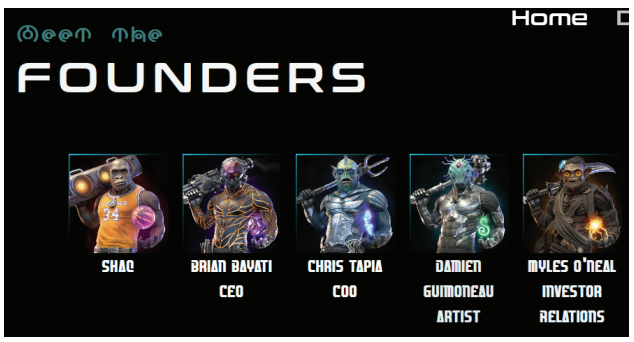 Last month, O'Neal's crypto investment and promotion activities were front and center as the former center became the last of a laundry list of celebrities to be served in an investor lawsuit over the FTX collapse. Serving O'Neal became such a problem for plaintiffs' lawyers that investors unsuccessfully attempted to pitch a federal judge on serving the defendant via direct message to his social media accounts.
After months of attempting to serve O'Neal, lawyers eventually came into contact with him outside of his home, where "video cameras recorded [the lawyers'] service," CNN reports. The serving law firm "made it very clear that [O'Neal] is not to destroy or erase any of these security tapes, because they must be preserved for our lawsuit."
According to attorney Adam M. Moskowitz of the Moskowitz Law Firm, O'Neal was served for the proposed class action detailed on this page at 9 p.m. Tuesday night while commenting on the Miami Heat playoff game.
The suit looks to cover all persons or entities who, within the applicable statute of limitations period, purchased an NFT from the Astrals Project.
Get class action lawsuit news sent to your inbox – sign up for ClassAction.org's free weekly newsletter here.
Camp Lejeune
Camp Lejeune residents now have the opportunity to claim compensation for harm suffered from contaminated water.
Read more here: Camp Lejeune Lawsuit Claims
Stay Current
Sign Up For
Our Newsletter
New cases and investigations, settlement deadlines, and news straight to your inbox.
Last Updated on May 24, 2023 — 4:50 PM