in
Newswire
Published on September 30, 2021
Nature's Bounty 'Fish Oil' Supplements Falsely Labeled, Class Action Alleges
Baines v. Nature's Bounty (NY), Inc. et al.
Filed: September 24, 2021 ◆§ 1:21-cv-05330
A class action alleges Nature's Bounty has falsely labeled bottles of its fish oil supplement in that the product contains "not a single milligram" of the two types of essential omega-3 fatty acids.
A proposed class action alleges Nature's Bounty has falsely labeled bottles of its 1400 mg fish oil capsules in that the product, due to standard chemical processing, contains "not a single milligram" of the two types of essential omega-3 fatty acids found naturally in fish.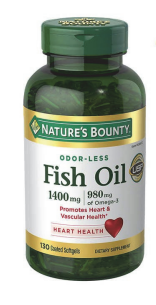 According to the 38-page case, Nature's Bounty fish oil contains neither eicosapentaenoic acid (EPA) nor docosahexaenoic acid (DHA), found primarily in fatty fish and other seafoods, as a result of a chemical process that molecularly transforms the supplement and its constituent parts such that they've been "irrevocably altered into a synthesized product that does not otherwise exist in fish, or nature."
"Just as an apple cannot be called a pear, an omega-3 acid ethyl ester cannot be called fish oil. This Product is a fatty acid ethyl ester. Labeling and selling it as fish oil is false, misleading, deceptive and unlawful."
Through this chemical process, called trans-esterification, an industrial solvent is introduced into the fish oil in order to break its natural triglyceride bonds and "cleave the glycerol backbone from fatty acid molecules," the complaint says. Thereafter, ethanol is introduced, and the fish oil is stripped of hundreds of its constituent sub-ingredients, with the newly formed omega-3s lacking the exact components found in naturally occurring fish oil, according to the suit. The new chemical by-products from this process are recognized by the common name fatty acid ethyl esters (FAEE), per the suit.
Overall, what's left after this chemical process cannot truthfully be described to consumers as fish oil, the case contends.
"Once trans-esterified, fish oil is irrevocably transformed into a FAEE," the lawsuit says. "It is no longer fish oil and cannot be so named or labeled. To do so, as [Nature's Bounty] has done, is false, misleading, deceptive, unlawful, and perpetuates an actionable fraud on the consuming public."
According to the suit, the National Institutes of Health has acknowledged many scientific studies that show that eating fatty fish rich in DHA and EPA can be beneficial with regard to cardiovascular and mental health, as well as myriad age-related conditions. Many Americans, however, do not consume a sufficient amount of fatty fish so as to maintain adequate EPA and DHA levels, which is in part responsible for the popularity boom for fish oil supplements, the case relays.
Although common fish oil is derived using a physical, and not a chemical, process, trans-esterification has been used since the early 1980s as means for manufacturers to significantly increase the yield of omega-3s and manipulate the ratio between EPA and DHA, not to mention allow for the use of lower-grade fish as the starting material, the case says. Doing so, however, requires the chemical alteration of fish oil on a molecular level and the formation of a product not found anywhere in nature, and which has subsequently not been reviewed by leading health authorities, the suit says.
According to the complaint, trans-esterification leaves the omega-3s in fish oil distinguishably different on a molecular level "such that it is impossible as a matter of law or logic for them to share a common or usual name."
"Indeed, they do not," the suit reads. "Along with their molecular differences, they have different common or usual names which must be properly represented on labeling of any dietary supplement in which they are contained. To do otherwise is deceptive, misleading, fraudulent, and illegal."
The lawsuit goes on to state that U.S. Customs and Border Protection has recognized that trans-esterification substantially transforms fish oil into a different product that results in a different tariff classification. The Federal Food, Drug & Cosmetic Act prohibits the misbranding of any food, including dietary supplements, the suit relays.
The case looks to represent all persons in the United States who bought Nature's Bounty 1400 mg fish oil capsules during the applicable statute of limitations period.
Get class action lawsuit news sent to your inbox – sign up for ClassAction.org's free weekly newsletter here.
Camp Lejeune
Camp Lejeune residents now have the opportunity to claim compensation for harm suffered from contaminated water.
Read more here: Camp Lejeune Lawsuit Claims
Stay Current
Sign Up For
Our Newsletter
New cases and investigations, settlement deadlines, and news straight to your inbox.
Last Updated on September 30, 2021 — 4:25 PM