Dr. Tobias Fish Oil Is Misbranded, Class Action Claims
A class action alleges Dr. Tobias Omega 3 Fish Oil Triple Strength is not actually fish oil given the product undergoes a complex chemical process.
A proposed class action alleges Dr. Tobias Omega 3 Fish Oil Triple Strength is not actually fish oil given the product undergoes a complex chemical process that substantially transforms its constituent ingredients.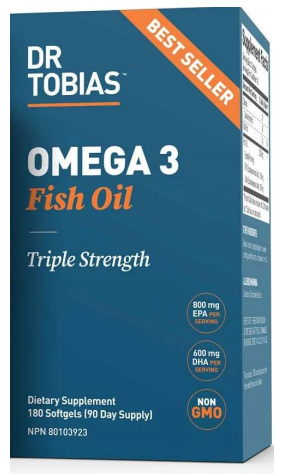 The 38-page lawsuit alleges the chemical process undergone by Dr. Tobias fish oil before it hits store shelves substantially and irrevocably alters the product into a synthesized substance that "does not otherwise exist in nature," and therefore causes the supplement to cease to exist in the form in which it's advertised.
Specifically, the complaint says the purported fish oil product is no longer fish oil after it undergoes trans-esterification, a process whereby ethanol is introduced into the fish oil and combined with a catalyst to break the natural triglyceride bonds and "cleave" the glycerol backbone from the fatty acid molecules. As a result, the fish oil is stripped of hundreds of its constituent ingredients and the essential Omega 3s, which include eicosapentaenoic acid (EPA) and docosahexaenoic acid (DHA), are converted into ethyl esters of fatty acids, the lawsuit claims.
According to the suit, the newly formed ethyl esters are wholly different molecules than the Omega 3s found naturally in fish oil.
"Once trans-esterified, fish oil is irrevocably transformed, such that it is no longer fish oil, and therefore, cannot be so named or labeled," the suit contends, alleging defendant Mimi's Rock, Corp. has falsely, misleadingly and deceptively labeled Dr. Tobias fish oil supplements.
The plaintiff, a San Pablo, California resident, claims to have purchased Dr. Tobias fish oil based on representations that the supplement contains the amounts of DHA and EPA specified on product labels. According to the suit, however, the fish oil does not contain a single milligram of EPA or DHA, the essential Omega-3 fatty acids that occur naturally in fish.
Americans generally do not consume a sufficient amount of fatty fish necessary to maintain adequate EPA and DHA levels, the case says. In response to the deficiency, healthcare professionals years ago began recommending Americans supplement their diets with fish oil two to three times per week to help reduce the risk of heart disease and stroke, the suit relays. Consequently, fish oil supplements have become among the most commonly used non-vitamin, non-mineral dietary supplements in the country, and the market for fish oil supplements was valued in 2019 at $1.9 billion, according to the lawsuit.
Whereas the traditional physical process of extracting fish oils—i.e., catching and cooking fish before using a weighted process to press oil from them and later encapsulating the oil—has remained the same for many years, the process by which the defendant's Dr. Tobias fish oil is made is chemical and thereby alters the oil on a molecular level, the complaint stresses. According to the case, the trans-esterification process, which dates back to the early 1980s, has allowed chemists to use lower grade fish oils as the supplement's starting material while increasing the yield of Omega-3s from 30 to upward of 70 percent, not to mention play with the ratios of types of Omega-3s.
Before the trans-esterification process begins, however, manufacturers must make a decision, the lawsuit says:
"Importantly, trans-esterification begins only after fish has been processed into oil. At that juncture, manufacturers have a choice—to sell fish oil as it is, or engage in the trans-esterification process as a means to boosting profits."
Trans-esterification "substantially and irrevocably" transforms Omega-3s in fish oil from their natural triglyceride form into Omega-3 fatty acid ethyl esters, the suit reiterates, stipulating that these two substances are "distinguishable on a molecular level such that it is impossible as a matter of law or logic for them to share a common or usual name."
"Indeed, they do not," the complaint reads. "Along with their molecular differences, they have different common or usual names which must be properly represented on labeling of any dietary supplement in which they are contained."
The defendant's failure to do so is "deceptive, misleading, fraudulent and illegal," the lawsuit alleges.
Get class action lawsuit news sent to your inbox – sign up for ClassAction.org's free weekly newsletter here.
Last Updated on June 2, 2021 — 5:06 PM