in
Newswire
Published on January 5, 2021
'Dishwasher-Safe' All-Clad Cookware Can Become Unsuitable for Use If Cleaned in Dishwasher, Class Action Alleges [UPDATE]
Last Updated on August 30, 2022
Montalvo v. All-Clad Metalcrafters, LLC et al.
Filed: December 22, 2020 ◆§ 9:20-cv-82384
A proposed class action claims All-Clad's collection of supposedly dishwasher-safe stainless steel cookware is defective.
August 30, 2022 – All-Clad Settlement Receives Preliminary Approval
The settlement detailed below received the judge's stamp of preliminary approval on August 25, 2022.
Notice will be emailed to those covered by the deal on or before October 24, so keep an eye on your inbox for more information.
A website will also be set up by that date where class members can find more information and file claims.
A final approval hearing has been scheduled for January 26, 2023.
Don't miss out on settlement news like this. Sign up for ClassAction.org's free weekly newsletter here.
August 11, 2022 – All-Clad Agrees to Settle 'Dishwasher Safe' Cookware Litigation
All-Clad has agreed to pay up to $4 million to settle claims that its supposedly "dishwasher safe" cookware can deteriorate or erode if washed in the dishwasher, leaving sharp edges around the rim.
The proposed settlement, which hasn't been approved by the court yet, will resolve multidistrict litigation that includes the lawsuit detailed on this page and three similar cases.
The deal looks to cover anyone in the U.S. (including Puerto Rico) who purchased All-Clad D3, D5 or LTD cookware between January 1, 2015 and July 29, 2022, the date the parties filed a motion for preliminary approval of the settlement.
Those whose All-Clad cookware has one or more metal cooking layers that have become thin or sharp (particularly around the rim) have several different options to claim relief. For each piece of damaged cookware, the buyer can return the item to All-Clad (who will pay for shipping) and submit a claim for:
New D3 or D5 cookware of the same type and style (discontinued LTD cookware will be replaced with similar D3 cookware) and a $75 refund;
Either a Hard Anodized five-piece fry-pan set or an Essentials Hard Anodized Nonstick thirteen-piece cookware set; or
A 50-percent-off purchase credit, up to $1,200, for any product on All-Clad's website, valid for two years.
Those whose cookware has not exhibited the sharp edges problem or those who have discarded the cookware are entitled to submit a claim for a 35-percent-off purchase credit, up to $750, for any product on All-Clad's website, valid for two years. For this option, you'll need to provide proof of purchase for your cookware, such as a store receipt, invoice, order confirmation, credit card receipt or canceled check.
All-Clad has also removed all "dishwasher safe" representations from the affected cookware's packaging and its website, and has instructed authorized retailers to remove any "dishwasher safe" representations from floor models and marketing materials.
If the settlement is approved, notice will be sent to those covered via email. All-Clad will provide customer email addresses contained in its registration records, and several of the company's largest authorized retailers—including Amazon, Bed Bath & Beyond, Macy's, Bloomingdale's, Crate & Barrel and Williams-Sonoma—will also provide customer email addresses to allow direct notice to be sent to those who may be covered by the settlement.
The notice will look something like this.
An official settlement website will also be set up where those covered by the deal can find more information and file claims online.
The next step is for the judge to decide whether to preliminarily approve the deal. If he does, the process will move forward and notices will begin to be sent out.
Don't miss out on settlement news like this. Sign up for ClassAction.org's free weekly newsletter here.
A proposed class action alleges All-Clad Metalcrafters' portfolio of multi-ply stainless steel pots, pans, skillets and sauciers are defective in that the supposedly dishwasher-safe products can be rendered too dangerous to use if cleaned in a dishwasher.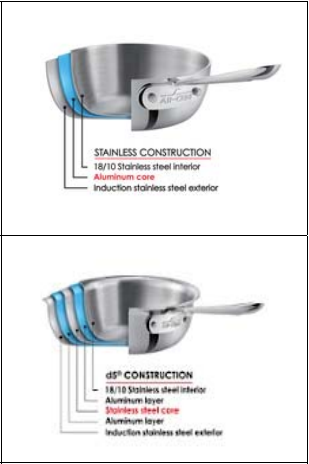 The 43-page lawsuit alleges that every piece of cookware made by All-Clad, in particular those in the D3, D5 and discontinued LTD Stainless Steel Collections, suffers from a "common defect" that can cause the products' second layer of aluminum to corrode and deteriorate away from the razor-thin stainless steel top layer (i.e., cooking surface) during dishwasher cleaning. This leaves a sharp layer of stainless steel protruding from the cookware, creating a potentially unsafe situation for anyone handling the products, the suit claims.
"Accordingly, the Cookware is unreasonably dangerous and not fit for household use," the complaint, filed December 22, 2020 against All-Clad and Groupe SEB USA, Inc., charges.
According to the lawsuit, the apparent defect and damage it might cause to the All-Clad cookware is not the result of consumer misuse or error. The case stresses that "[o]rdinary, foreseeable, and even recommended use" of a dishwasher to clean the products can lead the aluminum that overlays the stainless steel layer to deteriorate in a way that forms a "sharp, hazardous condition."
Moreover, the lawsuit claims that although All-Clad is aware that its purportedly dishwasher-safe cookware is not suitable for dishwasher cleaning, the company continues to replace the products, which cost anywhere from $80 for an individual piece to $1,600 for a set, under warranty with "equally defective" pots and pans. Otherwise, All-Clad has improperly denied warranty claims or instructed consumers to "stop using citrus or acidic-based" dishwasher detergent, the suit claims.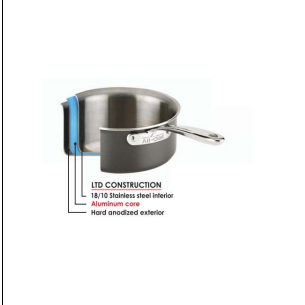 According to the complaint, All-Clad has undertaken a "deliberate and willful pattern of conduct" with regard to concealing the apparent cookware dishwasher defect from consumers. Had the plaintiff and proposed class members known All-Clad's cookware was defective and unsafe to be cleaned in a dishwasher without damage, they would not have bought the products or would have paid substantially less for them, the lawsuit says.
Following the discontinuation of All-Clad's LTD cookware collection, the company released a new product called HA1 Hard Anodized cookware, which does not contain a layer of aluminum and is represented as dishwasher safe, the lawsuit says.
Noted in the complaint is that the plaintiff's counsel previously filed a proposed class action against All-Clad over similar allegations. Prior to the filing of that suit on April 16, 2020, All-Clad uniformly "marketed, labeled, and represented" to consumers that its stainless steel cookware was dishwasher safe and even recommended that the products be washed in a dishwasher before their initial use to remove any manufacturing residue, the lawsuit says. Since the April case's filing, however, All-Clad, upon information and belief, has removed "many, if not most" of the dishwasher safe representations from its website and now suggests consumers hand-wash the products to "maintain the pan's beauty," the lawsuit reads.
Despite these marketing revisions, many retailers who sell All-Clad's cookware, including Williams Sonoma, Bed Bath & Beyond and Bloomingdales, continue to market the products as dishwasher safe, the complaint relays.
Get class action lawsuit news sent to your inbox – sign up for ClassAction.org's newsletter here.
Camp Lejeune
Camp Lejeune residents now have the opportunity to claim compensation for harm suffered from contaminated water.
Read more here: Camp Lejeune Lawsuit Claims
Stay Current
Sign Up For
Our Newsletter
New cases and investigations, settlement deadlines, and news straight to your inbox.
Last Updated on August 30, 2022 — 4:48 PM