CVS Hand Sanitizer Does Not Kill '99.99% of Germs' as Advertised, Class Action Claims
Catholdi-Jankowski v. CVS Health Corporation et al.
Filed: May 18, 2022 ◆§ 6:22-cv-06227
A proposed class action alleges that CVS-brand hand sanitizers have been falsely advertised as able to "kill[] 99.99% of germs."
A proposed class action challenges the claim that CVS-brand hand sanitizers "kill[] 99.99% of germs."
The 25-page lawsuit contends that this statement, which appears on the front label of CVS's Advanced Formula Hand Sanitizer with Aloe Vera and other similar products, is made with such a "degree of certainty" that it implies that the claim is backed by a scientific study.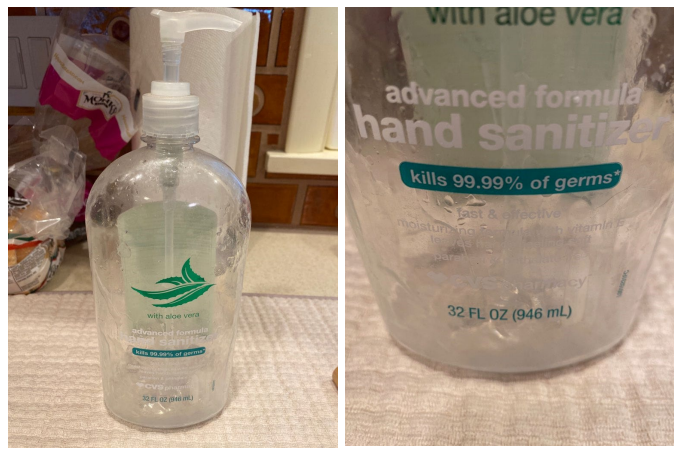 According to the case, however, defendants CVS Health Corporation and CVS Pharmacy, Inc. are well aware that no scientific study has proven that alcohol-based hand sanitizer can kill 99.99 percent of all germs. In fact, the suit says, studies have shown that many types of germs, including non-enveloped viruses, bacterial spores, protozoan cysts and some parasites, cannot be killed using alcohol-based hand sanitizer.
The lawsuit claims the front-label statement that CVS hand sanitizers can "kill[] 99.99% of germs" is therefore misleading given it's been proven that hand sanitizer, at best, only kills "a few dozen germs that have not yet grown resistant to ethanol." From the complaint:
"Hundreds of thousands of consumers have purchased these products, particularly during the ongoing COVID-19 pandemic, in the false but reasonable belief the hand sanitizers have been proven to kill 99.99% of germs and will protect people from disease. It has not been so proven. Reasonable consumers have been misled."
The lawsuit relays that only about 0.001 percent of germs in existence have been catalogued, meaning 99.999 percent of the estimated 100 billion to one trillion existing germs have yet to be discovered and identified. Moreover, CVS has not tested the efficacy of its hand sanitizer against every one of the 0.001 percent of germs that have been identified, the suit contests. It is therefore impossible to substantiate the claim that ethanol-based hand sanitizers such as CVS's products can kill "99.99% of germs," the case argues.

"Defendants know this, experts in the field of microbiology know this, but the reasonable consumer does not know this because they have only read that the product 'kills 99.99% of germs,'" the complaint attests.
According to the case, the front-label statement that CVS hand sanitizer "kills 99.99% of germs" falsely implies that this promise is based on a scientific study when, in truth, studies have shown that hand sanitizers cannot kill "many prominent and harmful germs" and are even less effective than hand washing.
One such category of germs known to be resistant to alcohol-based hand sanitizers is non-enveloped viruses such as norovirus, the leading cause of foodborne illness in the U.S., the lawsuit relays. According to the case, it is "hard to believe" that CVS-brand hand sanitizer can kill 99.99 percent of germs when it is ineffective against an entire family of viruses that causes more than half of foodborne illnesses in the country.
The lawsuit goes on to state that some types of bacteria, including Enterococcus faecium, are known to have become resistant to alcohol. Moreover, hand sanitizers do not kill bacterial spores, a leading cause of illness, or protozoan cysts, which grow to become invasive parasites such as Giardia, the suit says.
In light of the foregoing, it appears to be "extremely doubtful" that CVS hand sanitizers can kill 99.99 percent of all germs, the lawsuit alleges.
The suit notes that an asterisk on the hand sanitizers' front-label claim points to a statement on the products' back label that states, in "miniscule font," that "[i]n as little as 15 seconds, kills more than 99.99% of many common germs that may cause illness." The lawsuit argues that this statement does not disclaim the front-label promise but rather provides an "ancillary promise" that the product will, in a specified timeframe, kill 99.99 percent of a certain subset of germs that cause illness.
"Accordingly, a reasonable consumer acting reasonably under the circumstances would not understand this statement to modify or take back the promise made on the front of the bottle, which was that it would kill 99.99% of all germs," the complaint reads.
Per the suit, consumers have overpaid for the CVS hand sanitizer under the false impression that the product would protect them from "virtually all germs."
The lawsuit looks to represent New York residents who purchased CVS-brand hand sanitizer at any time within the past four years and until the date final judgment is entered in this case.
Get class action lawsuit news sent to your inbox – sign up for ClassAction.org's newsletter here.
Camp Lejeune
Camp Lejeune residents may soon have the opportunity to claim compensation for harm suffered from contaminated water.
Read more here: Camp Lejeune Lawsuit Claims
Stay Current
Sign Up For
Our Newsletter
New cases and investigations, settlement deadlines, and news straight to your inbox.
Last Updated on May 20, 2022 — 4:35 PM