Another Class Action Claims Target's Up&Up Hand Sanitizer Cannot Kill 99.99% of Germs as Advertised
Target's private label up&up alcohol-based hand sanitizer cannot kill "99.99%" of germs as advertised, a proposed class action claims.
Target's private label up&up alcohol-based hand sanitizer cannot kill "99.99%" of germs as advertised, a proposed class action claims.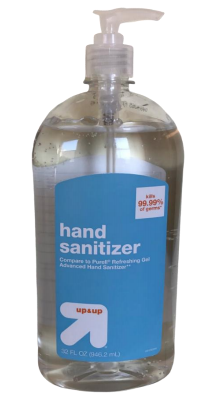 The 10-page suit, echoing a case filed last year at the onset of the COVID-19 pandemic, alleges the front-label claim that Target's hand sanitizer can kill nearly all germs is false in that, for one, there exists no scientific study that indicates any alcohol-based hand sanitizer is that effective. The suit also alleges the label claim is false given alcohol-based hand sanitizers are "incapable of killing many types of germs," such as norovirus, the virus linked to food-borne illnesses.
"Over the past decade, it has been shown that many bacteria, such as enterococcus faecium, are becoming alcohol-resistant, which makes the front label statements further misleading," the case, filed in Illinois federal court on June 5, claims. "The Product is not able to kill other germs of significance, such as protozoan cysts, bacterial spores, parasites like Giardia, and Clostridium difficile, which causes diarrhea."
The complaint goes on to assert that the fine-print disclaimer on the back of bottles of up&up hand sanitizer, which appears "[i]n miniscule font beneath the Drug Facts," is insufficient to remedy the "misleading front label claims." Even if a consumer scrutinized the bottle's label to discover the disclaimer—which says the product is "*Effective at eliminating 99.99% of many common harmful germs and bacteria in as little as 15 seconds"—they would still be unable to deduce that the hand sanitizer is incapable of killing "the most relevant and prominent germs," the lawsuit says.
"Further, this statement fails to disclose that no scientifically credible study supports the claims of the Product being able to kill 99.99% of germs," the complaint reiterates. "Even if defendant had such a study, the statement would still be misleading because the certainty and precision of the 99.99% caused consumers, including plaintiff, to expect that this necessarily included relevant and significant germs, when it did not."
Target's up&up hand sanitizer is worth materially less than what consumers paid for it, and the retailer was able to sell more of the product, and at higher prices, than it would have in the absence of the defendant's misconduct, the suit claims.
Alleged in the complaint are violations of the Illinois Consumer Fraud and Deceptive Business Practices Act, and the suit looks to represent all consumers who reside in the state and bought Target's up&up hand sanitizer within the applicable statute of limitations.
Get class action lawsuit news sent to your inbox – sign up for ClassAction.org's free weekly newsletter here.
Last Updated on June 7, 2021 — 4:43 PM