in
Newswire
Published on September 9, 2020
Consumers Deceived by True Butter Content in Sara Lee 'All Butter' Pound Cake, Class Action Alleges [UPDATE]
Briley v. Sara Lee Frozen Bakery, LLC
Filed: September 4, 2020 ◆§ 7:20-cv-07276
A class action claims Sara Lee "All Butter Pound Cake" buyers were misled given the product contains soybean oil, a cheaper shortening ingredient.
September 7, 2022 – Case Dismissed, Similar Sara Lee Lawsuit Settled
The case detailed on this page was voluntarily dismissed with prejudice by the plaintiff on January 23, 2021.
Sara Lee, however, has recently agreed to settle a similar lawsuit with a $1 million deal that aims to provide up to $20 per household for consumers who purchased Sara Lee All Butter Pound Cake.
You can read all about the settlement and how to file a claim right here.
Want to stay in the loop on class actions that matter to you? Sign up for ClassAction.org's free weekly newsletter here.
A proposed class action lawsuit claims Sara Lee "All Butter Pound Cake" buyers have been misled given the purportedly butter-heavy product contains soybean oil, a cheaper shortening ingredient.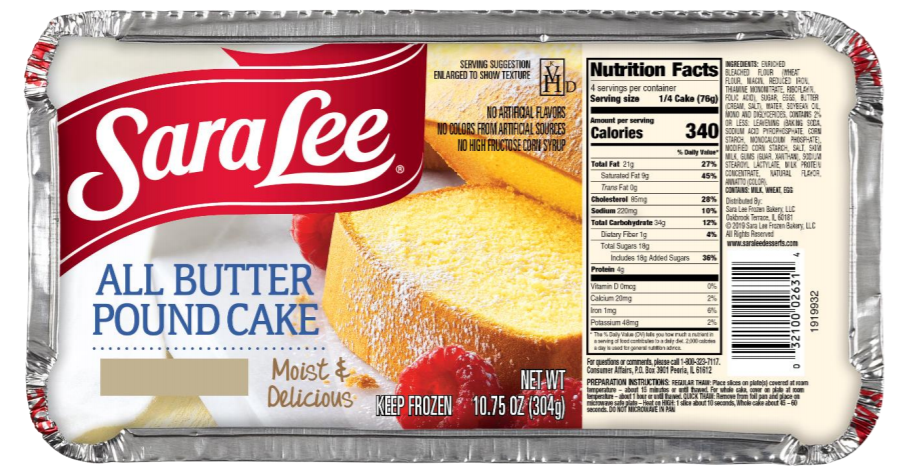 According to the case, consumers prefer butter to vegetable oils in baked goods primarily for taste and to steer clear of highly processed butter substitutes for health reasons. When a product such as Sara Lee Frozen Bakery's All Butter Pound Cake contains the word "butter" in its name, a reasonable consumer would expect all of the shortening ingredients in the food to actually be butter, the suit contests.
The defendant's label representations are misleading in that the snack contains soybean oil, i.e. another shortening ingredient, and annatto, a food coloring that imparts the food with a yellowish hue, the lawsuit argues.
Taken together, the "All Butter" claim on the pound cake's label and the addition of annatto gives consumers the mistaken impression that the product contains more butter than it actually does and that butter is the cake's only shortening ingredient, the case alleges.
"Defendant's branding and packaging of the Product is designed to – and does – deceive, mislead, and defraud plaintiff and consumers," the complaint scathes, alleging Sara Lee has sold more of the product, and at higher prices, than it would have absent the misleading labeling.
The plaintiff, who looks to represent anyone who purchased Sara Lee All Butter Pound Cake in New York within a to-be-determined time frame, claims he and other buyers would not have purchased the product, or would have paid less for it, had they known the truth about the cake's shortening content.
Get class action lawsuit news sent to your inbox – sign up for ClassAction.org's newsletter here.
Hair Relaxer Lawsuits
Women who developed cancer, endometriosis or reproductive problems after using hair relaxers such as Dark & Lovely and Motions may now have an opportunity to take legal action.
Read more here: Hair Relaxer Cancer Lawsuits
Stay Current
Sign Up For
Our Newsletter
New cases and investigations, settlement deadlines, and news straight to your inbox.
Last Updated on September 7, 2022 — 4:59 PM