'Completely Worthless': TopCare 'Flushable' Wipes Are Not Flushable At All, Class Action Claims
The TopCare "Tippy Toes" brand of purportedly flushable wipes are not, in fact, "flushable" at all, a proposed class action claims.
The TopCare "Tippy Toes" brand of purportedly flushable wipes are not, in fact, "flushable" at all in that the product does not break apart or disperse within a reasonable amount of time, leading to clogs or sewer damage, a proposed class action claims.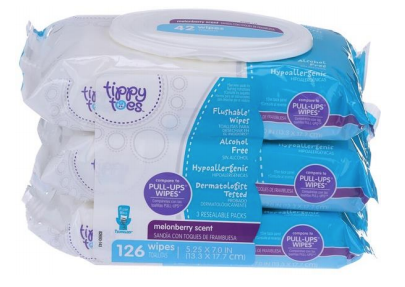 The 20-page lawsuit in New York federal court alleges defendant Topco Associates' "flushable" wipes do not perform as buyers expect them to and are therefore misrepresented. Rather than disperse a short time after being flushed, the defective product instead can cause a costly headache for consumers, and is "completely worthless" in light of its mislabeling, according to the complaint.
Per the suit, nowhere on the product's labeling are consumers informed that the wipes are not suitable for flushing.
"There is no value to consumers for purportedly 'flushable' wipes that are not actually flushable," the case says. "Nevertheless, TopCare Flushable Wipes are labeled and sold as an alternative to toilet paper, and they command a significant price premium over non-flushable wipes and traditional toilet paper."
Given the apparent issues with the wipes, Topco has "engaged in widespread false and deceptive advertising" by claiming the products are flushable, the suit claims, stressing that "[e]very package of TopCare Flushable Wipes prominently claims that the product consists of 'Flushable Wipes.'"
From the complaint:
"Consumers understand that 'flushable' is commonly defined and understood to mean suitable for disposal by flushing down a toilet. As a result, reasonable consumers expect that 'flushable wipe' products will disperse in a short amount of time after flushing and therefore will not clog or cause other operational problems in household sewage lines, septic systems, and other standard wastewater equipment. To be suitable for flushing, any 'flushable' product must be able to quickly disintegrate into small pieces such that it can pass through sewer systems without issue."
The plaintiff, a Beacon, New York resident, claims neither she nor other proposed class members would have bought TopCare Flushable Wipes, or would have paid as much for the product, had they known the wipes are not actually flushable. Per the suit, the plaintiff experienced plumbing issues shortly after using the product as directed.
The suit estimates proposed class members—consumers nationwide who bought Topco Associates' "flushable wipes"—paid "nearly four times as much" for the product in comparison to non-flushable wipes due to the company's flushability claims.
Get class action lawsuit news sent to your inbox – sign up for ClassAction.org's free weekly newsletter here.
Last Updated on April 16, 2021 — 9:04 AM