Amazon Hit with Civil Rights Class Action in Calif. Over Country of Origin/Birth Restrictions for Third-Party Sellers
A class action alleges the "country of origin/birth" options given by Amazon.com on its third-party seller application discriminatorily keep people from successfully applying.
Amazon.com, Inc.'s list of 54 countries of citizenship or birth in its third-party seller application is not extensive enough to comply with California civil rights law, a proposed class action alleges.
The nine-page lawsuit claims Amazon has violated California's Unruh Civil Rights Act by prohibiting individuals in the state from becoming third-party sellers if they were born in and/or are citizens of countries not among the 54 listed in the defendant's drop-down menu: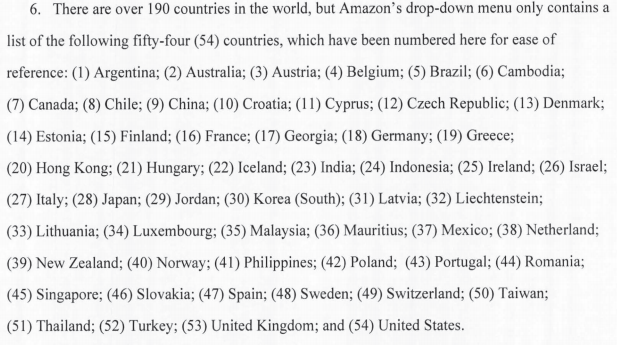 "If the applicant's country of citizenship or country of birth are not listed in the drop-down menu, the application process cannot be completed, and ultimately, Amazon disqualified the applicant from becoming a third-party seller on Amazon's e-commerce marketplace," the lawsuit, filed on July 27 and removed to federal court on December 2, says.
The plaintiff, who the suit says was born in Iran, claims he intended to become a third-party seller with Amazon yet was prevented from doing so by the defendant's "unlawful and discriminatory practices." The man was unable to complete his application given Iran is not one of the countries listed in Amazon's drop-down menu, the complaint relays.
According to the case, the plaintiff in April 2020 wrote an email to Amazon with regard to resolving the issue so he could become a third-party seller. In response, however, Amazon confirmed that the man was disqualified from doing so because of his national origin, explaining that a person cannot become a third-party seller if their country of origin is not listed, the lawsuit says.
The plaintiff looks to represent a class composed of all individuals who have been denied access to Amazon's e-commerce marketplace as third-party sellers due to their national origin, citizenship and immigration status.
The complaint and notice of removal can be found below.
Get class action lawsuit news sent to your inbox – sign up for ClassAction.org's newsletter here.
Last Updated on December 3, 2020 — 4:51 PM