Took Recalled Metformin? Here's What You Need to Know
Since June 2020, countless recalls have been issued for generic metformin, a drug used to control blood sugar levels in patients with type 2 diabetes over suspicions that the medication was contaminated with a probable human carcinogen called N-Nitrosodimethylamine (NDMA).
You may recognize the term NDMA from related recalls of certain blood pressure drugs and ranitidine, commonly sold as Zantac, that were reportedly contaminated with the same possibly cancer-causing compound.
Now, metformin is the subject of a wave of litigation aiming to compensate consumers for the losses they may have experienced as a result of taking the drug.
If you think you've purchased or taken contaminated metformin, keep reading to find out what you need to know about the recalls, the lawsuits and how it all affects you.
How Do I Check If My Drug Was Recalled?
First, it's important to mention that so far, only the extended-release (ER) formulation of generic metformin has been shown to have higher-than-acceptable limits of NDMA, according to testing performed by the U.S. Food and Drug Administration (FDA).
As a result of its investigation, the FDA has recommended that several drug companies recall some or all lots of their generic metformin, and other companies have followed with their own voluntary recalls.
(Note: If you're taking the brand-name versions of metformin—Fortamet, Glucophage, Glucophage XR, Glumetza, or Riomet—your medication was not affected by the recalls.)
To check if your metformin medication was recalled, you can search the FDA's list of recalled metformin drugs by clicking here and following the steps below.
Step 1: Check the label of your metformin medication to find the company who made the drug or its National Drug Code (NDC).
Step 2: Type the name of the company or the NDC into the Search bar on the FDA's webpage.
Step 3: Check to see if your drug matches one of the entries by comparing the name of the medicine (for instance, Metformin HCI 500 mg Extended-Release Tablets, 100 count bottle), the lot number, and the expiration date with the recalled medicines on the list.
If all the fields match, your medication has been recalled.
If you're having trouble finding this information on your medication's label, here's a sample label from GoodRx.com that highlights where it's usually found on the bottle.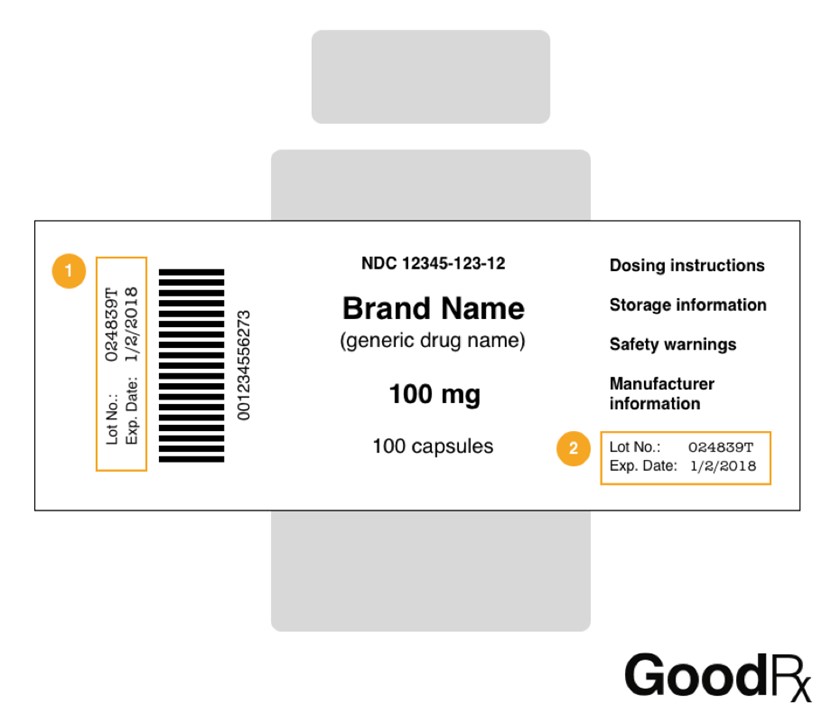 If your metformin medication was recalled, you may be able to return your medication to the manufacturer. Beyond returns, the recalls have not promised any additional recourse or compensation for those who took possibly contaminated metformin. That's where class action lawsuits come in.
Class Actions Filed Over Metformin Medication
Several class action lawsuits have already been filed over the potentially contaminated metformin drugs. By July, the cases had been consolidated into multidistrict litigation (MDL) to be handled by one judge.
The master complaint for the litigation alleges the recalled metformin medication was "essentially worthless" and had been adulterated as a result of the manufacturing processes carried out by the pharmaceutical company defendants, many of whom allegedly have a less-than-savory history of deviations from the FDA's established manufacturing standards.
According to the case, consumers who bought the recalled drugs essentially had to pay twice for their medication—once for the recalled metformin and again to replace it with an uncontaminated alternative.
The litigation looks to cover all individuals or entities in the U.S. (and its territories and possessions) who paid any amount of money for a metformin-containing drug for personal or household use that was manufactured, distributed, or sold by any of the following companies:
Teva Pharmaceutical Industries Ltd.
Teva Pharmaceuticals USA, Inc.
Actavis Pharma, Inc.
Actavis, LLC
Emcure Ltd.
Heritage Pharmaceuticals, Inc., doing business as Avet Pharmaceuticals Inc.
Granules USA, Inc.
Granules Pharmaceuticals, Inc.
Amneal Pharmaceuticals, Inc.
Amneal Pharmaceuticals LLC
AvKare, Inc.
Aurobindo Pharma, Ltd.
Aurobindo Pharma USA, Inc.
Aurolife Pharma, LLC
Alkem Laboratories Ltd.
Ascend Laboratories, LLC
Walgreens Boots Alliance, Inc.
CVS Health Corporation
Walmart Stores, Inc.
Rite-Aid Corporation
How Do I Join the Class Action?
There's typically nothing you need to do to join a class action lawsuit while the case is still progressing.
If the litigation moves forward and settles, anyone affected will likely receive notice through email or regular mail with information on how to file a claim. Check out this page for more information about that process, including how they'll get your information.
It's important to note that the class action lawsuits are looking to reimburse people for the money they spent on the recalled medication itself and any expenses associated with replacing it, but not for health problems or medical expenses that may have arisen as a result of taking the contaminated drug.
I Believe Metformin Caused My Cancer. What Are My Options?
If you believe you've developed cancer or other health problems from taking contaminated metformin, you may be able to file a personal injury lawsuit.
In a personal injury case, you'll hire your own lawyer to file an individual suit against those believed to be responsible. Personal injury cases typically seek money for medical bills, pain and suffering, and other individualized damages that are more specific than the relief offered through a class action.
If you believe contaminated metformin caused you to develop cancer, you'll need to speak with an attorney to determine whether you can make a legal claim.
A good place to start when looking for an attorney is an Internet search engine. On Google or a similar site, search for the phrase "metformin recall lawyer" or something similar and you'll find several firms advertising for new clients. You can visit their websites to find out more information.
Another option is to reach out to an attorney in your area. Attorneys typically offer free initial consultations and can help you understand what legal options are available to you.
What Else Do I Need to Know?
The FDA has advised those whose drugs were recalled to continue taking their recalled diabetes medication until their doctor or a pharmacist provides a replacement, adding that it can be dangerous for patients with type 2 diabetes to stop taking their medication without first talking to a health care professional.
If you would like to return your recalled medication (after receiving a replacement), you can check the recall notice you should have received to find out how to do so. Those who never received a recall notice can search the FDA's recall list for their specific product to find the notice that applies. Keep in mind that if you're filing an individual lawsuit, you may want to keep the recalled product in case you need to have it tested.
How Can I Find Out More Information?
The FDA's website has the latest information about the metformin recalls and offers several resources for consumers, including a Questions and Answers section that contains helpful information.
You can also click here to sign up for ClassAction.org's newsletter and get the latest updates on class action lawsuits and settlements sent straight to your inbox.
Camp Lejeune
Camp Lejeune residents may soon have the opportunity to claim compensation for harm suffered from contaminated water.
Read more here: Camp Lejeune Lawsuit Claims
Stay Current
Sign Up For
Our Newsletter
New cases and investigations, settlement deadlines, and news straight to your inbox.
Last Updated on January 4, 2021 — 9:05 AM