I Took Recalled Blood Pressure Drugs. What Are My Options? [UPDATE]
September 1, 2020 – FDA Issues Guidance for Nitrosamine Detection
The U.S. Food and Drug Administration issued guidance earlier this month to help drug manufacturers detect and prevent unacceptable levels of nitrosamine impurities in their products.
The guidance comes after certain medications—including ARBs (valsartan, losartan and irbesartan), ranitidine (Zantac), and metformin—were found to contain unacceptable levels of n-nitrosodimethylamine (NDMA), a probable human carcinogen. According to the FDA, the discovery of nitrosamine impurities in these common blood pressure, heartburn and diabetes drugs "made clear the need for a risk assessment strategy" to reduce or prevent such contaminants in any medications at risk for their presence.
Class actions looking to cover those who purchased the drugs are still ongoing, but if any of the cases settle, those affected should receive notice of the settlement and have an opportunity to claim whatever compensation the court deems just. Read more about that process here.
Those believed to have been injured by any of these drugs may be able to file an individual lawsuit and are encouraged to contact an attorney.
Get class action lawsuit news sent to your inbox – sign up for ClassAction.org's newsletter here.
Since the summer of 2018, nearly two dozen recalls have been issued for certain generic medications used to treat high blood pressure, heart failure, and kidney disease over suspicions that the drugs were contaminated with potentially cancer-causing nitrosamines.
The recalled drugs have now become the subject of a wave of litigation that's growing by the day, and here at ClassAction.org, we've received a number of questions from readers concerned about their rights.
If you think you've purchased or taken contaminated blood pressure drugs, here's what you need to know about the recalls, the lawsuits, and how it all affects you.
How Do I Know If My Drug Was Contaminated?
The recalls deal with only certain types of drugs called angiotensin II receptor blockers (ARBs), and more specifically, three generic medications: valsartan (brand name: Diovan), losartan (brand name: Cozaar), and irbesartan (brand name: Avapro).
(Note: If you're taking a brand-name drug, your medication was not affected by the recalls.)
The easiest thing you can do to find out if you took a contaminated drug is to check whether your medication is on the FDA's recall list. Your pharmacist should be able to tell you whether your drug was recalled, but you can also check yourself by following the steps listed below.
Step One: Click here to open the FDA's page of recalled ARB products.
Step Two: Check the label on your medication to find the drug's manufacturer, specific product name and dosage (such as Valsartan 160mg Tablet), National Drug Code (NDC), lot number, and expiration date.
Step Three: Search the recalled drug list by typing the information from one of those fields (such as the lot number) into the search box on the page and viewing the matching entries.
Step Four: Check the rest of the information from your drug's label against the other fields on the list and see if it matches all the way across.
If the information on your label matches all the fields on the list, your drug has been recalled.
Where on the Medicine's Label Can I Find This Information?
If you're having trouble finding this information on your medication's label, here's a sample label from GoodRx.com that highlights where it's usually found.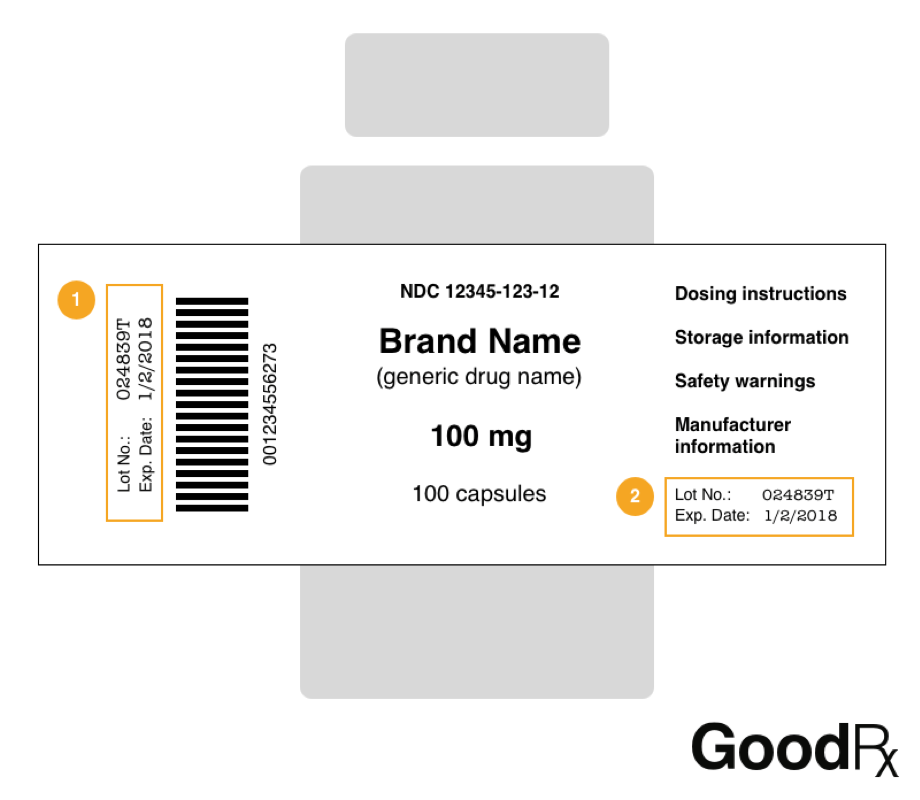 Don't see your medication on the recall list? You can always double check whether it's been recalled by reaching out to your pharmacist or the FDA's Division of Drug Information (DDI). DDI pharmacists can be reached through email at druginfo@fda.hhs.gov or by phone at 1-855-543-DRUG (3784) and 301-796-3400.
I Took a Contaminated Drug. Does That Mean I Can Sue?
In short, it depends.
If you believe you developed cancer as a result of taking a contaminated blood pressure medication, you may be able to file a personal injury lawsuit.
In a personal injury case, you'll hire your own lawyer to file your own individual lawsuit against the responsible parties. These types of cases typically seek money for medical bills, pain and suffering, and other individualized damages.
For example, in one case involving valsartan, the plaintiff claims he developed esophageal and liver cancer as a result of taking the contaminated medication. He and his wife are suing to recover money for "great pain and suffering and emotional distress and anguish," health and medical care costs, and interest.
Not everyone who took a recalled blood pressure drug will be able to file a personal injury lawsuit, though. If you believe you've developed cancer as a result of taking contaminated medication, you'll need to speak with an attorney to determine whether you can make a legal claim that the drug is what caused your cancer.
How Do I Find a Lawyer?
A good place to start is an Internet search engine. You can go to Google or a similar site and search the phrase "blood pressure drug recall lawyer." Several firms are advertising online for new clients, and you can click on their websites for more information.
You could also reach out to an attorney in your area. Lawyers typically offer free initial consultations and can help you understand what legal options are available to you.
What About a Class Action Lawsuit?
If you've purchased or taken contaminated valsartan, you're likely already covered by a class action lawsuit.
What About Losartan and Irbesartan?
So far, there are only a few proposed class actions that have been filed over contaminated losartan and irbesartan, as opposed to the nearly two dozen valsartan cases. The reason for this, according to attorney Martin P. Schrama of Stark & Stark, is simply that the valsartan drugs were recalled more quickly than the others.
"The recalls concerning the foreign generic manufacturers have been being made on a rolling basis, with valsartan largely coming first," Schrama said. "So, once the dust settles on the more recent recalls and investigations, it is expected that losartan and irbesartan cases will follow the trajectory of the valsartan cases, obviously commensurate with relative market share."
That means if you took contaminated losartan or irbesartan medications, it's likely that you'll be covered by a proposed class action that has yet to be filed. We'll keep you updated.
So How Do I Join One of These Class Actions?
You typically don't need to do anything to join a class action lawsuit. If a case settles and you're able to claim part of the settlement, you should receive a notice in the mail or via e-mail with instructions on how to claim your piece. Find out more about that process on our How to Join page and also check out our Class Action Notice page to see how they'll get your contact information.
What Can I Get from a Class Action Lawsuit?
The majority of these cases are looking to compensate people only for the cost of the contaminated medications they purchased. Unlike individual personal injury suits, class actions generally don't seek compensation for more individualized damages such as medical bills and pain and suffering.
That being said, there are a few proposed class actions that are seeking medical monitoring for those who took contaminated drugs, including one filed in New Jersey that's seeking to provide testing and preventative screenings for people who took the drugs but haven't been diagnosed with cancer.
Who Is Being Sued in These Suits Anyway?
Pharmaceutical companies (like Mylan and Aurobindo) and retailers (such as Walmart and RiteAid) are being sued over claims that they sold products that didn't match what was written on the labels.
Also named in many of the lawsuits are foreign suppliers Zhejiang Huahai Pharmaceutical in China and Hetero Labs in India, whose manufacturing processes are believed to be the source of the contamination.
What Else Do I Need to Know?
The FDA has advised patients to continue taking their recalled medications until they can obtain an alternative product from their pharmacist or a different prescription from their doctor. The agency says the risk of abruptly stopping a blood pressure medication "far outweighs" the risk associated with continuing a contaminated medication until a different treatment option can be found.
Once you have found an alternative treatment, you can check the recall notice you received in the mail for information about how to return the contaminated medication in your possession. (If you no longer have the recall notice or you never received one, you can click here to search for your specific product and find the notice that applies to you.) Keep in mind, however, that if you're filing a lawsuit, you may want to hold onto the drug in case you need to have it tested.
Still Have Questions?
Check out the FDA's website for the latest information about the ARB recalls and several resources for patients, including the agency's lists of recalled drugs, currently available ARBs, and general questions and answers.
You can also contact the FDA by emailing druginfo@FDA.hhs.gov or calling 855-543-3784.
Camp Lejeune
Camp Lejeune residents now have the opportunity to claim compensation for harm suffered from contaminated water.
Read more here: Camp Lejeune Lawsuit Claims
Stay Current
Sign Up For
Our Newsletter
New cases and investigations, settlement deadlines, and news straight to your inbox.
A note on class action complaints:
Bear in mind that the information in this blog post summarizes the allegations put forth in the following legal complaint. At the time of this writing, nothing has been proven in court. Anyone can file a lawsuit, with or without the representation of an attorney, for any reason, and ClassAction.org takes no position on the merits of the suit. Class action complaints are a matter of public record, and our objective on this website is merely to share the information in these legal documents in an easily digestible way.
Last Updated on July 14, 2022 — 11:03 AM