Nintendo Hit with Class Action Over 'Spotlight Pipe' Loot Boxes in Mario Kart Tour
Nintendo's former use of "Spotlight Pipes" in Mario Kart Tour is the subject of a proposed class action that alleges the video game company has deceptively induced players—especially minors—into paying real money to essentially gamble on winning crucial in-game items.
Want to stay in the loop on class actions that matter to you? Sign up for ClassAction.org's free weekly newsletter here.
The 25-page complaint accuses Nintendo of utilizing hidden "dark patterns" to steer players toward making purchases and intentionally making it "particularly difficult" to advance in the Mario-themed racing game without spending real-world money on the "Spotlight Pipe" loot boxes.
The filing says that despite the amount of real currency Mario Kart Tour players spent on firing prize-containing "Spotlight Pipes," "each Pipe pull was mostly worthless, often filled with valueless prizes and/or rewards that players already had or did not want."
According to the case, Nintendo of America, Inc. has unlawfully refused to refund minors, "a large segment of [the company's] player population," who've made in-game purchases by way of the controversial "Spotlight Pipes," which Nintendo removed from the game last year.
Further, the complaint, initially filed in California state court in March and moved to federal court on May 17, alleges that Nintendo, in making "Spotlight Pipes" an essential part of Mario Kart Tour's gameplay, has "capitalized on and encouraged addictive behaviors," not dissimilar from gambling.
"Defendant's Pipe lootbox [sic] mechanism has allowed it to obtain profits of almost $300 million […] while they were in effect," the suit states.
Mario Kart Tour is "purposefully designed" to get players to spend real money, suit alleges
Mario Kart Tour is a free-to-play mobile game in which players race against each other or computer-controlled opponents, with races divided into a series of "cups" for which there are three courses and a bonus challenge each. Prior to each race, the suit says, a player must choose a driver—from characters that include Mario, Luigi, Donkey Kong and Toad—kart and glider, as well as the speed at which to race.
Crucially, the lawsuit says that although using specific characters or equipment can provide a player with certain added bonuses, the bonuses must first be unlocked. Mario Kart Tour utilizes a point-based system whereby a player can unlock experience points to improve their equipment, driver and their driver's level so as to earn more reward points from the races, the case explains.
Overall, advancing through Mario Kart Tour is "a time-consuming effort" given that, for instance, a player can collect a maximum of 30 coins per race, the suit describes. The lawsuit alleges that Mario Kart Tour was "purposefully designed in this manner" to offer players a way to "spend real cash to unlock things faster," either by buying rotating gift sets containing unlockable prizes and collectibles or buying in-game currency, called "Rubies," in packs that cost up to $70, the complaint says.
According to the suit, the quickest way for a player to unlock random prizes is by firing a "Spotlight Pipe," essentially a loot box that contains an in-game prize of unknown value. For the price of five Rubies, the case says, a player can "fire" a "Spotlight Pipe" to draw a random item and receive a new kart, driver or kart part. Another option for players is to draw ten different, random items by firing a "Spotlight Pipe" ten times, for the cost of 45 Rubies, the filing relays.
"That means that a player is paying anywhere from $2.60-$3.32 for a single draw, or $23.40-$29.84 for the ability to draw 10 (ten) items at a time," the case states.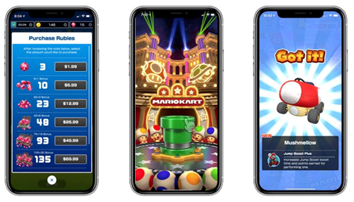 At issue, the lawsuit emphasizes, is that players who pay real-world money on Rubies to fire a "Spotlight Pipe" are not "told or shown anything about the gifts or unlockable prizes they will actually receive," or about the odds of winning any particular prize.
As the case tells it, the chance of a Mario Kart Tour player drawing rare valuable items through a "Spotlight Pipe" is "designed to be very small," meaning that for a player to "keep up" and remain competitive within the game, they "must make large amounts of in-game purchases of Rubies using real-world currency" to take advantage of Nintendo's loot boxes.
"As with other lootbox [sic] games, Defendant's lootbox mechanism capitalized on and encouraged addictive behaviors, akin to gambling," the complaint alleges.
The suit charges that the loot boxes within Mario Kart Tour "meet the definition of gambling" under various gambling laws and regulations and "rely on the same predatory practices designed to induce consumers to spend money on games of chance."
"Minors are especially susceptible to these addiction-enhancing elements of game design," the lawsuit stresses. "The experience of acquiring surprise rewards and the associated excitement of uncovering unexpected in-game items holds a strong appeal for minors and reinforces their desire to keep playing and keep getting rewards."
According to the suit, Nintendo did away with its "Spotlight Pipes" in Mario Kart Tour in or around September 2022, replacing the loot boxes with an in-game store that removed luck from the equation for players looking to upgrade their drivers, karts and gliders.
"Accordingly," the case summarizes, "the previously omitted odds are now essentially disclosed since the person now knows exactly what is being purchased and for how much."
The lawsuit posits that had players known the odds of receiving specific prizes from the "Spotlight Pipes" were slim to none, they would not have spent money to "fire" the pipes.
"Dark patterns" guide players to Mario Kart Tour's loot boxes, case claims
Over the last decade, loot boxes in free-to-play video games have been a source of controversy given their "addictive and predatory nature" and status as the main source of revenue for many game developers, the case relays. More often than not, the suit shares, players who take a chance on a loot box "very rarely actually end up getting anything valuable," and a key problem with loot boxes—which are often non-refundable—is that they are commonly found in games played by children, the complaint says.
To seemingly guide Mario Kart Tour players toward spending money on "Spotlight Pipes," Nintendo utilizes a "dark pattern" the Federal Trade Commission (FTC) calls "grinding"—essentially making the free version of a game so cumbersome and labor-intensive that a player will be persuaded to buy new features via in-app purchases simply to progress, the lawsuit claims.
The case alleges that "grinding" is built into the fabric of Mario Kart Tour, as players who choose not to buy in-game Rubies to make purchases must complete repetitious tasks, such as racing, if they wish to advance in the game.

While each mission (or cup, tournament, or tour) grants the player some in-game benefits such as experience points, levels, equipment, or some other perk without having to purchase Rubies and fire a 'Pipe,' they are not valuable enough to matter unless the player performs an extremely large amount of them. Therefore, players in Mario Kart Tour game [sic] are actively looking to 'ramp up' their play."
"Grinding" is often linked with another dark pattern standard called "Pay to Skip," whereby a player pays money to skip specific, tedious "grind-related" activities via in-game purchases, the case continues.
Relatedly, the game also takes advantage of another tactic called "artificial scarcity," whereby players are led to believe certain in-game items will be available for a limited time and are thus pressured into making an impulsive choice, the lawsuit says.
"These intentionally-designed, omission-based dark patterns of 'grinding' and 'pay to skip' … in the Mario Kart Tour game have been deemed by the FTC to create coercive action, and consist of unlawful, unfair, or deceptive acts or practices, especially when aimed at minor children," the lawsuit alleges.
Per the case, the plaintiff, a minor, was able to spend more than $170 of real-world money on in-game Mario Kart Tour purchases without his guardian's permission to do so. The suit claims that it was not disclosed to the plaintiff's guardian that the Nintendo-related charges were spent on "Spotlight Pipe" loot boxes.
The lawsuit contests that under various state laws, a minor or their guardian may disaffirm a contract such as the one created through the purchase of in-game items with real-world money. The plaintiff, through his guardian, argues that the supposed "contracts" between Nintendo and proposed class members are voidable and that minor players are due refunds for in-game purchases.
Who's covered by the Mario Kart Tour lawsuit?
The case looks to represent all minors in the United States who, during the applicable statute of limitations period, made a purchase to fire the "Spotlight Pipe" in Mario Kart Tour using real-world currency.
My child has spent money on Mario Kart Tour's "Spotlight Pipes." Can I join the suit?
When a proposed class action lawsuit like the one detailed on this page is initially filed, there's nothing a parent or guardian needs to do to join, sign up for, or be added to the case. It's only if and when the suit settles that "class members" would need to act. This may involve filling out and filing a claim form online or by mail. In other cases, especially those involving online accounts, relief from a settlement may be sent automatically to affected consumers.
If your child has spent money on Mario Kart Tour's "Spotlight Pipes," or you simply want to stay in the loop on class action lawsuit and settlement news, sign up for ClassAction.org's free weekly newsletter.
Hair Relaxer Lawsuits
Women who developed cancer, endometriosis or reproductive problems after using hair relaxers such as Dark & Lovely and Motions may now have an opportunity to take legal action.
Read more here: Hair Relaxer Cancer Lawsuits
Stay Current
Sign Up For
Our Newsletter
New cases and investigations, settlement deadlines, and news straight to your inbox.
Last Updated on May 18, 2023 — 2:39 PM