Class Action Claims Loot Boxes within Clash Royale, Brawl Stars Games Violate Anti-Gambling Law
A lawsuit claims the developer behind Brawl Stars and Clash Royale encourages gambling and similarly addictive conduct through the use of "loot boxes" within the games.
Supercell Oy faces a proposed class action that claims the Finnish game developer encourages gambling and similarly addictive conduct through the use of "loot boxes" within its "wildly popular" Brawl Stars and Clash Royale video games.
Filed in California, the 35-page lawsuit claims a "substantial portion" of Supercell's revenues stem from in-game purchases known in the gaming industry as "loot boxes." The case argues loot boxes operate as gambling devices in that they allow players to spend real money to win randomized virtual items within the game.
Invoking Big Tobacco's "Joe Camel" ad campaign, the suit alleges Supercell "relies on creating addictive behaviors to generate huge profits." Though the defendant's Brawl Stars and Clash Royale games are free to play, they've raked in over $3 billion through in-game purchases, according to the case.
Loot boxes, such as a "Royal Chest" in Clash Royale or a "Brawl Box" in Brawl Stars, allow players to spend real-world money for randomized chances to win valuable players, weapons, costumes and player appearances (i.e., skins), or other in-game items or features designed to enhance gameplay or provide cosmetic value, the lawsuit says.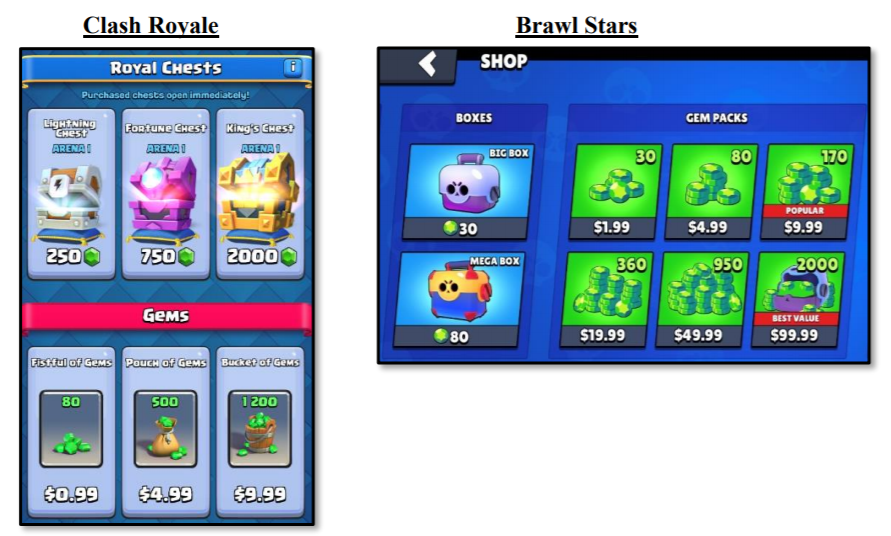 Unsurprisingly, the best "loot" to be won is the least likely to be received through a loot box, the suit says, sharing that most items in a loot box are undesirable because they're easily obtained or already owned by the player.
Per the case, loot boxes can be easily purchased, including by minors, with a credit card or gift card linked to a player's Google Play or Apple App Store account. From the complaint:
"For example, if the player is using an Apple iPhone, while playing Defendant's games they can choose to make a purchase in the game itself. Upon pressing the button for the number of 'gems' they wish to purchase (80, 500, 1200, 2500, 6500, or 14000) and then 'double-clicking' the side button of the iPhone to 'Pay', the amount of the purchase ($0.99, $4.99, $9.99, $19.99, $49.99 or $99.99) is immediately charged to the credit card number on file with the Apple App Store. There is no additional confirmation of any kind. A minor can accomplish the purchase without parental consent, or even parental knowledge."
To further its apparent goal of distancing players from the fact that they're spending real money, Supercell games use "virtual" money systems whereby players have to purchase in-game currency with "expensive-sounding" names like gems or gold coins before using such to purchase a loot box, the lawsuit says.

According to the case, the defendant's loot boxes "have all the hallmarks of a Las Vegas-style slot machine" given they create and reinforce addictive behavior in players based on "algorithmic probabilities completely outside the player's control."
"The Loot Box mechanism relies heavily on the psychology of gambling – doing everything possible to build up the player's hoped-for win, tension, and excitement," the lawsuit states, remarking that while the opening of a loot box elicits triumphant-sounding music and bright colors, players, more often than not, receive disappointing items instead of the item they wanted.
Per the complaint, loot boxes are designed to create "a slot machine effect"—stringing players along with the belief that the next loot box will contain a desired item despite frequent disappointments.
The suit argues governments, regulators, and psychologists all agree that loot boxes such as the ones included within Supercell's five mobile app games operate as gambling devices and reinforce addictive behavior, especially among adolescents.
Per the complaint, Clash Royale and Brawl Stars are age-rated on Google and Apple's platforms for children as young as nine years old despite containing no disclosures concerning gambling or the use of loot boxes.
Echoing dual suits filed against Apple and Google over the availability of games containing loot boxes on their respective platforms, the lawsuit alleges Supercell's loot boxes violate California anti-gambling laws.
The lawsuit goes on to note that within the gaming industry, the incorporation of loot boxes has become a main source of revenue for game developers.
"Rather than paying one time to purchase the game, players are now the source of an endless revenue stream for the companies as long as they play the game," the complaint argues, adding that loot boxes are expected to generate an estimated $50 billion for the video game industry by 2022.
Get class action lawsuit news sent to your inbox – sign up for ClassAction.org's newsletter here.
Last Updated on August 13, 2020 — 4:08 PM