MamaRoo, RockaRoo Recall Class Action Says Infant Strangulation Risk Renders Products 'Completely Worthless'
The maker of the popular MamaRoo infant swing faces a proposed class action lawsuit roughly two weeks after the product was recalled in the United States due to a strangulation hazard.
According to the 30-page complaint, the restraint straps on the MamaRoo swing and RockaRoo rocker can dangle below the seat, and crawling infants can get stuck in the straps and potentially become strangled.
Be sure to scroll down to see which MamaRoo and RockaRoo products were recalled.
Prior to the August 15 recall, MamaRoo maker 4moms received two reports of entanglement incidents involving infants—a 10-month-old who died from asphyxiation and another 10-month-old who suffered neck bruising—who crawled under the seat of an unoccupied swing, the lawsuit relays.
In its recall notice, 4moms urged parents and caregivers to immediately stop using the recalled MamaRoo and RockaRoo products and place them "in an area where crawling infants cannot access." Buyers were also urged to contact 4moms immediately to register for a free strap fastener that will keep the straps from hanging under the seat while the swing or rocker is not in use, the suit shares.
The plaintiffs, consumers from North and South Carolina, contend that the recalled MamaRoo and RockaRoo products "have been rendered completely worthless or, at the very least, have been substantially diminished in value," and those who choose to stop using the devices must now pay for another.
Further, the consumers accuse 4moms of failing to disclose the strangulation risk as soon as the company became aware of the problem at least four years ago, placing crawling infants and toddlers in danger.
"At minimum, 4moms was aware of the risk of infant strangulation of the Recalled Devices in August of 2018, when the first injury of this kind was reported to them," the filing says. "Yet, Defendant continued to manufacture and sell the Recalled Devices with such awareness."
The lawsuit alleges 4moms has falsely advertised that the recalled MamaRoos and RockaRoos are safe and appropriate to use and breached this "express warranty" by placing the potentially dangerous products into the stream of commerce.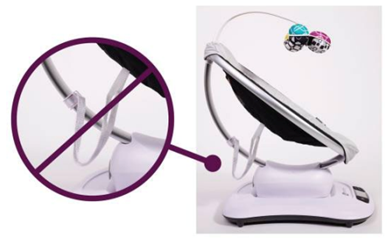 Which MamaRoos and RockaRoos were recalled?
The recall announced by 4moms and the U.S. Consumer Product Safety Commission (CPSC) on August 15 covers millions of MamaRoo baby swings, versions 1.0 through 4.0, and hundreds of thousands of RockaRoo baby rockers. The model numbers covered by the recall are:
4M-005 (MamaRoo)
1026 (MamaRoo)
1037 (MamaRoo); and
4M-012 (RockaRoo).
Want to stay in the loop on class actions that matter to you? Sign up for ClassAction.org's free weekly newsletter here.
Per the case, the model number for a MamaRoo or RockaRoo can be found underneath the base of the unit: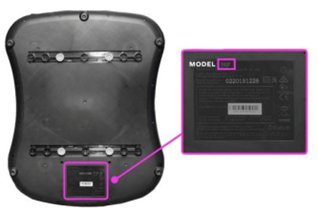 The recall covers two million MamaRoo swings and 220,000 RockaRoo rockers in the U.S. Additionally, the recall covers 60,000 MamaRoos and 10,000 RockaRoos sold in Canada.
How do I contact 4moms to get my free MamaRoo strap fastener?
To contact 4moms, head to this page and click the button at the top that says "Order Strap Fastener." Alternatively, you can call the company toll free at 877-870-7390 or email 4moms at safetyandrecall@4moms.com.
Who's covered by the lawsuit?
The lawsuit looks to represent all consumers in the United States who bought or used a MamaRoo (models 4M-005, 1026 or 1037) or a RockaRoo (model 4M-012) that was made by 4moms from January 2010 through August 2022.
I have a MamaRoo. What should I do?
Other than not using the device until you receive a free strap fastener from 4moms, there's nothing you need to do at this time to join or have your name added to the lawsuit. If the case proceeds and eventually settles, that's when the people covered by the lawsuit, called "class members," would need to act, typically by filling out and filing a claim form online or by mail.
Be patient, however. These types of lawsuits generally take some time to work through the legal process, usually toward a settlement, dismissal or arbitration.
If you own a MamaRoo or RockaRoo, or just want to stay informed on class action lawsuit and settlement news, sign up for ClassAction.org's free weekly newsletter.
Hair Relaxer Lawsuits
Women who developed cancer, endometriosis or reproductive problems after using hair relaxers such as Dark & Lovely and Motions may now have an opportunity to take legal action.
Read more here: Hair Relaxer Cancer Lawsuits
Stay Current
Sign Up For
Our Newsletter
New cases and investigations, settlement deadlines, and news straight to your inbox.
Last Updated on September 1, 2022 — 12:08 PM