Looking for Updates on the Samsung Ice Maker Lawsuit? Here's Everything We Know. [UPDATED]
Last Updated on July 7, 2022
August 11, 2020 – Lawsuit Is (Slowly) Moving Along
The class action lawsuit centered on allegedly defective Samsung ice makers appears to be moving along—albeit slowly.
As it stands right now, however, there are still no significant updates to share.
According to the case's docket, telephone conferences involving the plaintiffs' and Samsung's attorneys were held on May 19 and July 29, and another is scheduled before the judge for October 20, 2020. A document filed with the court notes a previous mediation date was scheduled for March before being canceled due to the COVID-19 crisis.
We will continue to track this case, so make sure to check back for updates.
Want Samsung ice maker class action news sent to your inbox? Subscribe to our free newsletter here.
September 30, 2019 – Case Crawls Along with No Updates to Share
ClassAction.org receives reader comments and emails every day asking if there are any updates on the mediation centered on Samsung French-door refrigerators equipped with reportedly defective ice makers.
Despite checking in on the case weekly since we published the blog post on this page, there are no updates to share as of the publication of this update.
ClassAction.org will continue looking into the case weekly in search of anything newsworthy. When something comes up, you'll be the first to know.
In the meantime, sign up for our newsletter for the latest updates, news and settlements.
April 2, 2019
The lawsuit involving Samsung ice makers has been ordered to private mediation. You can read the order here. Both sides have 14 days to mutually agree upon a mediator.
What's Mediation?
Mediation is when opposing parties come together to negotiate a matter with the help of a third party – the mediator – and is a form of "alternative dispute resolution." Mediation is often done prior to a case going to trial and can help conserve time and money for all parties involved.
What's This All Mean for Me?
Honestly, we're not sure yet; we cannot predict the outcome of the mediation. It's important to note that the order was handed down by the court and was not a mutual decision made by the defendants and plaintiffs. The order does state, however, that "individuals with settlement authority" will attend the mediation "as requested." If the matter cannot be resolved through mediation, the defendant's motion to dismiss will be back on the table.
It's not much of an update – but it's all we have right now. We'll continue to keep you informed, as we know many of you have struggled with your Samsung ice makers.
ClassAction.org is lucky to have a readership that's not afraid to speak up when they want more information on a particular lawsuit or settlement. And of all the lawsuits and settlements we've covered lately, our readers have been most vocal in asking about the status of the proposed class action filed over the supposedly defective ice makers in certain model Samsung refrigerators.
Here's what's going on.
First, some background.
Certain models of French-door Samsung refrigerators come with built-in ice makers. A proposed class action lawsuit filed back in February 2017 alleges these ice makers are defective and have caused substantial (and sometimes costly) problems for consumers.
The suit says owners of the affected Samsung fridges have dealt with, among other troubles:
Water leaks under the fridges' crisper trays
Parts freezing up (no pun intended there – the parts supposedly do just lock in place and stop working)
Clicking, jarring, grinding, knocking or buzzing noises coming from the fridges' fans
Ice buckets that become stuck and are difficult to remove
The build-up of ice crystals, water droplets and slushy ice
Over-freezing of water held in the fridges' ice compartment
Predictably, these issues have caused problems for consumers that range from "I'm mildly inconvenienced" to "the water leaks have ruined my kitchen."
For its part, Samsung has reportedly done nothing to help, failing to issue a recall or offer to repair or replace consumers' refrigerators. The company did, however, issue a service bulletin all the way back in July 2015 (which, though mostly illegible, is included in the complaint starting on page 39) expanding on the problems described by many consumers.
It's worth pointing out here that the lawsuit argues Samsung's issuance of the 2015 service bulletin is evidence that the company is at least aware that there might be a problem with its ice makers. Further still, Samsung issued yet another service bulletin, in May 2017, telling technicians how to address problems with its French Door Direct Cool ice makers.
So where are we with the lawsuit?
Unfortunately, we're still in the thick of it. The last significant event on the books for this lawsuit took place on April 24, 2018, when Samsung's attorneys filed a motion to dismiss the case. This is simply a document that asks the court to toss the case. And we say "simply" because the filing of this motion is all part of the legal process.
You see, Samsung's lawyers would not be doing their jobs if they didn't argue to have the lawsuit tossed for their client. For big lawsuits like this, it is very common that a company's attorneys will try and try again to have a suit dismissed for all manner of reasons.
Since then, there has been some procedural back-and-forth from both sides—most recently a memo opposing Samsung's attempt to dismiss the case filed on April 26, to which Samsung's attorneys responded on May 14.
Other than that, nothing else of note has happened.
And that's where we are. Kind of a bummer, we know.
Why is this taking so long?
This jockeying between Samsung's counsel and the plaintiffs' counsel could go on and on for months (or years). Just know that should that be the case, it wouldn't be unique to this lawsuit. When it comes to class actions, these cases generally take more time than less, which is unfortunate for those who, in this instance, had some serious trouble with their fridges.
Which models of Samsung refrigerators are mentioned in the lawsuit?
The lawsuit describes the potential defective refrigerators as being sold under the Samsung brand name and containing:
French doors for the "upper fresh food compartment"
Pull-out drawers for the freezer compartment
An external built-in ice maker set into a "cut through" in the fridge door
In case you're trying to visualize, here's a picture of one fridge model that was included in the lawsuit: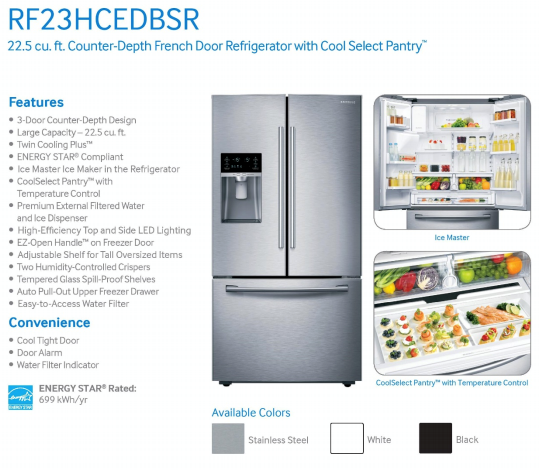 The technical service bulletin sent out by Samsung in July 2015 identified the following refrigerator models as having problematic ice makers.
RF23HCEDB
RF23HCEDT
RFH23HSESB
RF23HTEDB
RF23J9011
RF24FSEDB
RF25HMEDB
RF263BEAE
RF263TEAE
RF26J7500
RF28HDEDB
RF28HDEDT
RF28HFEDB
RF28HFEDT
RF28HFPDB
RF30HDEDT
RF31FMEDB
RF31FMESB
RF323TEDB
RF32FMQDB
RF34H9950
RF34H9960
Samsung's May 2017 service bulletin identified the following refrigerator models:
RF22K9381
RF22K9581
RF22KREDB
RF22M9581
RF23FSEDB
RF23HCEDB
RF23HSESB
RF23HTEDB
RF23J9011
RF23M80
RF23M85
RF24FSEDB
RF24J9960
RF25HMEDB
RF263BEAE
RF263TEAE
RF265BEA
RF26J7500
RF28HDEDB
RF28HDEDT
RF28HFEDB
RF28HFEDT
RF28HMEDB
RF28JBEDB
RF28K9070
RF28K9380
RF28K9580
RF30HDED
RF30KMEDB
RF31FMED
RF32FMQDB
RF323TED
RF323TED
RF323TED
RF349950
RF34H9960
Keep in mind that just because your particular model Samsung refrigerator isn't listed here does not necessarily mean it's being left out of the lawsuit. These are simply the models mentioned in Samsung's technical service bulletins. Also note that these lists include all available color options for the fridges.
Got all that? Great, moving on.
Am I disqualified if I've had my Samsung fridge repaired already?
A valid question. But frankly, no one can really say for sure who will qualify should this case end in a settlement.
Keep in mind, however, that the lawyers handling this case will push to have any potential settlement cover as many people as possible. Therefore, it's important that you keep any and all receipts, documentation, and proof of service for your Samsung fridge. It's always better to have more paperwork than less in these situations.
How will I know if this lawsuit settles or gets dismissed?
Whether this lawsuit settles or gets dismissed, ClassAction.org will have the details for you, so check back here for updates. You can also sign up for our newsletter if you'd prefer to have class action news delivered straight to your inbox.
Hair Relaxer Lawsuits
Women who developed cancer, endometriosis or reproductive problems after using hair relaxers such as Dark & Lovely and Motions may now have an opportunity to take legal action.
Read more here: Hair Relaxer Cancer Lawsuits
Stay Current
Sign Up For
Our Newsletter
New cases and investigations, settlement deadlines, and news straight to your inbox.
A note on class action complaints:
Bear in mind that the information in this blog post summarizes the allegations put forth in the following legal complaint. At the time of this writing, nothing has been proven in court. Anyone can file a lawsuit, with or without the representation of an attorney, for any reason, and ClassAction.org takes no position on the merits of the suit. Class action complaints are a matter of public record, and our objective on this website is merely to share the information in these legal documents in an easily digestible way.
Last Updated on July 7, 2022 — 4:11 PM