Free Entry? Coinbase Misleadingly Advertised $1.2M Dogecoin Sweepstakes to Boost Crypto Trades, Class Action Alleges
A proposed class action alleges Coinbase's email and web advertisements for a $1.2 million Dogecoin sweepstakes held earlier this month were false and misleading in that the cryptocurrency exchange never disclosed the existence of another way to enter the contest—one that did not require participants to make a trade on the platform.
The 19-page suit claims that although Coinbase prominently represented that those looking to enter the sweepstakes had to wade through a four-step process that involved buying or selling Dogecoin, the company and co-defendant Marden-Kane, Inc. all but failed to disclose another means of entry that cost nothing—mailing in a 3x5-inch index card with basic information about the participant.
Per the lawsuit, the defendants "specifically designed" their ads with the knowledge and intent that most people would enter the Dogecoin giveaway by making a trade on the Coinbase platform, for which the exchange would be paid $100 or more plus commissions, before, if ever, seeing the other entry option.
As a result of the "intentionally false and misleading digital ad campaigns," customers paid Coinbase "many millions of dollars in purchases and commissions" that the company otherwise would not have made but for its deceptive advertisements, the complaint alleges.
"Nowhere did Defendants' ads make clear that there was a 100% free, mail-in option for entering the Sweepstakes, an option that required no DOGE purchases or sales on Coinbase," the case, filed in California's Northern District on June 11, stresses. "If Coinbase's digital ads had made clear to Plaintiff that there was a 100% free entry option, then Plaintiff would not have given Coinbase his $100, or paid Coinbase any commissions to acquire Dogecoins."
Want news on crypto class actions sent to your inbox? Sign up for ClassAction.org's free weekly newsletter here.
Read the fine print.
With roughly 60 million active users, Coinbase operates one of the largest online cryptocurrency exchanges, the suit begins. Unlike a stock or traditional securities or commodities exchange, Coinbase itself buys and sells cryptocurrency—e.g., Bitcoin, Ethereum, Ripple, Dogecoin—to and from its users as a counterparty, the case relays, describing the company as more of a crypto "dealership."
According to the complaint, Coinbase collects commissions on each crypto purchase or sale executed on its platform. These commissions are tallied as a percentage of the dollar price of the crypto volume purchased or sold, the lawsuit says, and Coinbase's financial and operational health largely depends on its ability to sell and resell crypto assets in exchange for traditional currencies, such as U.S. dollars.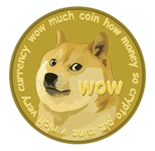 At the center of the lawsuit is the Dogecoin cryptocurrency, which was purportedly created in December 2013 by software engineers Billy Markus and Jackson Palmer as a joke that made fun of speculative trading involving other, seemingly worthless (at the time) cryptocurrencies. Since 2013, the engineers' meme-rooted cryptocurrency has become popular, in particular among millennials, the suit says. At the time of this posting, one Dogecoin is worth $0.33, according to Coindesk.
Keenly aware of Dogecoin's "meteoric ascent" in popularity, Coinbase made the move to add the cryptocurrency to the slate of assets it would sell. Indeed, on June 1, the defendant began allowing customers to transfer any DOGE they might own into their accounts. Coinbase set a condition at this time, however, stating that it would only begin buying and selling DOGE to users "if liquidity conditions [were] met," the lawsuit notes.
The complaint alleges Coinbase had no intention of leaving DOGE's "liquidity conditions" up to chance or natural consumer sentiment. Instead, the suit says, Coinbase moved to affirmatively incentivize large, early trading volumes for Dogecoin by rolling out a $1.2 million sweepstakes that would begin on June 3. On that day, Coinbase, per the lawsuit, emailed the following to millions of its users as a way of directly advertising the Dogecoin giveaway:
Trade DOGE. Win DOGE. Starting today, you can trade, send, and receive Dogecoin on Coinbase.com and with the Coinbase Android and iOS apps. To celebrate, we're giving away $1.2 million in Dogecoin."

Included above representations that winners could receive anywhere from $100 to $300,000 in DOGE was a link, in much smaller font, to "see all rules and details" of the contest, the complaint notes. Immediately below Coinbase's bold statements about prizes was a large, bright blue button prompting users to "see how to enter," the case adds.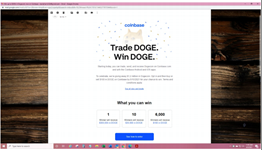 The steps to enter the contest, as prominently and repeatedly represented by Coinbase, were to sign into Coinbase, opt into the sweepstakes, make a trade and "watch your inbox" to see if you won, the lawsuit says. The plaintiff, a New York Coinbase user, asserts that after clicking on the "see how to enter" button, he was taken to a web advertisement that also instructed him and other users to take these same four steps to enter the sweepstakes. Again on Coinbase's website was a "much smaller, fainter link" to "view sweepstakes rules," in proximity to a "much larger" blue button again prompting users to "opt in" to the giveaway, the case relays.
The complaint alleges that while Coinbase ultimately disclosed a free way to enter the sweepstakes, this information was buried deep underneath the company's colorful graphics and large, bold-print statements. From the lawsuit (emphasis ours):
"Coinbase's email and website advertisements were materially false and misleading to Plaintiff and other class members. The truth was that users could enter the Company's DOGE Sweepstakes by buying or selling $100 in DOGE, or by mailing Coinbase a 3x5-inch index card with the customer's name, address, email address, phone and date of birth written on it."
The plaintiff alleges he's among those who did not see the "rules and details" of the Dogecoin sweepstakes, in particular the disclosure about a free mail-in entry, until after he had already given his money to Coinbase.
"This is because Defendants' ads were specifically known and designed by Defendants to deceive and confuse Plaintiff and most other layperson-consumers into believing that they would have to trade DOGE on Coinbase to enter the Sweepstakes, and to further induce them into paying Coinbase on that false pretense before they were likely to view the Sweepstakes' official 'rules and details' to the contrary," the complaint says.
Alleged "knowledge and intent" behind DOGE contest ads
Overall, the proposed class action charges that Coinbase and sweepstakes administrator Marden-Kane were well aware that their ads would likely have the effect of deceiving, distracting and confusing ordinary consumers, in part because the defendants had already executed and analyzed the results of a "nearly identical" sweepstakes carried out just two months prior to the Dogecoin giveaway.
According to the lawsuit, the defendants in April collaborated on and executed a $2 million Bitcoin sweepstakes. A difference between the Dogecoin and Bitcoin promotions, however, was that for the Bitcoin sweepstakes, customers were required only to sign up for a Coinbase account and verify their identity, the suit says. The contests were similar, though, in that the easier, free way to enter was buried within Coinbase's rules and details:
"Specifically, rather than providing their social security numbers, drivers' licenses, and other sensitive personally identifying information ('PII') to Coinbase, users also had the option to enter simply by mailing Coinbase a 3x5-inch index card with only the customer's name, address, email address, phone and birthday on it."
In executing April's Bitcoin sweepstakes, Coinbase and Marden-Kane "collected, reviewed and analyzed a wealth of detail about consumers' specific behaviors and reactions to various parts of this ad campaign," including how many participants actually clicked on the official "rules and details" and whether they did this before or after creating an account and confirming their identities, the lawsuit says. The complaint alleges Coinbase and its co-defendant were not merely guessing when it came time to roll out the Dogecoin sweepstakes earlier this month.
"Instead, Defendants actually knew as a matter of empirical proof and statistical near-certainty—from their substantially identical, Bitcoin Sweepstakes campaign in April—that their DOGE Sweepstakes ads would have the capacity, tendency, and likelihood to conceal the true entry options from many entrants' eyes: at least until after entrants had spent their money on false pretenses," the suit alleges.
Per the complaint, it was no surprise to Coinbase that its ads for the Dogecoin sweepstakes had the intended result of participants paying the company millions without knowing they could enter the contest for free.
Who's covered by the lawsuit?
The lawsuit aims to cover anyone who opted into Coinbase's $1.2 million Dogecoin (DOGE) sweepstakes, and who bought or sold Dogecoins on a Coinbase exchange for $100 or more between June 3 and June 10, 2021.
How do I add my name to the lawsuit?
You do not have to add your name or do anything in particular to join or be considered part of a class action lawsuit. In general, it is only if and when a class action settles that you'd have to take any action.
These types of cases tend to take time to work their way through the legal system, typically toward a settlement, dismissal or arbitration outside of court, so it might be months or even years before this matter is resolved.
If you believe you've been affected by a company's alleged conduct, stay informed and check back with ClassAction.org for updates. You can sign up for our free newsletter here.
Hair Relaxer Lawsuits
Women who developed cancer, endometriosis or reproductive problems after using hair relaxers such as Dark & Lovely and Motions may now have an opportunity to take legal action.
Read more here: Hair Relaxer Cancer Lawsuits
Stay Current
Sign Up For
Our Newsletter
New cases and investigations, settlement deadlines, and news straight to your inbox.
Last Updated on June 14, 2021 — 3:28 PM