Class Action Claims Chicco Failed to Disclose Use of Flame Retardants, 'Forever Chemicals' in KeyFit 30 Car Seat
A new proposed class action lawsuit alleges Chicco USA has intentionally failed to disclose that its most popular line of car seats is treated with hazardous flame retardants and possibly "forever chemicals."
The 62-page filing says that although infants and young children are more susceptible to the harmful health effects of flame retardants and per- and polyfluoroalkyl substances (PFAS), even at very low exposure levels, Chicco has nevertheless failed to make any disclosure regarding its use of flame retardants—and likely forever chemicals—on the lower-cost KeyFit 30, reportedly the company's most popular car seat model.
Get class action lawsuit news sent to your inbox – sign up for ClassAction.org's free weekly newsletter here.
As the lawsuit tells it, Chicco "goes out of its way" to make it appear to the public that it uses flame retardant chemicals only to comply with federal flammability standards. According to the complaint, however, there exists "absolutely no requirement that a car seat manufacturer use any chemical whatsoever" to comply with federal regulations.
Ultimately, the case, filed in Pennsylvania on July 1, alleges Chicco's use of flame-retardant chemicals in its car seats comes down to cost savings.
"Rather, certain car seat companies—Chicco included—use [flame retardants] in the manufacture of their car seats because it is significantly cheaper to meet the flammability standard by treating their car seats with [flame retardants] as opposed to making the car seats out of natural fibers that would likewise satisfy the federal flammability standards," the suit says.
The plaintiff, a Warren County, Illinois resident, stresses that the lawsuit aims not to force Chicco to completely stop using flame retardants and PFAS in the manufacture of its car seats, but rather to compel the company to clearly and unambiguously disclose its use of the chemicals so that consumers can make an informed decision.
Simply put, Chicco does not provide coherent, publicly available information regarding the use of these toxic chemicals in its car seats because it knows that consumers would not purchase its products or if they would purchase, they would pay substantially less for them."
A product of "high concern?"
Per the suit, the use of flame retardants—a diverse group of phosphorus- and bromine-containing chemicals—on car seats is "especially pernicious" given the substances are usually not bound to the foams and fabrics to which they're applied. Moreover, PFAS, which are highly persistent in both the environment and the human body, can leach from fabrics and "migrate out," either to be absorbed or ingested by children who "obviously spend a significant amount of time in their car seats," the suit says.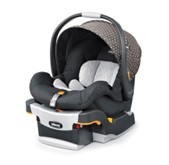 According to the lawsuit, the use of flame retardants and PFAS in children's products such as car seats, even at very low levels, is especially concerning given an infant's skin is more permeable than that of an adult.
Put simply, an infant's skin has a greater propensity for absorbing irritants, allergens and bacteria, all of which can end up being "considerably more concentrated in a baby's body," the suit says.
The lawsuit alleges that flame retardants have been linked to "developmental disorders, cancer, endocrine disruption, diabetes and other serious medical issues," whereas PFAS have been associated with the development of "cancer, thyroid disease, decreased immunity and high cholesterol," among other issues. The case notes that the long-term effects of these chemicals are "potentially severe" for children because "their brains and bodies are still developing."
In light of the foregoing, Chicco announced in early 2021, amid ever-increasing consumer preference for green, sustainable products, its ClearTex line of car seats, which are made with fabrics that meet federal car safety flammability standards without any added chemical treatments, the lawsuit relays. This chemical-free (and pricey) upgrade was attributed to Chicco's use of polyester fibers to produce fabrics that are "inherently fire-resistant and gentle on baby," the complaint says.
The filing, however, chides Chicco for allegedly "want[ing] to be commended" for releasing a line of naturally flame-retardant car seats while at the same time failing to disclose that prior models were made with toxic chemicals. The plaintiff asserts that it is "beyond dispute" that Chicco should have disclosed to consumers that its other car seat lines, namely the KeyFit, were made with harmful flame retardants and/or PFAS.
The lawsuit argues that Chicco's failure to disclose its use of harmful chemicals in the KeyFit car seats deprived consumers of the ability to make an informed purchasing decision.
If Chicco had disclosed the use of those toxic chemicals, consumers could then make an informed decision: purchase the lower priced car seat that was manufactured and/or treated with toxic chemicals and which may lead to significant health problems for their children or pay extra for a car seat that does not."

The filing says that Chicco's KeyFit 30 was identified through independent testing as a product of "high concern" given that flame retardants or bromine were detected in the upholstery and that the product contained elevated levels of fluorine, which suggests the presence of PFAS.

Who's covered by the lawsuit?
The case looks to represent all consumers in the United States who bought a Chicco KeyFit 30 car seat at any time from 2019 through the present.
I own a Chicco car seat. What comes next?
When a proposed class action is initially filed, there's usually nothing a consumer has to do to join or make sure they're included in the lawsuit. For the most part, it's only if and when a case settles that the people covered by the lawsuit, called "class members," would need to act, usually by filling out and submitting a claim form online or by mail.
If the Chicco car seat class action were to settle, the "class members" would more than likely receive a notice about it by mail and/or email. A notice like this, in general, contains information on how, where and by when to file a claim, your legal rights, and more.
Most class action cases take some time, however, to work through the legal process toward a settlement, dismissal or arbitration. If you own a Chicco KeyFit car seat, or just want to stay in the loop on class action lawsuit and settlement news, sign up for ClassAction.org's free weekly newsletter.
Camp Lejeune
Camp Lejeune residents now have the opportunity to claim compensation for harm suffered from contaminated water.
Read more here: Camp Lejeune Lawsuit Claims
Stay Current
Sign Up For
Our Newsletter
New cases and investigations, settlement deadlines, and news straight to your inbox.
Last Updated on July 5, 2022 — 4:43 PM