Bumble SuperSwipes, Spotlights Provide 'No Discernable Benefit Whatsoever,' Class Action Says
Popular dating app Bumble is in the crosshairs of a proposed class action that claims the app's premium "Spotlights" and "SuperSwipes" features, despite being advertised as able to provide "[u]p to 10x" more matches and conversations, actually provide no benefits whatsoever for most users and may even hurt someone's chances of getting a match.

The 21-page complaint, filed on January 22, claims defendants Bumble Inc. and Bumble Holding Limited have greatly exaggerated the advertised benefits of purchasing Spotlights and SuperSwipes. While the premium features are represented as a way to increase a user's chances of scoring a "match" with another user (which opens up an opportunity for private conversation), those who purchase Spotlights and SuperSwipes instead receive not even "a fraction of the benefit promised by Bumble," the lawsuit alleges.
"In reality, it appears that most men who use SuperSwipes see no increase in matches whatsoever," the complaint states, claiming the same is true for most people who purchase Spotlights.
Even worse, the lawsuit says some users have reported that SuperSwipes may harm someone's chances of matching with another user given the feature tells potential matches that the user has spent "a lot of money" to make a first impression.
The case looks to compensate Bumble users who have allegedly "been duped by Bumble's false advertising."
Lawsuit claims Bumble falsely advertises SuperSwipes, Spotlights
The lawsuit says Bumble has falsely advertised its Spotlights and SuperSwipes features as able to provide "[u]p to 10x more matches" and "[u]p to 10x more conversations," respectively.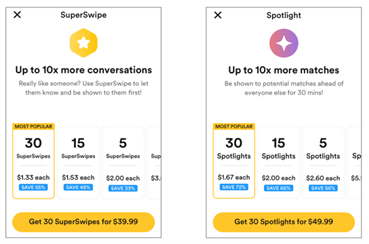 The suit claims that, in truth, these features provide "hardly any increase in conversations or matches, if any at all."
In fact, the lawsuit says, Bumble's website and Twitter account appear to contradict the app's own advertising, stating instead that "[m]en who use SuperSwipe are twice as likely to get a match" and "users who SuperSwipe are twice as likely to match!"
Bumble users who have purchased SuperSwipes have allegedly reported even less success. The complaint cites several Reddit threads on which men complained that they spent money on SuperSwipes and saw no difference in the number of matches they received.
Moreover, when women were asked on Reddit whether SuperSwipes "make you consider someone more," several reported that they were even less interested in men who SuperSwiped them or that the SuperSwipes made no difference at all, the suit relays.
The case argues that even Bumble itself recognizes that women may be less interested in a man who they knew spent money on premium features. Per the suit, Bumble advertises its Spotlight feature by promising that men can "advance [their] profile to the top of the stack to be viewable by more people instantly without anyone knowing" (emphasis added).
Bumble users "duped" into paying more for "no benefit," lawsuit claims
According to the suit, most of Bumble's paying users, which the case says amounted to 1.1 million in 2020 alone, have essentially no advantage over those who use the app for free.
Per the case, Bumble is unlike other dating apps in that it allows "women [to] make the first move" and doesn't permit private messaging between users unless they have both indicated their interest by "swiping" right on each other's profiles. If two users have swiped right, Bumble informs them that they've received a "match" and opens a line of communication between them, the suit relays.
While the app is free to use, Bumble entices users to purchase its premium features, Spotlights and SuperSwipes, to increase their chances of being matched with another user, the complaint says.
Per the suit, SuperSwipes are represented as a way to allow users to "make a bold first impression" by informing a potential match that they're "confidently interested." While a "right swipe," i.e., liking a person's profile, is normally anonymous until both users have swiped right on each other's profiles, users are shown which profiles have "SuperSwiped" them even before they indicate their interest, the complaint says. Bumble users can purchase "packs" of SuperSwipes by paying $39.99 for a 30-pack, $22.99 for a 15-pack, $9.99 for a five-pack or $5.99 for a two-pack, according to the complaint.
Spotlights, on the other hand, allow users to be moved to the top of the list to be shown to potential matches for 30 minutes, the case relays. Spotlights can be purchased in packs of 30 for $49.99, 15 for $29.99, five for $12.99 or one for $5.99.
Despite paying more for Bumble's premium features, users who buy SuperSwipes or Spotlights instead receive "no discernable benefit whatsoever," the lawsuit summarizes.
Who does the lawsuit look to cover?
The case looks to represent anyone who, on or after January 22, 2017, purchased a pack of SuperSwipes or Spotlights through the Bumble app that was advertised to provide "[u]p to 10x more conversations" or "[u]p to 10x more matches."
How do I join the lawsuit?
You usually don't need to do anything to join or be considered part of a class action when it's first filed. If the lawsuit moves forward and settles, that's when those affected, i.e., the class members, should receive notice of the settlement with instructions on how to file a claim for their share.
Keep in mind that it takes time—sometimes months or years—for a lawsuit to be resolved through settlement, trial, arbitration or dismissal. In the meantime, one of the best things you can do is to stay informed.
Sign up for ClassAction.org's free weekly newsletter here to get class action news and updates sent straight to your inbox.
Camp Lejeune
Camp Lejeune residents now have the opportunity to claim compensation for harm suffered from contaminated water.
Read more here: Camp Lejeune Lawsuit Claims
Stay Current
Sign Up For
Our Newsletter
New cases and investigations, settlement deadlines, and news straight to your inbox.
Last Updated on January 25, 2022 — 3:06 PM