Aerosol Computer Duster Makers Hit with Lawsuit Over 'Forgotten Epidemic' of Inhalant Abuse
A proposed class action alleges the makers of several brands of aerosol computer dusters have sparked and effectively prolonged a public health crisis of inhalant abuse.
Want to stay in the loop on class actions that matter to you? Sign up for ClassAction.org's free weekly newsletter here.
The 125-page complaint against manufacturers AW, Falcon Safety Products and Norazza and private-label retail partner Walmart alleges the defendants are well aware of the addictive nature of inhalants—which were reportedly used by 2.2 million people in 2021 alone—yet continue to promote and sell their relatively cheap computer dusters without warning the public of the risk of addiction, abuse and even death.
The defendants' products, marketed as lint, dust and debris removers for computers, keyboards and other equipment, are comprised almost entirely of 1,1-difluoroethane (DFE), an odorless gas that, when inhaled, causes "intense and immediate intoxication," the suit explains. The case shares that computer dusters, often sold in multipacks without warnings about inhalant addiction, are "a prime target" for abuse given inhalant intoxication is short-lived and undetectable in workplace drug tests and the products are cheap and readily available at many retailers, reportedly costing as little as $1.89 per can.
Gram for gram, inhalants may be the cheapest, easiest, and one of the fastest ways for a user to get 'high,' and these products can be purchased in bulk at the local office supply store, supercenter big-box store, or grocery store."
According to the lawsuit, AW, Falcon Safety Products and Norazza, despite evidence that aerosol computer dusters are among the most commonly abused inhalants, have all worked to ensure that their products can continue to be sold without regard to a buyer's age, the number of cans purchased, or design changes that may prevent or curtail inhalant abuse.

Further, the suit alleges the companies have falsely claimed on product labels that the dusters contain a "bitterant" to deter abuse despite being well aware that the amounts present are "insufficient" to prevent abusers from frequenting stores "again and again" and purchasing multiple cans/multipacks on each visit.
Indeed, the lawsuit claims the presence of the bitterant, denatonium benzoate (DB), in the computer dusters actually makes them "even more dangerous and deadly" given the substance's effects can increase the amount of DFE absorbed by an inhalant abuser.
The lawsuit was filed in Georgia on September 20 by the estate of a man whose death was attributed to sudden sniffing death syndrome, which occurs when the gas component of aerosol blocks the body's normal flow of oxygen, leading to cardiac arrest. According to the lawsuit, the man was found dead in his home with cans of AW's Surf onn. computer duster surrounding his body and had spent more than $4,000 on aerosol computer dusters in the three months prior to his death.
Overall, the lawsuit contests that the defendants should be held liable for the design, manufacture, sale and distribution of "defective, unreasonably dangerous" products that can cause serious injury and death when used "in an entirely foreseeable method of attaining immediate, intense intoxication, and are known to be highly addictive."
Health effects of inhalant abuse
The suit shares that inhalants are extremely toxic to the human body, and prolonged exposure can cause neurological damage, cognitive abnormalities and permanent brain damage. Chronic exposure to these typically colorless, odorless and tasteless toxins can also damage the heart, lungs, kidneys and liver, the case relays.
Moreover, inhalants are known to cause the heart to beat abnormally, a condition known as cardiac arrhythmia, which also increases the heart's sensitivity to adrenaline, the suit states. In sum, any sudden rush of fear, excitement or surprise for someone high on inhalants can lead to cardiac arrest, the case reads.
Per the suit, inhalant abuse also contributes to car accidents and drownings due to the user's intoxication.
The lawsuit shares that inhaling DFE in particular has also been linked to bone deformities; chemical burns, blisters and rashes; kidney failure; dyspnea (shortness of breath); seizures; loss of motor control; psychosis; and heart problems such as toxic myopericarditis (inflamed heart), ventricular fibrillation, tachycardia and dysrhythmia.
"Bitterant" added to computer dusters fails to curb abuse problem, suit says
As the lawsuit tells it, the manufacturer defendants and their retail partners, including co-defendant Walmart, have added the bitterant denatonium benzoate (DB) to cans of computer duster, allegedly to "forestall inquiry into the injuries and deaths" linked to the products. However, DB, a chemical that imparts a bitter taste or smell, has had little effect on the "forgotten epidemic" of inhalant abuse nationwide, the suit alleges.
For one, the case says DB, in the manner and quantity in which it is added to the duster, has "no meaningful impact" on a user, particularly since it is undetectable in its gas vapor phase. Moreover, independent tests have shown that DB is not present in the duster cans in the levels represented by the defendants and in amounts that are detectable to most humans, the suit alleges.
Still, the lawsuit argues, even if the amounts of DB added to the products are what the companies claim, the bitterant "would never trigger an actual deterrent effect upon an inhalant misuser" given it is not present at high enough levels to outweigh the goal of getting high. Per the case, to achieve "a true deterrent effect," DB must be present in a concentration that would make a user's experience "sufficiently noxious or disgusting"—i.e., a much higher amount than what's required to deter accidental misuse.
In fact, the suit says, huffing-related injuries and deaths have gone up exponentially since DB has been added as a bitterant to cans of aerosol computer duster.
"To date, no scientific report provides evidence that DB deters inhalant abuse," the filing says. "Notably, even the industry has not been able to sponsor any studies to such an effect."
Second, the defendants and retailers are aware that DB is among a class of bitterants that "a significant portion of the population cannot detect," principally because of a genetic trait in 15 to 30 percent of individuals that renders them "incapable of detecting the bitter taste of certain molecules."
"Defendants fail to provide a warning that its bitterant could be undetectable in inhalant misuse scenarios," the lawsuit says.
Lastly, "and perhaps most damning" to the defendants' claims about the deterring effects of bitterants, the case says, is that DB is a bronchodilator that "relaxes the muscles in the lungs and widens the inhalant abuser's airways." As a result, the chemical in fact increases the amount of DFE an inhalant abuser absorbs into their lungs while huffing, making the act "even riskier and more dangerous than it otherwise would be absent the bitterant."
Despite the foregoing, AW, Falcon Safety Products and Norazza have each labeled their cans of computer duster as containing a bitterant to "help deter or discourage inhalant abuse," the suit relays, calling the promise "false, intentionally misleading, and [increasing] the danger to consumers."
What brands of aerosol computer duster are mentioned in the lawsuit?
The suit focuses in particular on:
AW's Ultra Duster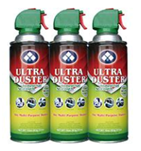 AW's Innovera and Office Depot dusters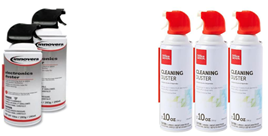 Falcon Safety Products' Dust-Off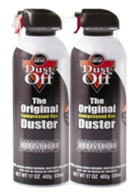 Falcon Safety Products' Century, Maxell and Insignia dusters

Norazza's Endust duster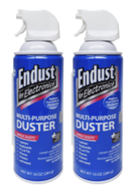 Norazza's Surf onn. duster

A cautionary tale
The case was filed by the estate of a man named Michael Robins, an Army infantry veteran who the suit says began huffing computer duster around 2017. From there, inhalant abuse "quickly took over Michael's life," the filing shares.
Per the lawsuit, after Robins' honorable discharge in 2011, he was treated for PTSD and depression stemming from his combat experience, and during this period he "relied on alcohol and ultimately huffing to self-treat," the complaint relays. Though the man entered inpatient rehab treatment in late 2018 for six months, he later relapsed, the suit says.
According to the lawsuit, Robins' inhalant addiction ultimately "spiraled out of control," and on multiple occasions, including at least twice leading up to his death, he suffered seizures while huffing. During wellness checks, the case says, Robins was found by local authorities "incoherent and disheveled, with cans of duster throughout his home."
In the end, Robins was unable to overcome his addiction, the lawsuit relays.
On one such occasion in late August 2021, his family found hundreds of duster cans scattered throughout his home. This was a wakeup call and they begged him to enter rehab. He refused. His condition worsened and ultimately he was found dead at his home on September 21, 2021. Michael Robins was 31 years old."

Per the suit, Robins' cause of death was listed as "1,1-difluoroethane toxicity," and numerous cans of Surf onn. were found in his bedroom near his body. Robins' family thereafter came across purchase receipts that reflect that he spent $4,433.74 on dusters in two and a half months, the case reads.

Who's covered by the lawsuit?
The case looks to represent all Georgia citizens, and their heirs and survivors, who have suffered or presently suffer injury due to addiction to 1,1-difluoroethane (DFE) or died from DFE intoxication arising from inhaling computer duster made by AW, Falcon Safety Products or Norazza.
If you do not live in Georgia, that may not mean you are entirely excluded from taking part in the litigation. It is possible the proposed class defined above may be expanded or that another case looking to represent a nationwide class is filed in the future.
If you'd like to take legal action on your own or find out more about your legal rights, contact a class action attorney in your area.
How do I get involved in the lawsuit?
At this time, there's nothing you need to do to join or sign up for the proposed class action detailed on this page. It's typically only if and when a case settles that the people covered by the suit, known as "class members," would need to act. This might involve filling out and filing a claim form online or by mail. In the event of a settlement, class members may receive a direct notice outlining their options going forward and their legal rights.
The Substance Abuse and Mental Health Services Administration's National Helpline is a free, confidential treatment referral and information service for individuals and families facing mental or substance use disorders. To speak to someone, call 1-800-662-HELP (4357).
Get class action lawsuit news sent to your inbox – sign up for ClassAction.org's free weekly newsletter here.
Hair Relaxer Lawsuits
Women who developed cancer, endometriosis or reproductive problems after using hair relaxers such as Dark & Lovely and Motions may now have an opportunity to take legal action.
Read more here: Hair Relaxer Cancer Lawsuits
Stay Current
Sign Up For
Our Newsletter
New cases and investigations, settlement deadlines, and news straight to your inbox.
Last Updated on September 22, 2023 — 12:29 PM