Wet Ones Incapable of Killing '99.99%' of Germs as Advertised, Class Action Claims
Leboeuf v. Edgewell Personal Care Company et al.
Filed: June 15, 2022 ◆§ 1:22-cv-00642
A proposed class action claims that Wet Ones antibacterial hand wipes are incapable of killing "99.99%" of germs as advertised.
A proposed class action claims that Wet Ones antibacterial hand wipes are incapable of killing "99.99%" of germs as advertised.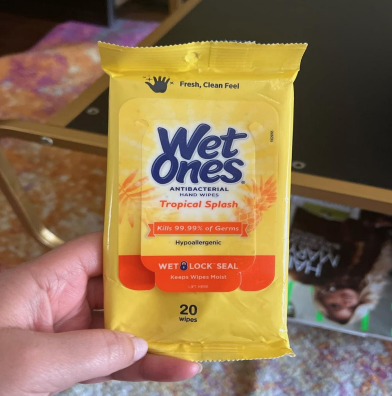 The 25-page complaint out of New York alleges that it is scientifically proven that the active ingredient in Wet Ones, 0.13 percent benzalkonium chloride (BAC), does not kill the vast majority of germs—including those transmitted through the hands, such as rhinovirus—at least not at the concentration provided by the wipes.
According to the suit, Wet Ones are also ineffective at killing COVID-19. The lawsuit says that tests conducted on the efficacy of BAC in killing COVID-19 show that "a mere 30 seconds of exposure to 80% alcohol was more effective" at killing the virus than "30 minutes of exposure to BAC."
Per the case, defendants Edgewell Personal Care Company, Edgewell Personal Care Brands and Edgewell Personal Care, LLC are aware that it is scientifically proven that BAC-based products do not kill 99.99 percent of germs and that no evidence supports this claim; however, the companies continue to misrepresent Wet Ones' germ-killing capabilities, the suit says.
"Defendants' Product labels are therefore materially misleading, in that they plainly state, in a manner giving the impression that it has been scientifically proven, that their Products kill 99.99% of germs, when studies show that it does not kill many types of germs," the lawsuit alleges.
More specifically, the disinfectant properties of BAC work by permeating a cell's outer structure in order to "denature" the proteins within, which may eventually cause the cell structure to become compromised and the cell to die, the lawsuit states. As a result, BAC's effectiveness at combating any particular germ is "critically dependent on the cellular structure of the germ," according to the case.
The lawsuit states that BAC is ineffective at killing "non-enveloped" viruses and certain gram-negative bacteria and spores because the structure of these germs fortify them against permeation by BAC.
"Studies have found that resistance to BAC-based disinfectants such as Defendants' Products has developed in at least 57 bacteria species, and BAC-resistant genes have been discovered to be developing in up to 76 bacterial strands," the suit says.
Further, the lawsuit relays that an estimated 100 billion to one trillion different microbial species exist, with the current cataloged species of microbes accounting for only approximately 0.001 percent of the germs in existence. The suit argues that the claim that Wet Ones can kill "99.99%" of germs wildly misses the mark in that the vast majority of germs have yet to be discovered and identified. Per the case, no amount of testing can substantiate the claim that a BAC-based hand sanitizer can kill nearly all germs.
"Defendants know this, experts in the field of microbiology know this, but the reasonable consumer does not know this because they have only read that the Products will 'Kill[] 99.99% of germs," the filing says.
As the case tells it, reasonable consumers have been induced by Edgewell's misrepresentations into buying Wet Ones that do not perform as advertised. The complaint claims that the companies have made millions in "fraudulent sales" to consumers who did not receive the benefit of their bargain.
"The Products do not kill the vast majority of germs in existence," the case reiterates. "Instead, BAC-based hand wipes kills [sic] a certain, much-smaller subset of germs that have not yet grown resistant to BAC, when applied to the skin and left untouched for a set period of time."
The suit looks to cover consumers residing in New York who bought Wet Ones antibacterial hand wipes within the last four years.
Get class action lawsuit news sent to your inbox – sign up for ClassAction.org's free weekly newsletter here.
Camp Lejeune
Camp Lejeune residents now have the opportunity to claim compensation for harm suffered from contaminated water.
Read more here: Camp Lejeune Lawsuit Claims
Stay Current
Sign Up For
Our Newsletter
New cases and investigations, settlement deadlines, and news straight to your inbox.
Last Updated on June 16, 2022 — 4:27 PM