West Clinik Hit with Class Action Over 'Unwanted' Promotional Texts
Lemus v. 2015 Halladay Wellness, Inc.
Filed: January 11, 2021 ◆§ 8:21-cv-00044
A California man claims cannabis dispensary West Clinik sent automated text messages without securing recipients' prior express consent to be contacted.
A cannabis dispensary doing business as West Clinik faces a proposed class action in which a California man claims the company sent automated text messages without securing recipients' prior express consent to be contacted.
The lawsuit alleges the non-emergency telemarketing texts were sent using an automatic telephone dialing system (ATDS), the use of which the suit says is illegal under the Telephone Consumer Protection Act (TCPA) unless the recipient has provided written permission to receive the texts.
Per the suit, defendant 2015 Halladay Wellness, Inc. sent the plaintiff the following telemarketing messages beginning in July 2020: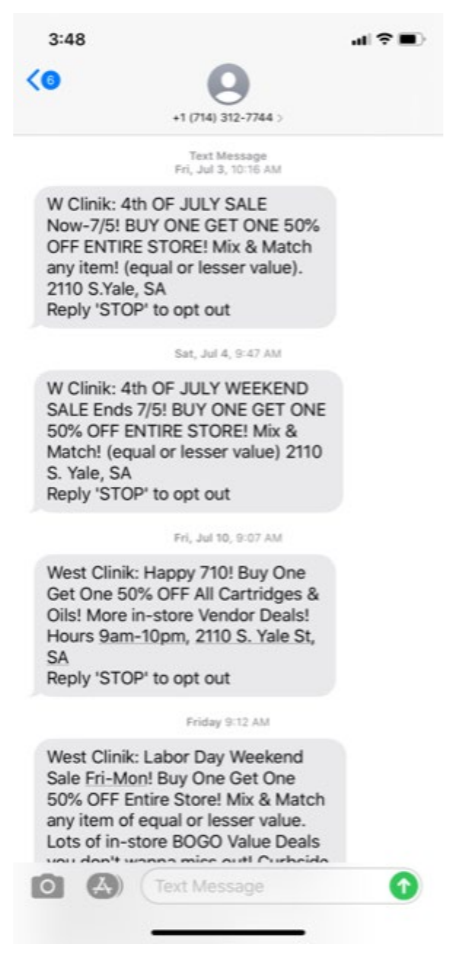 The lawsuit says the texts constitute telemarketing in that they encourage the future purchase of the defendant's cannabis products. According to the suit, the "impersonal and generic nature" of the text messages indicates they were sent using an ATDS—i.e. a combination of hardware and software capable of storing telephone numbers produced using a random or sequential number generator and then dialing those numbers without human intervention.
The plaintiff says he never consented to receive the automated texts and that his phone number has been listed on the National Do Not Call Registry since 2013. Per the suit, the defendant was barred by the TCPA from sending promotional text messages to phone numbers listed on the Do Not Call Registry.
West Clinik's texts, according to the case, caused the plaintiff and other recipients "actual harm." More specifically, the plaintiff estimates he spent 15 to 30 seconds reviewing each of the defendant's texts and approximately 15 minutes locating and retaining counsel to stop the messages. In all, the suit claims the defendant wasted 30 minutes of the plaintiff's time by sending the unwanted texts.
Get class action lawsuit news sent to your inbox – sign up for ClassAction.org's newsletter here.
Last Updated on January 15, 2021 — 4:01 PM