Walmart's Great Value Recycling Bags Not Actually Recyclable, Class Action Claims
A class action claims Walmart's Great Value-brand Recycling bags are falsely advertised in that they are not, in fact, recyclable through most municipal programs.
A proposed class action claims that Walmart's Great Value-brand Recycling Drawstring Bags are falsely advertised in that they are not, in fact, recyclable through most municipal programs in the United States.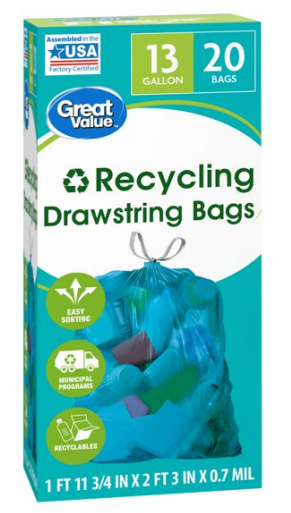 The 30-page lawsuit says that although Walmart advertises the Great Value bags as "recycling" bags, with a large recycling symbol and the claim "Municipal Programs" on the front label, the bags in truth contaminate the recyclable waste stream, decrease the recyclability of other recyclable items and are not recyclable themselves given that they are made from low-density polyethylene plastic (LDPE).
"In sum, the Products are not suitable for recycling and are actually harmful, not beneficial to the overall recycling process," the complaint contends.
Per the case, Walmart has sought to capitalize on consumers' desire for "green" products and charged a premium for recycling bags that are not worth as much as buyers were led to believe.
The lawsuit relays that municipal recycling facilities separate plastics by resin type, with LDPE products falling under the category of "No. 4" plastics. Prior to 2018, No. 3 through No. 7 plastics were exported to China given the fact that there is minimum demand, value and processing capacity for them in the United States, the suit says. On January 1, 2018, however, China introduced a new policy limiting plastic waste imports, and bales of No. 3 through No. 7 plastics are now most often incinerated instead of recycled, according to the complaint.
The lawsuit claims that it is false and misleading to label the Great Value trash bags as "recycling" bags since they are likely to end up incinerated, in landfills or in the environment.
Moreover, the case alleges that the Great Value bags are not only non-recyclable but can clog up the recycling stream and keep other items from being properly recycled. According to the suit, the LDPE film of which the bags are made can break down the machinery used to sort recyclable products. In fact, many municipal recycling facilities do not accept plastic bags and discard "recycling" bags and their contents directly into the trash, the case says.
"Use of the Products thereby decreases the efficiency of, and increases the cost of, recycling programs, and ultimately adds to the problems of plastic accumulation and plastic contamination in the environment (problems that recycling programs are intended to ameliorate)," the complaint states.
The lawsuit further alleges that Walmart's "Municipal Programs" statement on the front of the Great Value recycling bags' packaging is misleading in that it fails to disclose that most communities do not currently have "Blue Bag" programs that allow recycling bags to be used.
Per the case, Walmart's marketing of the Great Value recycling bags violates California law and the Federal Trade Commission's Green Guides for environmental marketing claims, which specify that products cannot be marketed as recyclable "unless the products can actually be converted into reusable material." As the suit tells it, there is no real value to a consumer if a product is "technically recyclable" but there is no program through which the consumer can recycle the item.
The lawsuit looks to represent anyone who purchased Great Value-brand recycling drawstring bags in California between July 1, 2018 and the present.
Get class action lawsuit news sent to your inbox – sign up for ClassAction.org's newsletter here.
Hair Relaxer Lawsuits
Women who developed cancer, endometriosis or reproductive problems after using hair relaxers such as Dark & Lovely and Motions may now have an opportunity to take legal action.
Read more here: Hair Relaxer Cancer Lawsuits
Stay Current
Sign Up For
Our Newsletter
New cases and investigations, settlement deadlines, and news straight to your inbox.
Last Updated on July 8, 2022 — 4:45 PM