Walmart Sued Over 'Misleading' Labeling of Parent's Choice Toddler Beginnings Formula Powder
Last Updated on June 23, 2020
A class action claims Walmart's labeling of a formula powder meant for toddlers is deceptive and misleading.
Walmart faces a proposed class action that alleges the label for a formula powder meant for toddlers is deceptive and misleading in that it implies the product is "nutritionally appropriate" for children ages nine months and older.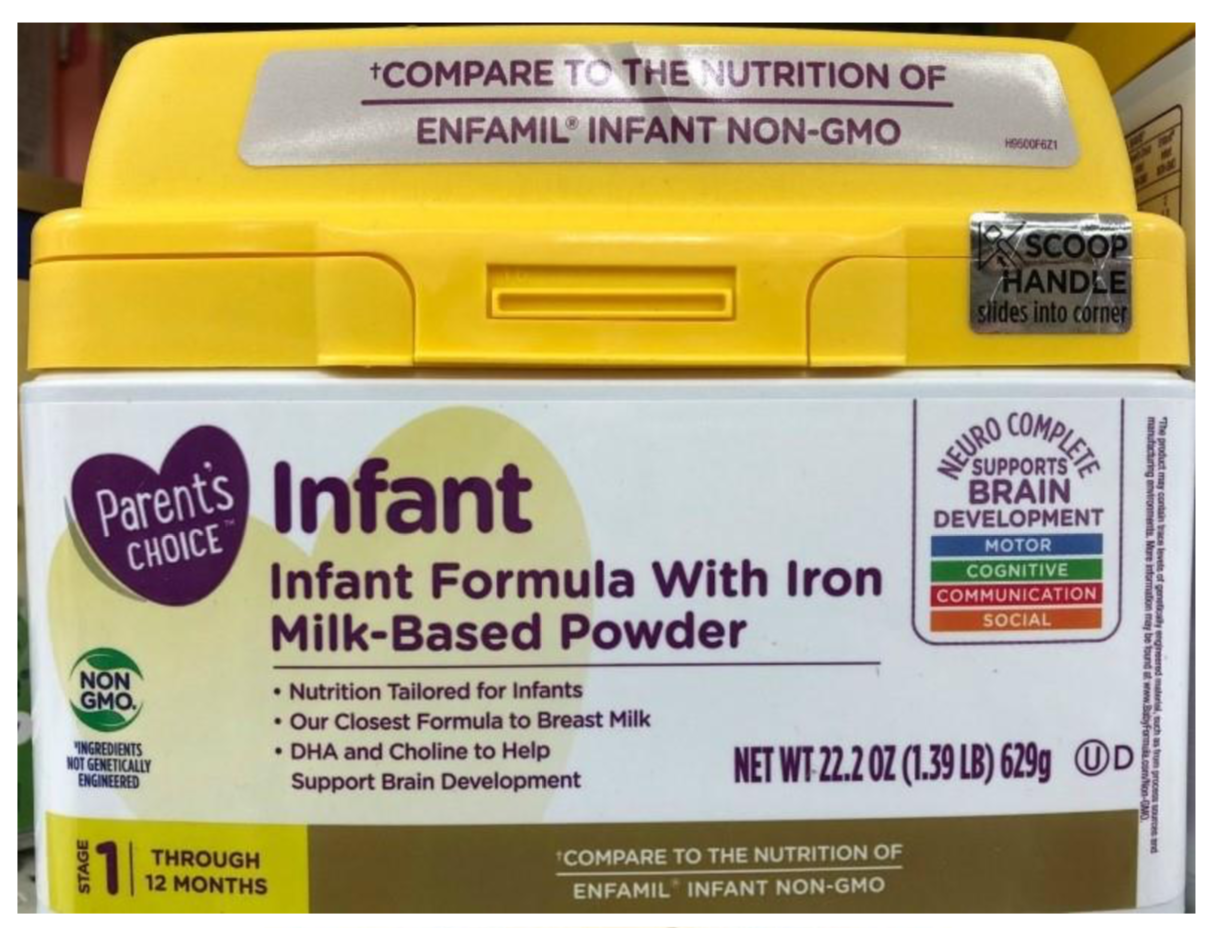 At the center of the 16-page complaint is Walmart's Parent's Choice Toddler Beginnings brand of formula powder, which the lawsuit says is represented as a "transition formula" designed as "a way to sell infant formula to children older than twelve (12) months." According to the case, the name, statements and design of the product may lead caregivers to mistakenly believe the Toddler Beginnings formula is nutritionally appropriate for children nine months and older in the same way that infant formula is an appropriate substitute for breastmilk for children younger than 12 months.
In truth, the case alleges, the Toddler Beginnings product provides less nutrition and more added sugar than a recommended diet of cow's milk and healthy foods.
According to the lawsuit, the Parent's Choice Toddler Beginnings product is "confusingly similar" to the defendant's Parent's Choice Infant product, which is meant for children ages zero to 12 months. Despite the different age ranges for which each product is considered appropriate, both are labeled identically by Walmart as "Infant Formula with Iron – Milk-based powder," the complaint says. As the lawsuit tells it, given "infant formula" is defined by law as a product for use by persons not more than 12 months old, Walmart's labeling of the Toddler Beginnings product as "Infant Formula with Iron – Milk-based powder" is deceptive and misleading given infants and young toddlers do not have identical nutrient requirements.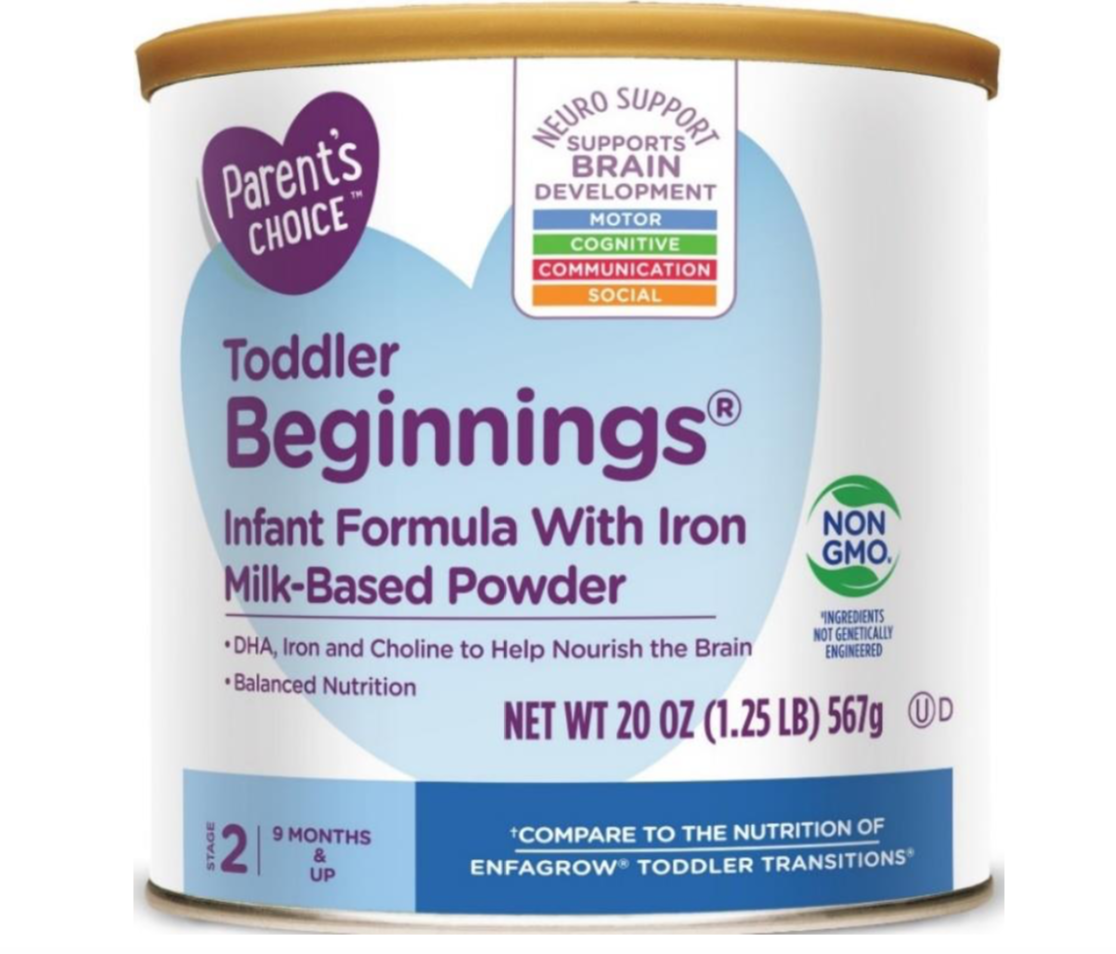 Per the suit, established experts recommend exclusive breastfeeding for the first six months of life before adding complementary foods while continuing to breastfeed until a child hits at least 12 months. After 12 months, experts recommend adding whole plain cow's milk and healthy foods as part of a balanced diet, the lawsuit says. According to the case, rates of breastfeeding have increased since 2003 and have thus driven down sales of "transition" infant formulas sold as appropriate for children older than 12 months.
The lawsuit alleges that the defendant's representation of the Toddler Beginnings product as a "transition" formula that shares the same labeling format and health benefit statements as Walmart's Infant formula could mislead caregivers into making incorrect nutritional decisions for toddlers.
Cited in the case is a survey that found 70 percent of participants believed transition formulas such as Toddler Beginnings were suitable for toddlers to drink even though experts have found they offer "no unique nutritional value beyond what could be achieved through a nutritionally adequate diet." Complicating matters is that Walmart's Toddler Beginnings powder contains added sugars, which the case claims caregivers are unable to identify on the product's nutrition fact panel.
The lawsuit says consumer research has found the use of transition formulas, such as Toddler Beginnings, has resulted in the prolonged use of "expensive, re-branded" infant formula in place of the aforementioned transition to cow's milk and healthy foods. Per the case, transition formulas are also "several times more expensive" than alternatives.
In light of the foregoing, the complaint argues Walmart's branding and packaging of its Toddler Beginnings powder is deceptive in that it is "designed to—and [does]—deceive, mislead, and defraud consumers." In all, Walmart's packaging of the formula has enabled the retailer to sell more of the product and at higher prices per unit, the suit claims.
"The value of the Toddler Beginnings that plaintiff purchased and consumed was materially less than its value represented by defendant," the complaint says.
Neither the plaintiff nor proposed class members would have bought Walmart's Toddler Beginnings formula had the product been accurately labeled, the suit argues.
Get class action lawsuit news sent to your inbox – sign up for ClassAction.org's newsletter here.
Last Updated on June 23, 2020 — 4:06 PM