Walgreens' 'Fast-Release' Acetaminophen Works No Faster than Regular Tablets, Lawsuit Claims
Gray et al. v. Walgreens Boots Alliance, Inc. et al.
Filed: September 21, 2020 ◆§ 1:21-cv-00856
A lawsuit claims the labels of Walgreens' fast-release pain reliever products falsely imply that they work faster than comparable non-rapid release products.
A proposed class action claims Well at Walgreens-brand fast-release pain reliever products are misleadingly marketed in that their labels falsely imply that the drugs work faster than comparable non-rapid release products.
The case, which was transferred to Illinois' Northern District Court on February 11, 2021, claims defendants Walgreens Boots Alliance and LNK International, Inc. have misrepresented the nature, quality and effectiveness of Well at Walgreens Extra Strength Pain Reliever Fast-Release Quick Gels and Well at Walgreens Extra Strength Pain Reliever PM Fast-Release Quick Gels.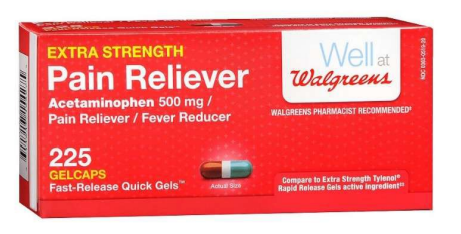 Per the suit, the defendants have "long known or should have known" that traditional, non-fast release acetaminophen products can provide relief in the same time period or even faster than the fast-release items yet have charged a premium price based on the misrepresentation that the drugs work more quickly.
"Defendants engage in the false, misleading, unfair, and deceptive 'fast-release' labeling in order to dupe consumers into purchasing the gelcaps for prices that exceed their true value," the complaint alleges. "Defendants have pursued and continue to pursue this course of conduct in order to profit off of unassuming, unwitting consumers looking for the fastest pain-relief possible from an over-the-counter acetaminophen product."
Walgreens and LNK launched their Extra Strength fast-release acetaminophen as a generic alternative to Johnson & Johnson's Tylenol Extra Strength Rapid Release products, the lawsuit begins. Per the case, Johnson & Johnson, followed by the defendants, sought to capitalize on the "falsehood" that so-called rapid release products provide faster relief than cheaper acetaminophen products. By marketing its medications as "comparable" to Johnson & Johnson's Tylenol products, the defendants piggybacked off the pharma giant's "massive marketing campaign" and were able to sell the generic acetaminophen at higher prices than they would have absent the "fast-release" representations, the suit says.
The lawsuit goes on to state that a 2018 study found that "fast-release" acetaminophen products actually dissolve slower than traditional acetaminophen tablets. Nevertheless, Walgreens has been able to charge a premium price based on consumers' mistaken belief that the fast-release gel caps will provide quicker relief, the case alleges.
"Consumers have been willing to and continue to pay this premium because, as a result of false, misleading, unfair, and/or deceptive labeling and other advertising, they believe the Class Fast-Release Quick Gels work faster than other, cheaper acetaminophen products when in fact, they do not," the complaint avers.
The lawsuit looks to represent three proposed state-specific classes of individuals who purchased the defendants' fast-release gels in New York, Illinois or Missouri during "the fullest period allowed by law."
Get class action lawsuit news sent to your inbox – sign up for ClassAction.org's newsletter here.
Last Updated on February 17, 2021 — 4:02 PM