Time to Recharge: Energizer AA Max Batteries Sold 'Under False Pretenses,' Class Action Claims
Last Updated on January 12, 2021
A class action claims Energizer has falsely touted its AA Max batteries as able to last up to 50 percent longer than competing products.
A proposed class action alleges Energizer Brands, LLC has "duped" consumers into buying its AA Max batteries by falsely and deceptively claiming they can last up to 50 percent longer than competing products.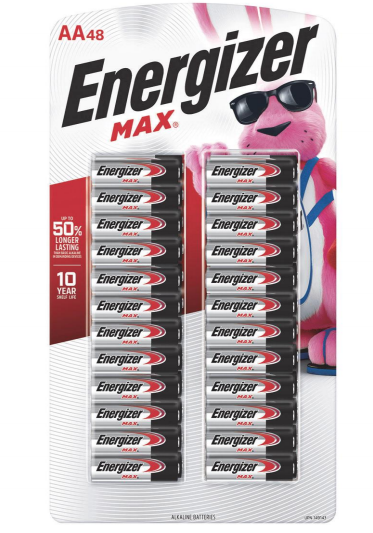 The 18-page lawsuit alleges the "false pretenses" under which Energizer has sold its AA Max batteries have confused and misled consumers, who've bought the product based on the belief that the batteries perform better than others.
"Energizer has engaged in this false and deceptive advertising campaign for one reason: to drive sales," the suit, filed in New York federal court on December 22, 2020, alleges.
The plaintiff, a New York consumer, says he bought Energizer's AA Max batteries on three separate occasions in 2020, relying on the defendant's claim that the product can last up to 50 percent longer than "basic alkaline in demanding devices." Per the suit, Energizer's "50% longer" claim is prominently emphasized on product packaging and in marketing and advertising materials.
Notably, however, the terms "basic alkaline" and "demanding devices" are not defined anywhere on the packaging for AA Max batteries, the lawsuit says, describing the former as "so broad that it encompasses all non-specialized, all-purpose alkaline batteries in the marketplace."
"Consumers understand 'basic alkaline' to refer to most, if not all, alkaline batteries," the complaint reads.
According to the lawsuit, Energizer AA Max batteries do not last longer than, for instance, Duracell Coppertop batteries, which the case claims lasted longer "across several ANSI battery discharge testing standards." Moreover, the suit claims Energizer's "50% longer" boast is "literally false" given the longevity of the AA Max batteries "varies based on where any particular AA Max battery is manufactured."
"Energizer has willfully engaged in false and misleading advertising in violation of federal and state law," the complaint alleges.
The lawsuit looks to represent nationwide and New York-only classes of consumers who, during the maximum period permitted by law, bought an Energizer AA Max battery with the 50% Longer Lasting Claim on the packaging from a third-party retailer, including web retailers, for personal, family, or household use and not for resale.
Get class action lawsuit news sent to your inbox – sign up for ClassAction.org's newsletter here.
Last Updated on January 12, 2021 — 5:01 PM