in
Newswire
Published on November 29, 2022
Strawberry Kiwi Capri Sun Contains 'Forever Chemicals,' Class Action Says
Last Updated on May 26, 2023
Toribio v. The Kraft Heinz Company
Filed: November 29, 2022 ◆§ 1:22-cv-06639
A class action alleges the Kraft Heinz Company's "all natural" Capri Sun Strawberry Kiwi juice drink contains synthetic "forever chemicals."
A proposed class action alleges the Kraft Heinz Company's purportedly "all natural" Capri Sun Strawberry Kiwi juice drink contains synthetic "forever chemicals" known to be harmful to humans and the environment.
If you've bought strawberry kiwi-flavored Capri Sun, let us know about it here.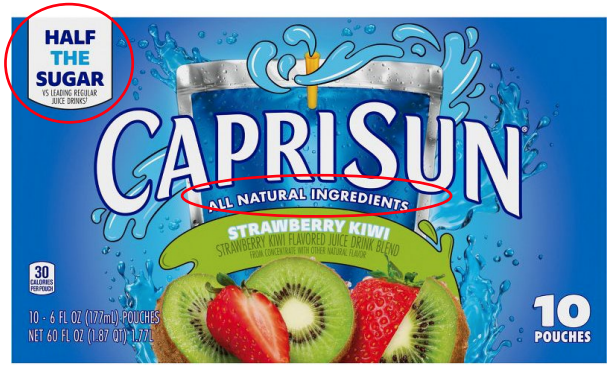 The 42-page lawsuit says that although Kraft Heinz touts the strawberry kiwi variety of Capri Sun as made from "all natural ingredients" and containing "less sugar than regular juice drinks," testing done on behalf of the plaintiff, a New York consumer, found that the beverage contains per- and polyfluoroalkyl substances (PFAS), a group of man-made chemicals that accumulate over time and are harmful at even very low levels.
Want to stay in the loop on class actions that matter to you? Sign up for ClassAction.org's free weekly newsletter here.
"The presence of PFAS is entirely inconsistent with Defendant's uniform representations that Capri Sun kids' drinks…'are proudly made with all natural ingredients,'" the complaint alleges, claiming Kraft Heinz has attempted to capitalize on consumer preference for "clean" foods.
The case stresses that PFAS have been shown to have a number of toxicological effects in lab studies and have been linked to thyroid disorders, immunotoxicity effects and various cancers. The Centers for Disease Control and Prevention (CDC) has outlined a slew of health issues associated with PFAS, including cancer, liver damage, decreased fertility, and an increased risk of asthma and thyroid disease, the complaint states.
Kraft Heinz has "engaged in tireless marketing efforts to convince consumers" that Capri Sun beverages are a healthy choice for kids, the suit says. Within the more than $1.5 billion juice box market, Capri Sun ranks near the top, and is touted by Kraft Heinz as the "#1 Kids' Favorite Juice Drink," the filing relays.
"Defendant does not disclose the presence of PFAS—or any other synthetic chemical—in the Product's ingredients," the case says, stating Kraft Heinz instead keeps its Capri Sun ingredients list "short and sweet":

The case contests that the inclusion of "filtered water" on the ingredients list leads reasonable consumers to believe that "additional care" has been taken to remove any "incidental chemicals or impurities" that might contradict Kraft Heinz's "all natural" claims.
According to the lawsuit, the plaintiff's testing detected "material levels of numerous PFAS" in the Capri Sun products at issue, including "concerning levels" of perfluorooctanoic acid (PFOA), one of the most well-studied types of PFAS and one linked to negative health effects.
"Human studies have found associations between PFOA exposure and effects on the immune system, the cardiovascular system, human development (e.g., decreased birth weight), and cancer. The most sensitive non-cancer effect and the basis for the updated health advisories for PFOA is suppression of vaccine response in children."
As the complaint tells it, Kraft Heinz knows consumers are willing to pay more for foods represented as natural and would have endangered its competitive advantage in the marketplace if it had disclosed the presence of PFAS in Capri Sun beverages.
"If Defendant had disclosed to Plaintiff and putative Class Members that its Product contained PFAS chemicals, Plaintiff and putative Class Members would not have purchased the Product, or they would have paid less for it," the suit asserts.
The complaint looks to cover all persons who, during the fullest period allowed by law, bought Strawberry Kiwi Capri Sun drinks in the United States for personal use and not for resale.
Get class action lawsuit news sent to your inbox – sign up for ClassAction.org's free weekly newsletter here.
Hair Relaxer Lawsuits
Women who developed cancer, endometriosis or reproductive problems after using hair relaxers such as Dark & Lovely and Motions may now have an opportunity to take legal action.
Read more here: Hair Relaxer Cancer Lawsuits
Stay Current
Sign Up For
Our Newsletter
New cases and investigations, settlement deadlines, and news straight to your inbox.
Last Updated on May 26, 2023 — 2:34 PM