in
Newswire
Published on September 22, 2022
'Slack-Fill Scam': Class Action Claims Packages of Lily's Chocolate Covered Almonds Are Underfilled
A lawsuit claims packages of Lily's-brand "Milk Chocolate Style Covered Almonds" are underfilled and worth less than consumers are led to expect.
A proposed class action claims Lily's-brand "Milk Chocolate Style Covered Almonds" are worth less than consumers are led to expect because packages of the product are "more than 60% empty."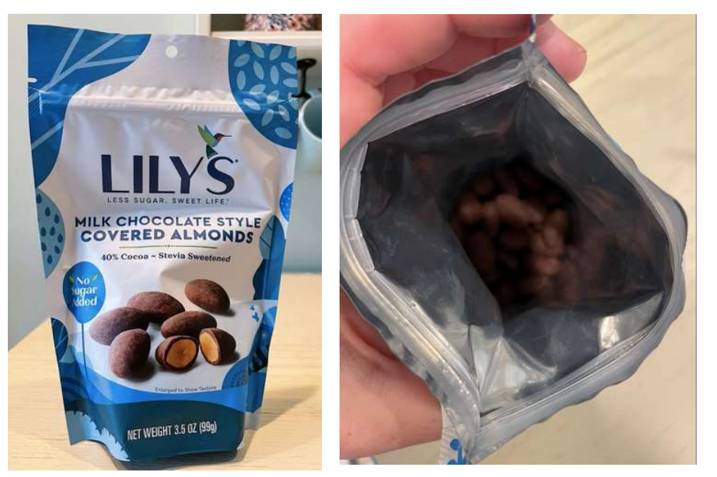 The 31-page lawsuit alleges the product's maker, Lily's Sweets, has orchestrated a "slack-fill scam" by underfilling bags of chocolate-covered almonds "for no lawful reason," essentially "dup[ing] unsuspecting consumers across America to pay premium prices for empty space."
According to the case, the Lily's almonds package does not provide consumers with "any meaningful understanding" of the amount of product inside, and shoppers are unable to tell that the opaque bag is inadequately filled until after they've purchased the snack and opened the bag.
"Defendant falsely represents the quantity of product in each of the Product's opaque containers through its packaging. The size of each container leads the reasonable consumer to believe he or she is purchasing a container full of chocolate covered almond product when, in reality, what he or she actually receives is significantly less than what is represented by the size of the container."
The suit claims Lily's has underfilled the chocolate-covered almonds bags "to save money (by not filling the containers)" and trick customers into buying its product over those made by competitors.

Slack-fill is the difference between a container's actual capacity and the volume of product inside, and nonfunctional slack-fill is the empty space in a container that is underfilled "for illegitimate or unlawful reasons," the suit states. The case contends that although there are lawful reasons for a food package to be underfilled—such as protection, requirements for the machines used during filling, product settling during shipping, a specific packaging function, or a reusable container—the Lily's product does not meet any of these exceptions.
The lawsuit looks to represent anyone who purchased the Lily's Milk Chocolate Style Covered Almonds in the United States for personal use, and not for resale, at any time in the last four years.
Get class action lawsuit news sent to your inbox – sign up for ClassAction.org's free weekly newsletter here.
Camp Lejeune
Camp Lejeune residents now have the opportunity to claim compensation for harm suffered from contaminated water.
Read more here: Camp Lejeune Lawsuit Claims
Stay Current
Sign Up For
Our Newsletter
New cases and investigations, settlement deadlines, and news straight to your inbox.
Last Updated on September 22, 2022 — 4:28 PM