Rust-Oleum's RainBrella Auto Glass Treatment Does Not Last As Long as Advertised, Class Action Claims
Rust-Oleum faces a class action lawsuit over its advertising and marketing claims for RainBrella auto glass treatment.
A proposed class action alleges Rust-Oleum has continued to represent its "RainBrella" auto glass treatment in a manner a judge in 2018 ruled against in a prior false advertising lawsuit.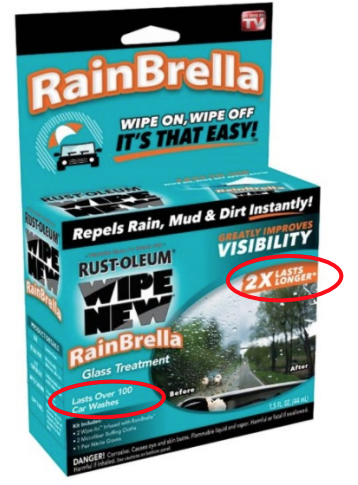 The crux of the 16-page lawsuit stems from a previous action, Tool Works, Inc. v. Rust-Oleum Corporation, Case No. 17-CV-2084, filed in Texas in 2017. In that case, the putative class action says, the plaintiff alleged Rust-Oleum had falsely advertised that RainBrella lasts twice as long as Rain-X, a leading competitor product, and more than 100 car washes.
At the end of a six-day jury trial in July 2018, the jury found Rust-Oleum liable for false advertising with regard to RainBrella, in particular its claim that the product lasts twice as long as Rain-X and can last for more than 100 car washes. On appeal, the U.S. Court of Appeals for the Fifth Circuit reversed on evidentiary grounds the jury's finding that RainBrella "lasts 100 car washes," the complaint says.
"The appellate court found that there was no evidence introduced at trial to support a finding of materiality—a necessary element to support the Lanham Act claims," the lawsuit states, noting the appeals court upheld the jury's conclusions with regard to Rust-Oleum's "Lasts 2X Longer" representations.
After the appellate proceedings, the trial court issued a permanent injunction barring Rust-Oleum from using the claim "Lasts 2X Longer" and representing that RainBrella "Lasts twice as long as Rain-X. We ran it through 100 car washes to prove it," according to the proposed class action.
The plaintiff, a Wisconsin resident, and her husband claim they have regularly purchased RainBrella for their vehicles, often applying the product multiple times per month, since roughly March 2018. The packages of RainBrella the plaintiff purchased contained representations that it "Lasts 2X Longer" and "Lasts Over 100 Car Washes," the proposed class action says.
"Plaintiff's RainBrella packages generally had the same appearance and representations as those presented above," the case reads. "Had Plaintiff known that Rust-Oleum's representation that RainBrella 'Lasts 2X Longer' than its leading competitor (i.e., Rain-X) was false, she would not have purchased the product."
Get class action lawsuit news sent to your inbox – sign up for ClassAction.org's free weekly newsletter here.
Camp Lejeune
Camp Lejeune residents now have the opportunity to claim compensation for harm suffered from contaminated water.
Read more here: Camp Lejeune Lawsuit Claims
Stay Current
Sign Up For
Our Newsletter
New cases and investigations, settlement deadlines, and news straight to your inbox.
Last Updated on March 15, 2021 — 4:58 PM