'Recyclable' Hefty Bags Are Anything But, Class Action Lawsuit Alleges
Hanscom v. Reynolds Consumer Products Inc. et al.
Filed: May 7, 2021 ◆§ 4:21-cv-03434
A class action alleges the maker of Hefty-brand recycling bags has taken advantage of consumers' demand for eco-friendly products by falsely advertising that the bags themselves are recyclable.
The maker of Hefty-brand recycling bags has taken advantage of consumers' demand for eco-friendly products by falsely advertising that the bags themselves are recyclable, a proposed class action claims.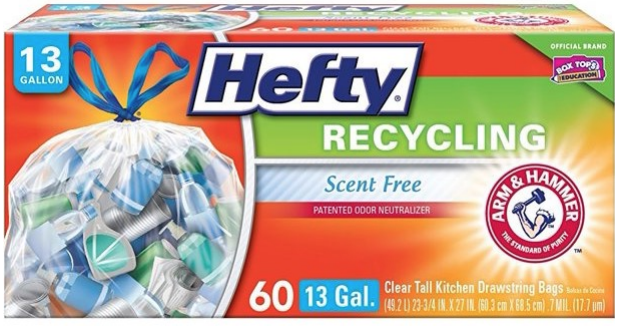 The 29-page lawsuit alleges Hefty drawstring kitchen recycling bags, in truth, "contaminate the recyclable waste stream, decrease the recyclability of otherwise recyclable materials, and are not recyclable because they are made from low-density polyethylene plastic," otherwise known as LDPE or No. 4 plastic. The case goes so far as to characterize a consumer's use of the Hefty "recyclable" bags as "both unnecessary and counterproductive" given the harm the product can cause to the overall recycling process.
According to the complaint, defendants Reynolds Consumer Products Inc. and Reynolds Consumer Products LLC know that Hefty recycling bags "typically end up in landfills" or get "incinerated" and are a contaminant that cannot be recycled yet the companies continue to represent the product in a manner likely to deceive consumers.
The case relays that recyclable waste in the United States is typically sorted and sold to facilities that can process the material into "clean flake material" that can then be sold and used to make new plastic items. According to the suit, however, it is not cost effective to process No. 4 plastic domestically. Furthermore, foreign export restrictions have "all but eliminated" the foreign market for LDPE plastic, which in turn has led the vast majority of the material to end up incinerated—which releases large quantities of greenhouse gases and toxic air emissions—in landfills or in the environment, the lawsuit says.
Moreover, most municipal recycling facilities classify LDPE film-containing products as a recycling contaminant given they can clog equipment and reduce the value of otherwise recyclable plastics, the suit notes. Overall, products containing No. 4 plastic are not only unable to be recycled but are unsuitable for disposing of recycling, the case asserts:
"A high presence of contamination, including unrecyclable films such as LDPE, in the recycling stream, makes otherwise recyclable plastic materials unrecyclable because purchasers of recyclable materials value bales of plastic by the percentage of unrecyclable contaminant present in the bales. If contamination exceeds a certain level, the bale must be incinerated or sent to a landfill. Therefore, not only is LDPE not recyclable, it may also prevent recycling of otherwise recyclable materials."
The lawsuit alleges that although Reynolds is well aware of where non-recyclable plastic materials end up, the company continues to represent its Hefty recycling bags as recyclable while failing to disclose "the omitted true facts about their true recyclability." The products, which come in 13- and 30-gallon sizes and multiple colors, are labeled prominently with representations that the bags are "perfect for all your recycling needs," "designed to handle all types of recyclables" and are "transparent for quick sorting and curbside identification" despite being for the most part unrecyclable and harmful to recycling processes, the suit claims.
According to the complaint, Reynolds' marketing and advertising of the Hefty products as "recycling" bags violates the Federal Trade Commission's Green Guides provisions, which prohibit the labeling of products as recyclable unless they can actually be converted into usable material. The suit highlights that although Reynolds states on the back of the box "in small and inconspicuous font" that the Hefty bags were "developed for use in municipal recycling programs where applicable," this statement falls short of adequately qualifying that the bags are made from LDPE and are not suitable to be recycled.
"In the absence of clarifying language, reasonable consumers understand this to mean that the Product is designed for recycling wherever municipal recycling is available, which is false," the complaint contends. "Therefore, the representation is neither a clear nor prominent disclaimer as required by the Green Guides."
The lawsuit looks to represent all persons who, between May 7, 2017 and the present, bought Hefty-brand recycling bags in California.
Get class action lawsuit news sent to your inbox – sign up for ClassAction.org's free weekly newsletter here.
Hair Relaxer Lawsuits
Women who developed cancer, endometriosis or reproductive problems after using hair relaxers such as Dark & Lovely and Motions may now have an opportunity to take legal action.
Read more here: Hair Relaxer Cancer Lawsuits
Stay Current
Sign Up For
Our Newsletter
New cases and investigations, settlement deadlines, and news straight to your inbox.
Last Updated on May 10, 2021 — 4:23 PM