'Real' Fudge? Keebler 'Fudge Stripes' Cookie Packaging Misleads Consumers, Class Action Alleges
A lawsuit claims the packaging of Keebler "Fudge Stripes" cookies is misleading in that it does not disclose that the product is not made with real fudge.
A proposed class action claims the packaging of Ferrara Candy Company's Keebler brand "Fudge Stripes" shortbread cookies is misleading in that it does not disclose that the product is not made with real fudge.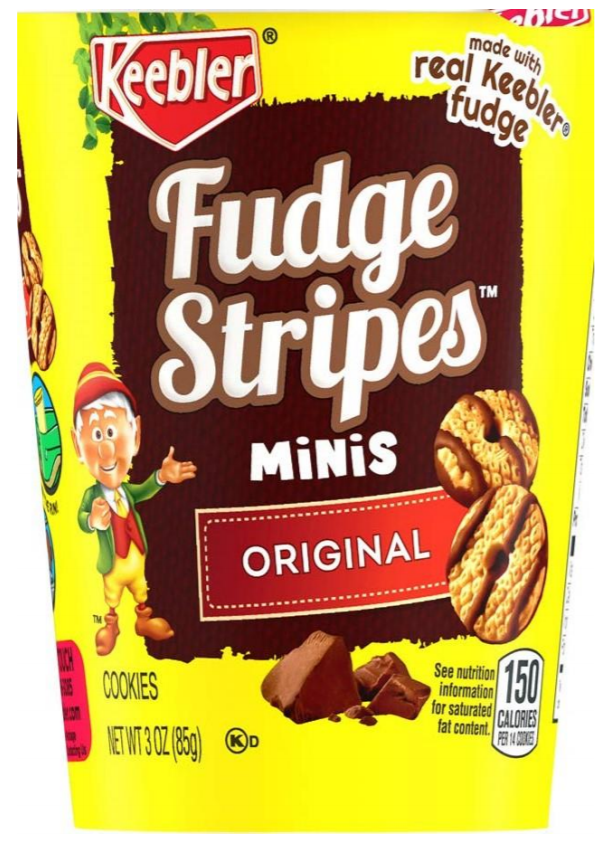 The 13-page case alleges the "made with real Keebler fudge" claim, among other fudge-related representations, on the product's label is meant to deceive consumers into paying more for a product they believe to contain butter, sugar and milk, ingredients that the suit says are "essential to fudge." Instead, the "fudge" portion of the cookies is made with vegetable syrup, invert syrup and whey, the lawsuit says.
According to the case, the packaging representations on Keebler Fudge Stripes cookies are "false, deceptive, and misleading" given the snack "lacks the ingredients essential to any fudge, let alone 'real' fudge."
According to the American Bakers Association's 2019 Power of Bakery report, about 50 percent of consumers who buy bakery products search for "real" ingredients, or those defined as recognizable ingredients that may be found in a consumer's "kitchen cupboard," the lawsuit states. Although consumers expect a product represented as containing fudge to be made with butter, sugar and milk, Keebler Fudge Stripes cookies contain vegetable oils instead of butter, the suit says.
Per the case, the importance of using butter over vegetable oils when making fudge is "widely acknowledged."
Further, the suit says Keebler Fudge Stripes cookies do not contain milk as expected by consumers but instead contain whey, which lacks the milkfat present in milk. The absence of traditional dairy ingredients such as butter and milk and the substitution of vegetable oil and whey means the fudge in the cookies "provides less satiety, has a waxy and oily mouthfeel and leaves an aftertaste," the case suggests.
Aside from the taste factor, vegetable oils are also linked to numerous health problems and lack certain vitamins provided by butter and milk, the complaint claims.
Finally, the lawsuit alleges the defendant substitutes invert sugar, a combination of glucose and fructose, for the sugar expected to be found in fudge. Per the case, this liquid sweetener is not considered by consumers to be a typical ingredient in "real" fudge.
According to the case, Ferrara Candy Company has been able to sell more packages of Keebler Fudge Stripes cookies, and at a higher price, than it otherwise would have absent the allegedly misleading representations.
Get class action lawsuit news sent to your inbox – sign up for ClassAction.org's newsletter here.
Last Updated on January 11, 2021 — 4:01 PM