PediaSure Grow & Gain Supplement Is Not 'Clinically Proven' to Help Kids Grow Taller, Class Action Says
A class action alleges PediaSure Grow & Gain is falsely advertised given that no evidence exists to support the claim that it is "clinically proven" to help increase a child's height.
A proposed class action alleges Abbott Laboratories' PediaSure Grow & Gain beverage is falsely advertised given that no evidence exists to support the claim that the "clinically proven" nutritional supplement can increase a child's height.
Want to stay in the loop on class actions that matter to you? Sign up for ClassAction.org's free weekly newsletter here.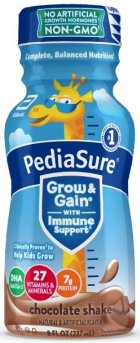 The 30-page lawsuit says that although children in the United States typically do not need or benefit from oral nutritional supplements such as PediaSure Grown & Gain, Abbott Labs nevertheless aggressively markets the product to the parents of picky eaters who are "shorter than their peers."
The complaint alleges PediaSure, described as "a flavored sugar and milk-based drink that contains vitamins," is decidedly "not a cure for shortness." Despite this, the lawsuit says, Abbott Labs claims, with no scientific support, that PediaSure is "clinically proven to help kids grow," with marketing that, per the suit, "makes crystal clear" that "grow" means an increase in height.
"Indeed, even Abbott's own financed clinical studies—studies that are not disclosed by Abbott in its marketing materials—confirm that PediaSure does not increase height-to-age or height-to-weight in children," the filing reads. "In short, not only does Abbott lack any support for its Clinically Proven Claim, it knows from its own studies that its Clinically Proven Claim is false and misleading."
According to the lawsuit, consumers have purchased PediaSure products based on the belief that they were clinically proven to increase height. At the same time, consumers reasonably believed in the supplement's efficacy and quality since similar meal replacement products are not marketed as "clinically proven" to increase height and cost less money, the case says.
"Simply put, Plaintiff and members of her class were deceived by Abbott's fraudulent marketing of PediaSure and Abbott profited from that deception at Plaintiff's and her class members' expense," the suit alleges.
Although liquid oral nutritional supplements were originally created to support the needs of under- and malnourished children worldwide, these supplements are now available to the general public and have become "enticing 'solutions' for parents who are acutely aware of the social and clinical implications of small body size," the filing relays. According to the lawsuit, Abbott Labs reportedly pulls in more than $250 million per year from sales of PediaSure, which it prominently touts as "clinically proven to help kids grow."
"A universal theme in PediaSure marketing is the image of a giraffe next to a graphic of a ruler, thereby conveying the clear message that PediaSure helps a child grow taller," the suit says.
The case argues that consumers would be far less willing to buy PediaSure if it was marketed solely for the purpose of helping children gain weight. Significantly, the complaint says, the "vast majority of the PediaSure advertising claims relate almost exclusively to increased heights," with increased weight barely getting a mention.
The complaint charges that Abbott Labs' "clinically proven" claim for PediaSure is "patently false and misleading" because the collection of studies on which the defendant bases the claim does not support it.
"Specifically, Abbott lists six 'references' on its website. American consumers are led to believe that Abbott studied children comparable to their own, and that they could rely upon that research as predictive of what their child's experience would be after consuming PediaSure. Nothing could be further from the truth. Significantly, none of those studies involved children in 'First World' countries, such as the United States, where the incidence of stunting and wasting caused by malnourishment is virtually non-existent."
As the case tells it, the fact that Abbot's PediaSure studies focus on "starving children in the Third World" is buried "as deeply as possible … in microprint." Each "clinically proven" claim on PediaSure product labels is accompanied by a "microscopic" asterisk and "an even smaller delphic statement"—e.g., "Studied in children at risk of malnutrition"—that cannot be seen without lifting up the bottle, the suit says.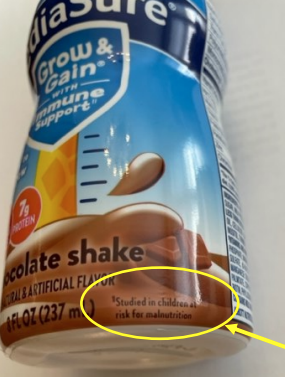 "Abbott nowhere explains what the 'risk of malnutrition' means in this context, but it is abundantly clear that Abbott does not want an American consumer to see the microscopic disclaimer because, presumably, an American consumer would know that their child is not at risk of malnutrition," the complaint alleges, adding that the subjects of Abbott's studies were not at "risk" of malnutrition, and were instead "tragically and chronically suffering from active malnutrition."
Three more studies funded by Abbott and authored by company researchers in addition to the six aforementioned studies similarly confirmed that "there had been no evidence that using PediaSure led to an increase in a child's height-to-age or height-to-weight," the case continues, noting that none of these three studies is cited on the Abbott website.
"It is self-evident that Abbott intentionally and misleadingly omitted those studies because they directly refute the Clinically Proven Claim."
The lawsuit looks to cover all consumers who, within the applicable statute of limitations period, bought PediaSure products in New York that Abbott Laboratories warranted as "clinically proven to help kids grow."
Get class action lawsuit news sent to your inbox – sign up for ClassAction.org's free weekly newsletter here.
Hair Relaxer Lawsuits
Women who developed cancer, endometriosis or reproductive problems after using hair relaxers such as Dark & Lovely and Motions may now have an opportunity to take legal action.
Read more here: Hair Relaxer Cancer Lawsuits
Stay Current
Sign Up For
Our Newsletter
New cases and investigations, settlement deadlines, and news straight to your inbox.
Last Updated on May 17, 2023 — 4:35 PM