Operator of AmOne.com Hit with Class Action Over Alleged Robocalls
QuinStreet has placed automated calls to consumers' cell phones without first securing their consent to be contacted, according to a proposed class action.
QuinStreet, Inc. faces a proposed class action over its alleged practice of placing automated calls to consumers' cell phones without first securing their consent to be contacted.
QuinStreet operates AmOne.com, a website that purports to provide quotes for consumer loans, the 18-page case relays. The suit alleges, however, that the defendant is not a lender but a marketing company who harvests and then sells consumers' contact information to lenders and receives referral fees in return.
The lawsuit claims that consumers who provide their phone numbers through AmOne.com's "See My Rates" form are not shown any loan "rates" on the defendant's website but instead receive prerecorded calls from QuinStreet in an effort to market itself and its clients.
According to the case, the defendant has violated the federal Telephone Consumer Protection Act (TCPA) by placing automated telemarketing calls to consumers' cell phones without first securing their prior express consent to do so.
The plaintiff, a Westchester County, New York resident, claims to have been "one such target of Defendant's unsolicited robocalls."
Per the suit, QuinStreet caused a prerecorded call to be placed to the plaintiff's cell phone around November 13, 2021. Messages left by the defendant identified the caller as "Amone" and claimed that the caller would like to "help" with the plaintiff's "financial situation," the case relays.
According to the lawsuit, other consumers have received from the defendant similar prerecorded messages, purporting to be from AmOne or GuideToLenders.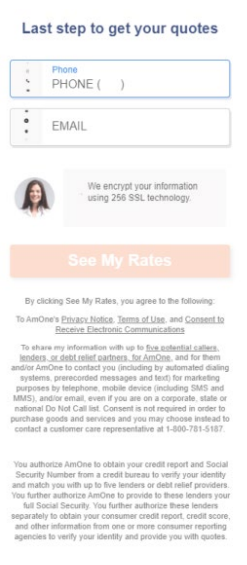 The lawsuit alleges that QuinStreet collects consumers' phone numbers through AmOne.com "under false pretense." Per the case, a site visitor interested in a loan is told that the "[l]ast step to get your quotes" is to enter a phone number and click "See My Rates." The suit alleges QuinStreet "obscures its intention" to place prerecorded messages to the numbers it receives through the form by including a "barely readable" disclosure under the "See My Rates" button that is designed to be inconspicuous.
Moreover, the lawsuit says that although the disclosure contains a hyperlink to the defendant's terms of use, which contains an arbitration agreement, this notice is not "reasonably conspicuous" and thus cannot bind users to arbitration.
The lawsuit looks to cover anyone in the U.S. to whom, within the past four years, QuinStreet placed a call using a prerecorded or artificial voice message regarding property, goods or services.
Get class action lawsuit news sent to your inbox – sign up for ClassAction.org's newsletter here.
Camp Lejeune
Camp Lejeune residents may soon have the opportunity to claim compensation for harm suffered from contaminated water.
Read more here: Camp Lejeune Lawsuit Claims
Stay Current
Sign Up For
Our Newsletter
New cases and investigations, settlement deadlines, and news straight to your inbox.
Last Updated on June 13, 2022 — 2:00 PM