in
Newswire
Published on September 19, 2022
Nantucket Nectars Apple Drink Contains 'Dangerous' Levels of 'Forever Chemicals,' Class Action Alleges
A class action alleges Nantucket Nectars-brand Orchard Apple beverages contain dangerous levels of per- and polyfluoroalkyl substances (PFAS).
A proposed class action alleges Nantucket Nectars-brand Orchard Apple beverages are falsely advertised as made with "all natural ingredients" even though they contain dangerous levels of per- and polyfluoroalkyl substances (PFAS).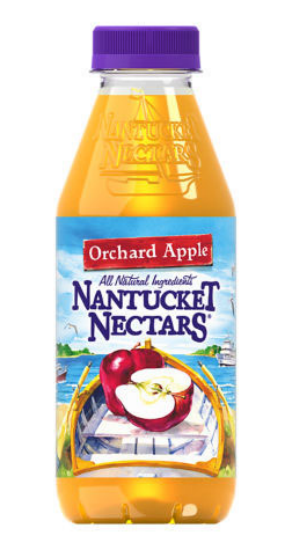 The 35-page case claims defendant Keurig Dr Pepper, who makes the Nantucket Nectars product, has falsely advertised the drink by failing to disclose that the bottle in which the drink is packaged contains PFAS, synthetic substances known to be harmful to human health, even at low levels.
The lawsuit contends that reasonable consumers would be misled by the Nantucket Nectars packaging into believing that the juice is safe to consume. Per the suit, Keurig Dr Pepper fails to warn buyers that the drink contains PFAS at levels far above what's considered safe, and that the product is "unsafe and harmful" and should be "approached with caution."
Exposure to PFAS, which are known as "forever chemicals" due to their ability to resist breaking down in the environment, has been associated with thyroid problems, immunotoxicity effects, cancer, liver damage, decreased fertility and an increased risk of asthma, among other health problems, the filing relays. In light of this, the Environmental Protection Agency advised until June 2022 that the level of PFAS in drinking water should be limited to 70 nanograms per liter, the case says. Since then, that limit has been reduced even further to 0.004 nanograms per liter for PFOA compounds and 0.02 nanograms per liter for PFOS compounds, which are two different types of PFAS, the suit relays.
The lawsuit claims, however, that independent testing conducted by the plaintiff's counsel revealed that the Nantucket Nectars Orchard Apple beverage contains as much as 123 nanograms per liter of 1H,1H, 2H, 2H-perfluorooctane sulfonic acid, or "nearly double" the EPA's prior limit for PFAS and "orders of magnitude greater" than current guidelines allow.
The case argues that in light of the Nantucket Nectars packaging representations—including that the drink contains "all natural ingredients" and its three-item ingredients list—reasonable consumers would not expect that the beverage contains unsafe levels of PFAS.
According to the lawsuit, the PFAS in the Nantucket Nectars product likely comes from the packaging. Per the suit, food and beverage companies have used PFAS in packaging materials "as a barrier to keep grease from escaping" onto consumers' hands.
The lawsuit argues that although it is possible to use packaging that does not contain PFAS, the defendant chose not to do so, and instead "concealed this information" from consumers in order to "pad its bottom line and pass the costs (in the form of adverse health effects) onto its trusting customers."
The lawsuit looks to represent anyone who purchased the Nantucket Nectars Orchard Apple product in the United States for personal use during the "fullest period allowed by law."
Get class action lawsuit news sent to your inbox – sign up for ClassAction.org's free weekly newsletter here.
Camp Lejeune
Camp Lejeune residents now have the opportunity to claim compensation for harm suffered from contaminated water.
Read more here: Camp Lejeune Lawsuit Claims
Stay Current
Sign Up For
Our Newsletter
New cases and investigations, settlement deadlines, and news straight to your inbox.
Last Updated on September 19, 2022 — 5:01 PM