'Misbranded' Rebel Ice Cream Contains High Amounts of Unsafe Fats, Class Action Says
A class action alleges Rebel Creamery has misleadingly marketed its ice cream in that the purportedly healthy products contain high amounts of unsafe fats.
A proposed class action alleges Rebel Creamery has falsely and misleadingly marketed its ice cream in that the purportedly healthy products contain high amounts of unsafe fats known to increase the risk of severe health issues.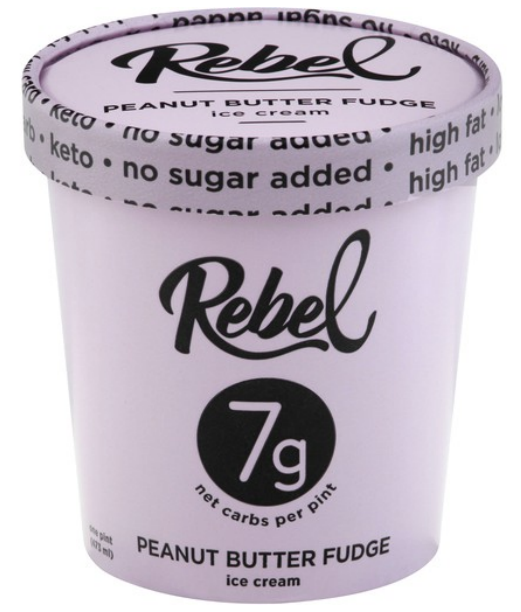 The 51-page lawsuit out of California says that although Rebel Creamery focuses its marketing efforts on appealing to health-conscious consumers, every flavor of Rebel Ice Cream contains more saturated fat per serving than a Burger King cheeseburger, Arby's Classic Roast Beef Sandwich, KFC fried chicken breast or three large orders of McDonald's French fries.
The filing alleges Rebel attempts to "perpetuate this deception" by prominently including health-focused nutrient content claims on its ice cream labels without making certain mandatory disclosures on the dangers of consuming fats to "induce buyers into buying its products." More specifically, Rebel Ice Cream labels represent that the products contain "healthy" fats; contribute to weight loss, increased energy, suppressed appetite and mental clarity; and are "low carb."
The lawsuit, citing the American Heart Association, notes that saturated fat has been proven to raise a consumer's "bad" cholesterol and increase the risk of heart disease and cardiovascular issues.
"True to its name, Defendant is a rebel to 'decades of sound science' and federal regulations," the lawsuit alleges. "Rebel knows the rules, the regulations, and the reasonable consumers' interpretation of the Products' representations yet continues to mislead and deceive."
The case says that although Rebel includes on its website a chart in which it compares the composition and characteristics of various ice cream products, the company omits the saturated fat and trans-fat compositions of the items, while also stating that 85 to 90 percent of the calories in Rebel Ice Cream comes from "healthy animal fats."
According to the case, each variety of Rebel Ice Cream contains high levels of saturated fat, trans fat and cholesterol.
Per the suit, Rebel Ice Cream's products are misbranded given their labels include false and misleading statements that suggest or imply the high-fat products are healthful, conducive to health and won't detriment health. Further, Rebel Creamery has unlawfully left off product labels mandatory disclosures meant to alert consumers to each item's nutrition information given the high levels of fat and saturated fat.
"These disclosures are mandatory because the Product contains numerous content claims, and because the Product contains these high, dangerous levels, they are required so consumers can put these claims in their proper context," the suit reads.
The case looks to cover all consumers who bought Rebel Creamery ice cream products in the United States within the applicable statute of limitations period.
Get class action lawsuit news sent to your inbox – sign up for ClassAction.org's free weekly newsletter here.
Camp Lejeune
Camp Lejeune residents may soon have the opportunity to claim compensation for harm suffered from contaminated water.
Read more here: Camp Lejeune Lawsuit Claims
Stay Current
Sign Up For
Our Newsletter
New cases and investigations, settlement deadlines, and news straight to your inbox.
Last Updated on July 14, 2022 — 4:47 PM