in
Newswire
Published on October 6, 2020
Labels of True Lemon, True Lime Drink Mixes Conceal Presence of Artificial Flavors, Class Action Alleges
A proposed class action claims True Lemon and True Lime drink-mix packets are falsely labeled given the products contain undisclosed artificial flavors.
A proposed class action claims Grand Brands has falsely labeled and advertised its True Lemon and True Lime drink-mix packets given the products contain undisclosed artificial flavors.
The 33-page lawsuit out of Florida alleges the defendant, which does business as True Citrus or True Lemon, has intentionally advertised its flavored drink mixes as containing "simple and clean" ingredients and "natural flavors" even though the products contain the artificial flavoring ingredient dl-malic acid.
According to the complaint, the defendants advertising and label representations, including claims that the mixes are "Naturally Flavored," "Made from Real Lemons" or "Real Limes," and contain "No Artificial Sweeteners" and "Crystallized lemon," give consumers the false impression that the products are more natural and healthier than similar, non-naturally flavored drink mixes.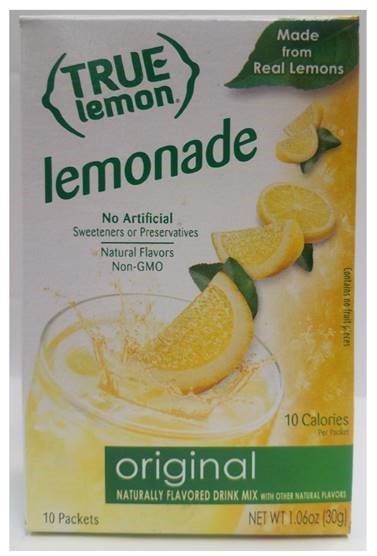 The case says the defendant uses dl-malic acid, a synthetic chemical manufactured from petroleum, to reinforce the "tart and fruity flavors" associated with the fruits depicted on the True Citrus water-flavoring products, which include True Lemon Original Lemonade, True Lemon Raspberry Lemonade, True Lemon Strawberry Lemonade and True Lime Black Cherry drink mixes.
According to the lawsuit, although California and federal food labeling laws require artificial flavors to be disclosed on both the front and back of a product's label, Grand Brands has failed to do so, rendering the products misbranded.
"Nowhere on the Product labels does Defendant disclose that the Products contain artificial flavoring," the complaint reads. "All of the Product labels omit this legally required disclosure and all are therefore misbranded under federal and state law."
The suit adds that the Strawberry Lemonade drink mix variety fails to even list malic acid as an ingredient, alleging the defendant has violated food labeling laws "in multiple respects."
Further, Grand Brands has not only failed to state that its True Lemon and True Lime drink mixes contain an artificial flavor but, for the products that list malic acid as an ingredient, has unlawfully described the ingredient by using its generic name instead of the more specific dl-malic acid, the suit relays.
The lawsuit goes on to allege that the defendant misleadingly describes the products' ingredients as "Crystallized Lemon" or "Crystallized Lime" when, in truth, the drink mixes contain only "manufactured citric acid and synthetic dl-malic acid with sugar and minor amounts of lemon oil and lemon juice for additional flavoring."
In all, the lawsuit alleges consumers have no way of knowing that the defendant's True Lemon and True Lime drink mixes are not flavored with real fruit and contain artificial flavors, and even if they did, buyers are not required to debunk the claims displayed on the products' labels. From the case:
"Plaintiff, as a reasonable consumer, is not required to subject consumer food products to laboratory analysis, to scrutinize the labels on the back of products to discover that a front label is false and misleading, or to search the labels for information that federal regulations require be displayed prominently on the front – and, in fact, under state law is entitled to rely on statements that Defendant deliberately places on the Products' labeling."
The suit charges that Grand Brands' misleading labeling was intended to deceive consumers, who would not have otherwise purchased the products, or would have paid less for them, had known the drink mixes contained artificial flavors.

Get class action lawsuit news sent to your inbox – sign up for ClassAction.org's newsletter here.
Hair Relaxer Lawsuits
Women who developed cancer, endometriosis or reproductive problems after using hair relaxers such as Dark & Lovely and Motions may now have an opportunity to take legal action.
Read more here: Hair Relaxer Cancer Lawsuits
Stay Current
Sign Up For
Our Newsletter
New cases and investigations, settlement deadlines, and news straight to your inbox.
Last Updated on October 6, 2020 — 4:58 PM