in
Newswire
Published on February 14, 2023
Kerrygold 'Pure Irish Butter' Contains 'Forever Chemicals,' Class Action Alleges
Winans v. Ornua Foods North America Inc.
Filed: February 14, 2023 ◆§ 2:23-cv-01198
The maker of Kerrygold butter faces a proposed class action that alleges the "Pure Irish Butter" products' foil packaging contains synthetic "forever chemicals."
The maker of Kerrygold salted and unsalted butter sticks faces a proposed class action that alleges the "Pure Irish Butter" products' foil packaging contains synthetic substances known commonly as "forever chemicals."
Want to stay in the loop on class actions that matter to you? Sign up for ClassAction.org's free weekly newsletter here.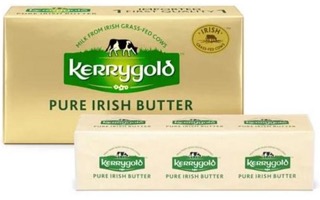 The 35-page complaint says Kerrygold butter, sought after for its rich flavor and creamy texture attributed to grass-fed cows, is falsely advertised as "Pure Irish Butter" given that the sticks contain per- and polyfluoroalkyl substances (PFAS), man-made chemicals known to be harmful to humans and the environment. Per the case, PFAS persist and accumulate over time, and are harmful even at very low levels.
Kerrygold butter was recently pulled from store shelves in New York and California due to the presence of PFAS in the butter's packaging, the lawsuit shares. Both states have rules prohibiting food packaging from containing PFAS.
According to the suit, defendant Ornua Foods North America intentionally describes the products as "Pure Irish Butter" to drive sales and increase profits among health-conscious consumers who reasonably believe the products are free from artificial ingredients and harmful chemicals.
"Insofar as PFAS made its way into Defendant's Products on purpose, it should have been listed on the Product's labeling," the complaint reads. "Insofar as it made its way into the Products by accident, it follows that it was due to poor manufacturing processes by either Defendant and/or their agents."
The lawsuit shares that diet is a major avenue for exposure to PFAS for humans. The suit says PFAS have been associated with myriad negative health effects, including reproductive issues, developmental concerns in children and an increased risk of some cancers.
The filing contests that Ornua Foods is "well aware of consumers' desire to avoid potentially harmful chemicals, which is why it has engaged in an aggressive, uniform marketing campaign" to convince the public that Kerrygold butter is in fact "Pure Irish Butter," a representation "entirely inconsistent" with the alleged presence of PFAS.
Reasonable consumers would not have bought the product had they known it contained synthetic chemicals that could harm their health, the suit says.
IrishCentral.com reported in January that Kerrygold butter would soon be returning to U.S. store shelves after the company "made some changes" to its packaging due to New York and California regulatory requirements that went into effect on December 31, 2022 and January 1, 2023, respectively.
The lawsuit looks to cover all persons who, during the fullest period allowed by law, bought Kerrygold salted or unsalted butter sticks within the United States for personal use and not for resale.
Get class action lawsuit news sent to your inbox – sign up for ClassAction.org's free weekly newsletter here.
Camp Lejeune
Camp Lejeune residents now have the opportunity to claim compensation for harm suffered from contaminated water.
Read more here: Camp Lejeune Lawsuit Claims
Stay Current
Sign Up For
Our Newsletter
New cases and investigations, settlement deadlines, and news straight to your inbox.
Last Updated on February 15, 2023 — 2:44 PM