in
Newswire
Published on October 14, 2020
Ice Cold: Class Action Claims Consumers 'Deceived' into Buying 'Misleadingly' Labeled Igloo Coolers
Chung et al. v. Igloo Products Corp.
Filed: October 13, 2020 ◆§ 1:20-cv-04926
A class action alleges Igloo's coolers fall far short of the ice retention times touted on the products' labels.
Igloo Products Corp. has touted "misleading and unsubstantiated" claims in marketing, advertising and promoting its line of coolers, which cannot retain ice for as long as represented on product labels, a proposed class action alleges.
According to the 23-page suit, Igloo's coolers, which are labeled as "3 Day," "5 Day," "7 Day" and "120 Hour" ice retention, simply cannot keep ice frozen for as long as consumers are led to believe. The lawsuit alleges buyers who reasonably relied on Igloo's "misleading labeling" were deceived into buying the coolers.
"Defendant has led Plaintiffs and reasonable consumers to falsely believe that the Products will retain ice for [sic] certain period of time," the lawsuit says. "In doing so, Defendant falsely represented that the Product will retain ice for the same period of time during normal usage."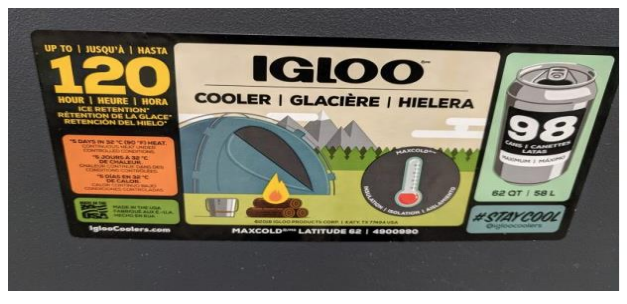 The lawsuit notes that some of Igloo's products are sold with the disclaimer "Under Controlled Conditions in 90 degrees constant," which is presented in "lighter color and very small font" in comparison to a cooler's label. Moreover, the case says the definition for "ice retention" varies "among different groups," contending the dictionary definition of the terms indicates that any amount of ice left in a cooler should remain solid.
To that point, however, the complaint describes Igloo's definition of "ice retention," stated below, as "puzzling":
"'Ice retention' is the product's 'level of cooling' measured in how many days it can retain ice. This is tested in controlled laboratory conditions by filling a cooler with a fixed amount of ice, closing the lid, and placing it in a 90-degrees-Fahrenheit oven to simulate a warm outdoor environment. The cooler's ice retention level is the amount of time (measured in days) that it takes for the ice to reach 39 degrees and begin to melt.
The way you use your cooler and the conditions you're in often vary, so the actual cooler performance may be different from our lab results."
Picking apart this statement, the lawsuit centers on Igloo's claim that it measures ice retention as the amount of time it takes ice to reach 39 degrees and begin to melt, arguing that ice begins to melt at above 32 degrees Fahrenheit, not 39. In that light, the complaint contends, Igloo's definition of ice retention "seems to be 39-degree water temperature after all the ice has melted," and not when the ice itself reaches 39 degrees and begins to melt.
According to the suit, Igloo's definition of ice retention does not jibe with that of reasonable consumers. From the complaint:
"The consumers' definition of 'ice retention' is when the original ice is fully nonfunctional and loses most of the ability to keep items chilled. The ice cooler industry, including retail sellers, definition of 'ice retention' is the amount of days it takes most or all of the ice to be melted into liquid starting from the ice filled to full capacity.
Defendant clearly and conspicuously has conveyed the message to consumers that the Product retains the ice for 3 to 7 days."
Further, the lawsuit argues that consumers exposed to Igloo's ice retention claims expect not only that ice will remain frozen but that food and beverages will be chilled for the same period of time.
The plaintiffs, New York and New Jersey residents, claim they each bought Igloo coolers after being exposed to the "120 Hour Ice Retention" claim on the products' labels. The consumers, who say they've used the product for fishing, travel and picnic/barbecue activities, allege their Igloo coolers cannot keep ice frozen for as long as stated on the coolers' labels.
"In his experience, [Plaintiff] avers that the ice is retained for maximum 2 days while draining the water every few hours. In order to keep fish and food fresh and keep from spoiling, [Plaintiff] is required to replenish the ice on fishing trips or long term travel," the case says of the New York consumer's experience. With regard to the New Jersey plaintiff, the lawsuit claims the man puts three to four bags of ice in his cooler for long fishing trips, and puts another two to three bags in on his way home. By the time he arrives home, "the cooler is mostly water with some pieces of ice floating on it," the complaint says.
"On a barbeque or picnic, [Plaintiff] noticed that most of the ice has melted into water by late afternoon," the case additionally claims.
Had the plaintiffs known their Igloo coolers would not perform as represented on their labels, they would not have bought the product, or would have bought a competing cooler, the lawsuit says. Included in the case are a number of online reviews panning Igloo coolers for their apparent failure to retain ice for as long as the labels suggest they will.
The lawsuit looks to cover all consumers who bought in the U.S. or its territories one or more Igloo coolers that claimed "3 Day," "5 Day," "7 Day" or "120 Hour" ice retention.
Get class action lawsuit news sent to your inbox – sign up for ClassAction.org's newsletter here.
Camp Lejeune
Camp Lejeune residents now have the opportunity to claim compensation for harm suffered from contaminated water.
Read more here: Camp Lejeune Lawsuit Claims
Stay Current
Sign Up For
Our Newsletter
New cases and investigations, settlement deadlines, and news straight to your inbox.
Last Updated on October 14, 2020 — 4:43 PM