High-Sugar GoodBelly Probiotic JuiceDrinks Not as Good for 'Overall Health' as Represented, Class Action Says
Andrade-Heymsfield v. NextFoods, Inc.
Filed: August 13, 2021 ◆§ 3:21-cv-01446
A class action alleges NextFoods has misleadingly labeled its GoodBelly Probiotic JuiceDrinks.
A proposed class action alleges NextFoods has misleadingly labeled its GoodBelly Probiotic JuiceDrinks in that the digestion-aiding beverages are loaded with sugar and therefore not as beneficial for overall health and wellness as advertised.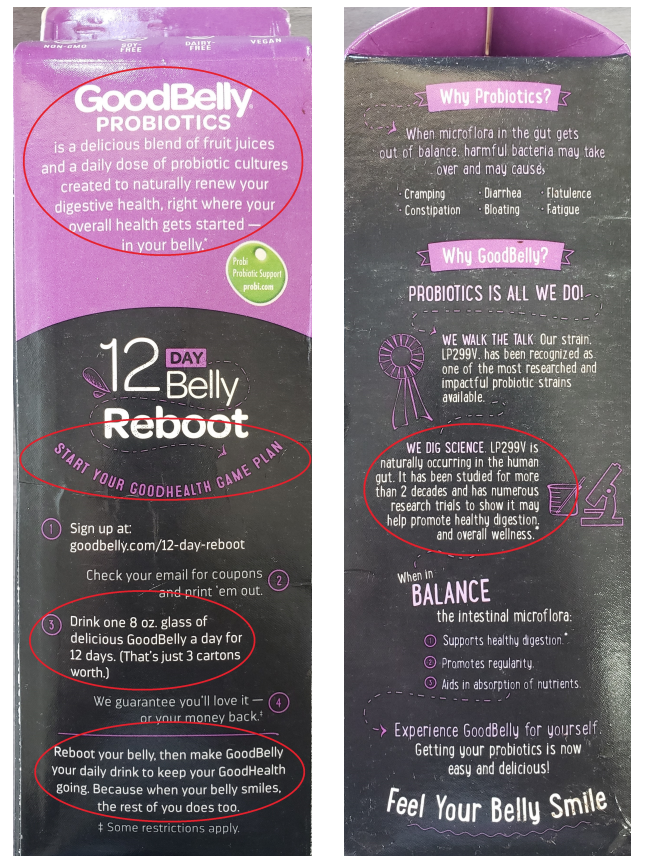 The 38-page lawsuit contends that although the labels of NextFoods' GoodBelly JuiceDrinks expressly or implicitly convey the message that the products are healthy, they fall well short of telling the whole story. The case relays that authoritative scientific evidence overwhelmingly shows that excessive juice consumption, in particular of products high in added sugar, can contribute to an increased risk of type 2 diabetes, metabolic disease, cardiovascular disease, liver disease, obesity, high cholesterol and triglyceride levels and hypertension, among other conditions.
The suit stresses that a reasonable consumer relying on NextFoods' labeling of the JuiceDrinks product would be unaware of the dangers of regular consumption of added sugars given the company chooses to label the beverages with only some of the relevant health information. According to the complaint, NextFoods "regularly and intentionally" leaves out the dangers of the added sugars in its JuiceDrinks, which causes consumers to buy a product that is not what it's represented to be.
"Instead of receiving products that had actual healthful qualities, the JuiceDrinks Plaintiff and the Class received were of the type that is likely to lead to increased risk of disease when consumed regularly," the lawsuit says. "Plaintiff and the Class lost money as a result of NextFoods' deceptive claims, omissions, and practices in that they did not receive what they paid for when purchasing the JuiceDrinks."
Because scientific evidence demonstrates that consumption of high-sugar juice is linked to an increased risk of a number of potentially life-threatening conditions, NextFoods' representations that its JuiceDrinks promote "overall health" and "GoodHealth" and are healthy are "false, or at least highly misleading," the suit alleges. Per the case, even if NextFoods' Probiotic JuiceDrinks offer the benefit of mitigating flatulence, diarrhea and constipation, the company's representations that the products promote overall health are nevertheless misleading given regular consumption of high-sugar juice drinks is "likely a detriment to overall health."
Some of the statements that appear on NextFoods' JuiceDrinks products include "START YOUR GOODHEALTH GAME PLAN" by drinking "one 8 oz. glass of delicious GoodBelly a day for 12 days"; "Reboot your belly, then make GoodBelly your daily drink to keep your GoodHealth going"; and "WE DIG SCIENCE," a statement referencing years of study of LP299V, a strain of good gut bacteria, the lawsuit relays. The complaint, citing reams of scientific evidence, alleges that NextFoods nevertheless leaves out material information concerning the dangers of regularly consuming free sugars, i.e., added sugars, in the GoodBelly juice products.
According to the suit, NextFoods has a duty to disclose sugar-consumption information to consumers given the company is "revealing some information about its Products—enough to suggest they are healthy or beneficial to health—without revealing additional material information," and that the information omitted by the company concerns human health and "specifically the detrimental health consequences of consuming its Products."
Per the lawsuit, the GoodBelly Probiotic JuiceDrinks are mislabeled under California and federal food laws.
The case looks to cover all persons in California who, at any time in the last four years, bought for personal or household use any of NextFoods' GoodBelly Probiotic JuiceDrinks.
Get class action lawsuit news sent to your inbox – sign up for ClassAction.org's free weekly newsletter here.
Last Updated on August 16, 2021 — 4:08 PM