Ellume Has Refused to Refund Buyers After Recalling Certain At-Home COVID-19 Tests, Class Action Says
Ellume faces a class action over its alleged refusal to refund consumers who bought rapid antigen at-home COVID-19 test kits that were voluntarily recalled in 2021.
Ellume USA LLC faces a proposed class action over its alleged refusal to refund consumers who bought rapid antigen at-home COVID-19 test kits that the company voluntarily recalled in October and November 2021.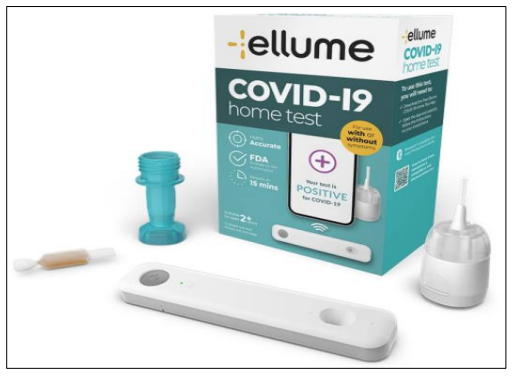 The 21-page lawsuit states that Ellume's "Class I" recall included more than 2.2 million at-home rapid antigen COVID-19 test kits manufactured between February 24 and August 11, 2021 and distributed between April 13 and August 26, 2021. The test kits, which were designed to produce a test result within 15 minutes, were voluntarily pulled from the market by the company due to the potential that they could provide false positives, the suit says.
Although Ellume touted the reliability of the at-home tests, claiming, for instance, that they demonstrated 96 percent accuracy in clinical studies, the tests were essentially unusable because certain production lots supposedly produced higher than acceptable false positive results due to a manufacturing issue, the lawsuit relays.
The complaint argues that consumers "did not know, and had no reason to know" at the time of purchase that the Ellume COVID-19 tests could produce higher than acceptable false positives.
"Despite voluntarily recalling these defective Ellume COVID tests—including tests kits that Plaintiffs and the Class already had purchased—and implicitly agreeing to refund Plaintiffs and the Class in connection therewith, Ellume has failed and refused to provide refunds to Class members," the filing claims.
According to the complaint, a false positive COVID-19 test result can lead someone to receive unnecessary treatment from healthcare providers, which may cause side effects. A false positive may also cause someone to enter unnecessary isolation, lead to a delayed diagnosis of the actual cause of a person's illness or cause them to unnecessarily avoid vaccination under the false belief that they have already contracted the virus, even if they have not, the case relays.
The lawsuit alleges Ellume has refused to provide to test buyers the relief it "implicitly agreed to provide" when it voluntarily recalled the at-home COVID-19 tests. By initiating the recall, Ellume "imposed upon itself an obligation to refund its customers" for the purchase price they paid for the tests, whether used or unused, the suit contends.
The lawsuit looks to cover all persons in the United States who bought an Ellume COVID-19 test that was subject to the company's October 1 and November 10, 2021 recalls.
Get class action lawsuit news sent to your inbox – sign up for ClassAction.org's free weekly newsletter here.
Camp Lejeune
Camp Lejeune residents may soon have the opportunity to claim compensation for harm suffered from contaminated water.
Read more here: Camp Lejeune Lawsuit Claims
Stay Current
Sign Up For
Our Newsletter
New cases and investigations, settlement deadlines, and news straight to your inbox.
Last Updated on March 23, 2022 — 4:38 PM